Hello ,
Summer in Washington, DC, means hot temperatures, long days, and only a few more weeks until we welcome our next Class of Fellows! On August 29th, Class 7 will start their first day of Orientation Week. In the weeks leading up to that date, we are making the final preparations and will announce this latest group of dynamic nonprofit leaders and organizations in August.
Every Class is a milestone for Atlas Corps and this group will be no different. For starters, Class 7 marks our first national expansion as we welcome new cities to our network. In addition, Class 7 culminates our 50 in the 50th Campaign - to engage 50 leaders from 25 countries in 100,000 hours of service. I am happy to report that we are on track to achieve that goal. So, before we welcome a new class, I invite you to read on to see how our current Fellows are enjoying the northern hemisphere summer Atlas Corps style.
Thank you for making the Atlas Corps network so dynamic. We just passed the 5,000 mark on our number of Facebook fans and we invite others to join! Also, there are great opportunities to volunteer, support, apply, or host. Visit www.atlascorps.org for more info.
Looking forward to hearing from you,
Scott & the Atlas Corps Team
Volunteer! Support the Atlas Corps 50 in the 50th Campaign
Atlas Corps is now recruiting Local Ambassadors for our incoming Class 7 Fellows. Local Ambassadors are a "first friend" to Fellows when they arrive in their new communities and help them to make new friends and to become more familiar with the local culture. We have opportunities for individuals living in Atlanta, Bogota, Washington, DC, Minneapolis, and New York. Fill out an interest form here.
---
Top 5 Atlas Corps Summer Activities

5. Reconnect with old friends...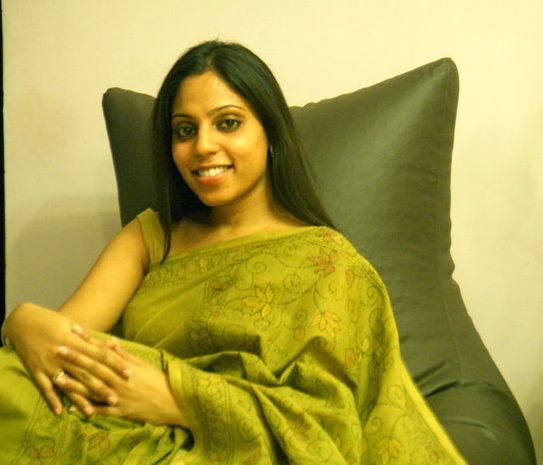 Our Alumni are a great place to start! Vithika Yadav (India, Class 1, pictured to left) recently announced her new position as the India Representative of Radio Netherlands Worldwide. A former project manager for BBC World Service Trust, her project received a nomination for the BBC Global Project Awards. Also, she continues to serve as Advisor on survivor care and protection services for Free the Slaves (her former Host Organization).

Sharing in the excitement, Pinky Pradhan (India, Class 3) announced the launch of a new organization, We Care Foundation. It is a Indian organization that address the issues of rights and welfare of children, women, minorities, and disadvantaged populations. The We Care Foundation is the collaborative efforts of professionals from the media, corporate, and nonprofit sectors. Congrats to Vithika, Pinky, and all our inspiring Alumni for the continued contributions they make in the field!
---
4. Curl up with a great book...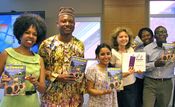 The Atlas Corps Fellows recommend two motivating reads: Kaboom! How One Man Built a Movement to Save Play by Darell Hammond and Forces for Good by Leslie Crutchfield. Both books, featured materials during our July 2011 Training Day, are examples of effective practices in nonprofit management. Each highlights the stories of inspiring organizations and the dynamic leaders that drive their successes. Atlas Corps sends a special thank you to both Darell and Leslie for being a special part of our July Nonprofit Management Series.
---
3. Get involved in your local community...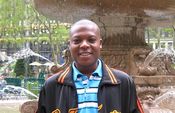 After three months in New York, Windy Previl (Haiti, Class 6) returned to home to connect with the nonprofits supported by his Host Organization, American Jewish World Services. "I was so happy to be back home," shared Windy as he enjoyed his duel role as a Haitian and an Atlas Corps Fellow, "I met more people (with my new role). I hope that we will stay in touch in order to develop our partnership."

Windy is already excited for how he will benefit Haiti after his Fellowship year, "I'll be ready to bring my skills back and to contribute to development." Previl thanked Atlas Corps for the wonderful opportunities it offers to so many young leaders because "when they return home, the skills they learn will help them to be true assets for the development of their own communities." His advice for future Fellows is that "despite all the difficulties one might encounter in the United States, you have to be open to change because here you will learn and develop important skills that can help you in your future career." We look forward to hearing more about Windy's achievements throughout his year of service.
---
2. Travel the world...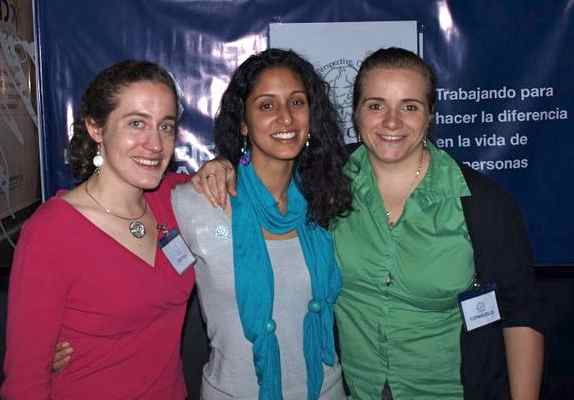 We recommend the first stop to be Colombia and a visit with our Colombian Fellows, including (l to r) Caitrin McKee (USA, Class 3), Anita Wahi (USA, Class 6), and Consuelo Lobato (Spain, Class 6). Atlas Corps Founder & CEO Scott Beale recently returned from a visit to our Bogota office. Inspired by the vibrancy of Colombia's nonprofit sector, Scott is excited for additional expansion in Colombia, "Just as in the United States, we continue to connect with new cities in Colombia to explore where we can place Fellows." Since the first class in 2008, Atlas Corps Colombia has engaged 10 Fellows.
---
1. Start spreadin' the news...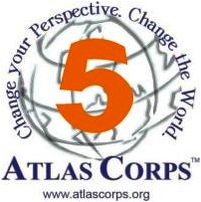 Atlas Corps continues our year of fifth anniversary celebrations as we travel to New York on August 5th, 6:00 - 8:00 PM. We invite you to join us for an evening of food, friends, and Fellows as the Girls Scouts of the USA hosts our evening event. All are welcome!

More details and RSVP information is available at: http://atlascorpsnycaugust.eventbrite.com/


---
In August, look for the official announcement of
Class 7 Fellows & Host Organizations!