Host Organization CARE Wins Distinguished Partner in Global Service Award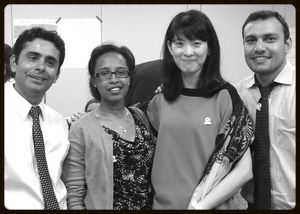 Washington, DC - When it comes to humanitarianism and fighting poverty, CARE is among the most vibrant global voices, with a strong commitment to the dignity of people everywhere. Founded in 1945, the organization worked in 90 countries in 2014, reaching more than 72 million people through community-based efforts. These numerous initiatives have focused on empowering women and girls, improving basic education, preventing the spread of disease, increasing access to clean water and sanitation, expanding economic opportunity and protecting natural resources.
CARE has also been a dynamic Host Organization for a growing number of Atlas Corps Fellows. Currently, they host the following Fellows who are pictured to the left: Prem Sagar (Class 16, Pakistan), Tigist Mulugeta (Class 17, Ethiopia), Hyun Shin Kwack (Class 18, South Korea), and Asad Shoaib (Class 18, Pakistan). "These Fellows bring invaluable perspectives from their rich experiences working in a variety of nonprofit, government, and civil society organizations in their home countries," notes Laura Henderson, senior director, U.S. Government Strategic Engagement at CARE. "Hosting them gives us an opportunity to play a role in developing future leaders in international development, and Alumni return to their respective countries as informal CARE ambassadors, playing a part in the global struggle to overcome poverty and social injustice."

Learn more about the benefits and how your organization can become an Atlas Corps Host Organization here.