Atlas Corps Alumna Engages in Global Outreach on The Queen's Young Leaders Advisory Board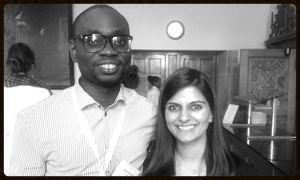 Global - Last month, 60 youth leaders from across the British Commonwealth were honored at the first staging of The Queen's Young Leaders Awards, held at Buckingham Palace. Among the organizers of the inaugural staging of the Awards was Atlas Corps Alumna, Hajira Khan (Class 13, Pakistan, Host: Meridian International Center). Hajira, pictured with Atlas Corps Fellow and Awardee, Isaiah Owolabi (Class 16, Nigeria Host: GBCHealth), serves on the Advisory Board for The Queen's Young Leaders, a program of The Queen Elizabeth Diamond Jubilee Trust. She was involved in selection and finalizing the Awardees, in addition to delivering training sessions to them, during their Residential Week at the University of Cambridge.
Since completing her Fellowship in 2014, Hajira has served as Program Manager at Amal Academy, which is a Stanford University and Acumen Fund venture. Reflecting on her year of service as a Fellow, Hajira says, "It was complete in every way. I got one of the best possible Host Organizations and worked on youth leadership programs, which I am extremely passionate about. Most importantly, I got to learn a lot from other Atlas Corps Fellows who brought a wealth of knowledge and experience on different causes, and topics."
To meet our network of hundreds of Atlas Corps Fellows, visit our Fellow page.