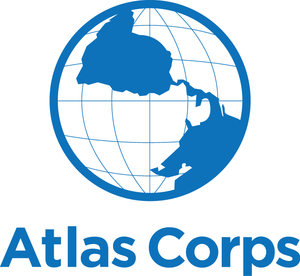 Hello,
On Tuesday, Atlas Corps achieved one of our most monumental achievements in our eight year history - a Presidential commitment announced at the Clinton Global Initiative in New York! We launched an official partnership with the U.S. Department of State, as part of President Obama's Stand with Civil Society agenda, to bring 100 of the world's emerging leaders to the United States. The partnership, called the Emerging Global Leaders Initiative-Atlas Corps Fellowship (EGLI-Atlas Corps Fellowship), is a long-term investment in the strengthening of the global civil society sector. Our goal is to place 100 of the world's emerging civil society professionals in 6 to 12-month Atlas Corps Fellowships in the United States.

Since Atlas Corps launched, the U.S. Government has been an important partner in our international exchange program. We have achieved 316 Fellows from more than 60 countries. Now, we are proud to join efforts with President Obama and the U.S. Department of State to provide a mechanism for Embassies and Consulates around the world to disseminate our call for applications more broadly and to join us in our shared vision of strengthening civil society at home and abroad. As President Obama shared in his remarks yesterday at the Clinton Global Initiative:
"When citizens are free to organize and work together across borders to make our communities healthier, our environment cleaner, and our world safer, that's when real change comes."

-President Obama (Clinton Global Initiative, September 23, 2014)
Atlas Corps Fellows and Alumni are examples of this concept in action as they inspire positive impact during the Fellowship and continue to achieve positive change after they return home. We
are proud to make real change come together and excited to do more of it on a larger scale!
We also recognize that this initiative is a team effort, just as the development of Atlas Corps has been a network effect over our eight year history. Atlas Corps achieves milestones because of YOU! We invite you to join us as we implement the EGLI-Atlas Corps Fellows. Here is your opportunity to get involved. There are opportunities for individuals and organizations to join this exciting new global initiative. (click headers for more details):
• Apply to Be an EGLI-Atlas Corps Fellow. Opportunity is applicable to emerging civil society leaders who are non-U.S. citizens with a university degree and less than 35 years of age. Applications are open now.

• Host an EGLI-Atlas Corps Fellow. Opportunity open to organizations (nonprofit, private, and government) with an office located in the United States. More than 100 organizations have already hosted Atlas Corps Fellows including American Express Foundation, American Red Cross, Ashoka, BRAC USA, CARE, Habitat for Humanity, McKinsey & Co, Mercy Corps, Save the Children, UN Foundation, U.S. Peace Corps, and many more!

• Volunteer to Support EGLI-Atlas Corps Fellows. You can support the development of this exciting initiative. There are in-person and virtual volunteer opportunities open to people throughout the world.
You can also share this message on your social media channels:
Stand for Civil Society! Announcing EGLI-Atlas Corps Fellowship w/ @BarackObama @StateDept #CGI2014 bit.ly/AtlasCorpsEmergingLeaders
We invite you to join Atlas Corps, President Obama, and the State Department as we unite forces to multiply our ability to provide opportunities for professional development and training to more civil society leaders around the world!

We are Atlas Corps!



P.S. Atlas Corps Fellows and Under Secretary for Public Diplomacy and Public Affairs Richard Stengel celebrated the announcement of the EGLI-Atlas Corps Fellowship during the Social Good Summit, which also took place in New York this week!
***********************
Scott Beale
Founder & CEO, Atlas Corps
---