Good afternoon ,
Thank you. Gracias. Спасибо. Merci. One language is not enough to express the gratitude for everything that has happened over the past month and, more importantly, the last five years! Let me share a few highlights...

In March:
We completed Orientation Week for Atlas Corps Class 6 - 21 Fellows from 14 different countries - serving in Washington, DC, New York, and Bogota. This groups marks the first benchmark as we progress toward our goal of 50 Fellows in 2011.
We celebrated our 5th Anniversary with more than 150 individuals - from the initial visionaries sitting around my dining room table to our newest Host Organizations.
We congratulated Atlas Corps Class 4 - our first March Class - on completing an inspiring 12 months of service.
In April, we co-convened an engaging panel with Host Organizations Civic Enterprises and the National Conference on Citizenship featuring our Egyptian Fellows and their thoughts on the Egyptian Revolution.

In May, who knows what will happen?! Join us on May 4 in DC to find out! There just might be a few surprises.

Thanks for the ongoing support,
Scott & the Atlas Corps Team

PS Remember, there are also lots of great opportunities to get involved. Become a volunteer, supporter, candidate, or Host Organization. Visit www.atlascorps.org for more info.

---
From Revolution to Exchange,
Egyptian Fellows Share Personal Experiences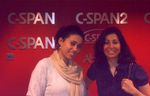 On January 25, our four Egyptian Fellows became part of the Egyptian Revolution. Weeks later, they arrived in Washington, DC, to become Atlas Corps Fellows. Though struggling with the challenge of being so far from home during such a pivotal time of national transition, these inspiring women are using this opportunity to share their story with an international audience, "I am glad that Atlas Corps provides Fellows with platforms through which we can showcase our culture to elevate dialogue and eliminate differences," shares May Kosba (Egypt, Class 6). May, along with her colleagues from Egypt participated in numerous events over the past week. You can share their insights through the following links:

1) Huffington Post Features: Mirette Baghat (Egypt, Class 6); John Bridgeland (CEO of Civic Enterprises)
2) Fellow Panel: The Road to Democracy: My Reflections on the Egyptian Revolution
3) C-SPAN: Washington Journal interview

---
DC Turns Out to Celebrate 5 Years of Atlas Corps!
On March 16, Fellows, volunteers, Host Organizations, and friends joined Atlas Corps in our celebration of 5 Years, 74 Fellows, 23 countries, and more than 100,000 hours of service. "A network of people that describes the essence of humanity. Here's to 100 more years. The growth is exciting," posted Gamu Anifasi (Zimbabwe, Class 4) on the invitation page. The celebration reflected the diversity of our network as attendees from former interns to staff from the State Department and the Peace Corps shared in the celebration. "The first five years was the beginning," shared Founder and CEO Scott Beale. "In March, we welcomed 21 Fellows as part of Class 6. We are confident that we will achieve an additional 28 new Fellows in September to achieve our goal of 50 in 2011!" More photos from the event are available online.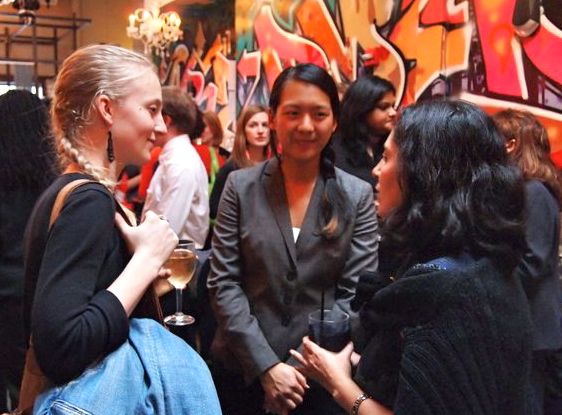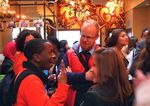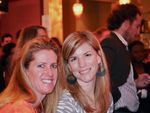 photos (l to r)
Stephanie (Grameen Foundation) and Maureen (Middle East Institute) hear the highlights of Atlas Corps Orientation Week from Sally (Egypt, Class 6).

Phil (Zimbabwe, Class 5) shares his enthusiasm for Atlas Corps with Ellis (International Council on Disabilities) and Blanca (Mexico, Class 6).

Sharon and Kyle, Atlas Corps volunteers in both Washington, DC, and Colombia, eagerly greeted guests.

---
New Opportunity! Sponsor A Fellow
For as little as $10/month, you can become a special part of a Fellow's year in the United States or Colombia. Your contribution supports the professional development, daily activities, and overall service experience. "This could be the best learning times of life....for me its set to be a transformation," expresses Takawira (Zimbabwe, Class 6). More information is available at: http://bit.ly/sponsorfellow.
---