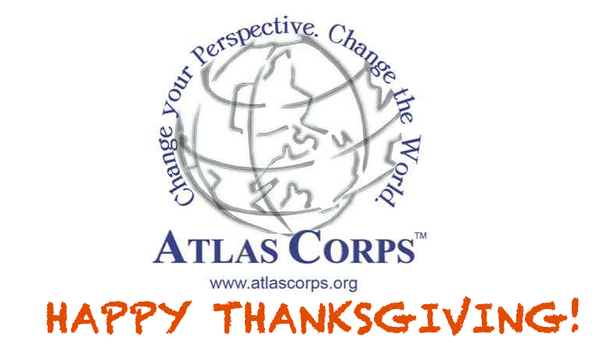 Hello!

Happy Thanksgiving! On Thursday, friends and family will gather to celebrate a national holiday in the United States - Thanksgiving Day. Officially, the holiday commemorates a harvest festival celebrated by the Pilgrims in 1621. Currently, it is a day when we show our gratitude by joining together to share a meal. At Atlas Corps, we give thanks for the many people (like YOU!) in our network who have contributed to this organization over the past seven years. We started as an idea in 2006 and have grown to a network of 206 Fellows from 54 countries, 105 Host Organizations, and 200 Community Leaders. This year, as we gather around our tables to enjoy the traditional holiday foods of turkey, mashed potatoes, and pumpkin pie (a first for many of our Fellows), we celebrate YOU! Today, I show our appreciation for your support by highlighting some of our Alumni around the world. By supporting them as Atlas Corps Fellows, you have inspired a lifetime of positive community engagement at home and abroad. We thank social media for providing the medium for them to share their stories with us and the world, so it is our honor to pass along their stories.

We invite you to join our celebration of "thanksgiving." Send us an #AtlasCorpsThanks message on our social media: Facebook, LinkedIn, and Twitter!

In other exciting news, look forward to a BIG announcement about our Class 14 (January 2014) in December. My sources tell me that we will welcome our largest Class to date! While you eagerly await, you can reacquaint yourself with our current Fellows.

Happy Thanksgiving...today and everyday!


Scott Beale, Atlas Corps Founder & CEO

P.S. Remember, in one week (12.3.2013), we also celebrate #GivingTuesday, the annual day of giving during the holidays. Learn more at bit.ly/AtlasCorpsGivingTuesdayBlog


Atlas Corps Filipino Fellows and Alumni Appreciate Support After Philippines Typhoon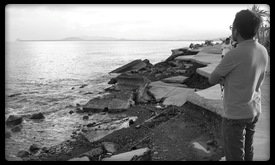 Philippines - Adam Tibe (Philippines, Class 8, Host: Operation Smile), pictured to left surveying the damage of Typhoon Haiyan, returned to the Philippines and his hometown of Tacloban City in May. He started working at Fit for School, an organization improving children's health through affordable and effective interventions in schools and day care centers. When Typhoon Haiyan hit on November 8, Adam weathered the storm and then sprung into action. Adam launched "The Connect Project" to gather supplies for those affected by storm. Thanks to Adam's efforts and the generosity of many, The Connect Project distributed food to more than 200 families in Tacloban City and surrounding area. Joining Adam in rallying support for their home country included our other Fellows from the Philippines: Patrick Asinero (Class 7, Host: International Centre for Missing and Exploited Children) and Frances Enrique (Class 13, Host: Points of Light). Read more from this recent blog post by Frances.
Atlas Corps Alumna from United States Inspires Peace-Building on Global Level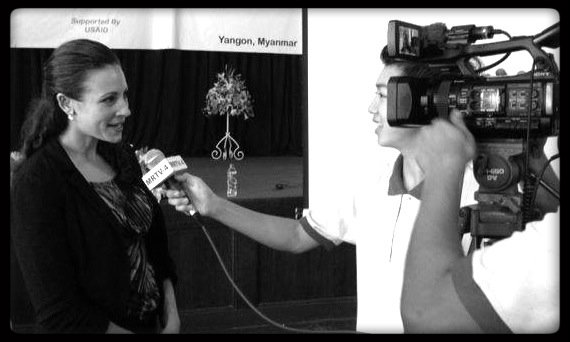 Myanmar - Danielle Goldberg (USA, Class 3, Host: Give to Colombia), pictured to left during a recent interview in Myanmar, returned in New York in September 2010 after her year in Colombia. She joined the Colombia University Institute for the Study of Human Rights as the Program Coordinator at the Peace-Building and Human Rights Program. In that role, she leads capacity building activities for civil society leaders throughout the world, including in Sudan, Sri Lanka, and most recently, Myanmar. In 2012, she was named one of the Top 99 Under 33 in Foreign Policy by Diplomatic Courier Magazine and Young Professionals in Foreign Policy. Danielle embraces her role as a global citizen as she actively inspires individuals to inspire positive change in their home communities as well as to engage in the global context. Building on her commitment to international engagement, Danielle also serves as the Alumni Representative on the Atlas Corps Board of Directors.
Atlas Corps Alum Lends Creative Insight to Public Awareness Campaign in Spain
Spain - Tito Spinola (Spain, Class 7, Host: Habitat for Humanity), pictured to left on the far right celebrating the launch of the movie Antonia, returned to Spain in November 2012. Recently, he has been active in launching an awareness campaign called "Gitanos con Palabra" or "Gypsies with Word," a socio-cultural project conceived and developed by a group of young friends to change the stereotypical image of Roma people in Spain. As part of the project, they are focused on three activities: a short film (Antonia, as pictured to the left), a photography exhibition, and awareness campaign through social networks. You can learn more about the campaign via their Facebook page and this video.

Look forward to seeing some more of Tito's creative works as Atlas Corps prepares for some visual updates in 2014. More details soon . . .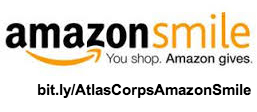 Upcoming Events
#GivingTuesday (December 3) - Join this annual event to kick off the spirit of giving during the holiday season. The day celebrates and encourages charitable activities that support nonprofit organizations. We will be posting details at bit.ly/AtlasCorpsGivingTuesdayBlog.
Informational Breakfast in Washington, DC(December 11) - Did you know that more than 85% of our Host Organizations report increased capacity from engaging an Atlas Corps Fellow? Learn how your organization can benefit during this informational breakfast featuring Atlas Corps Fellows, Host Organizations, and staff. Register at http://bit.ly/AtlasCorpsDec11.
---