New Partnership with Community Options to Benefit Persons with Disabilities


Washington, D.C.- The arrival of Atlas Corps Class 19 in September marked two significant organizational milestones—the largest Atlas Corps Class ever and a strengthening of impact on persons living with disabilities through a new partnership with Community Options. With operations throughout nine U.S States, Community Options serves more than 2,000 individuals living with disabilities daily, providing them with housing and employment support services. A total of eight Atlas Corps Fellows currently serve with this dynamic organization. It is the highest number of Fellows to be placed at a single Host Organization at the same time.
The Fellows include Mizanur Raman Kiron (Class 19, Bangladesh), pictured to left with Supervisor AnaMaria Herrera. Fellow roles include assisting Executive Directors and managing community outreach and development efforts. "The Fellows are helping expand our regional operations as well as promoting our mission and services to community members who may seek out our services or participate in fundraising events," explained AnaMaria. "Among the projects that the Fellows will be supporting is the annual Cupid's Chase 5K run to be held on

February 13

next year throughout 31 U.S. cities."
To learn how your organization can become an Atlas Corps Host Organization, visit bit.ly/HostOrgInterestForm.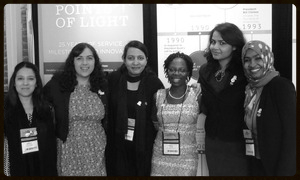 Houston, TX - The annual Points of Light Conference succeeded in inspiring once again with the involvement of Atlas Corps Fellows. The group, led by Atlas Corps Program Director Meredith Newmark, (pictured second from left) provided first hand global perspectives on the cultural context of service and volunteerism during their "Lost in Translation" session. Fellows Aditi Mishra (Class 18, India, Host: ChildFund International), Grace Longwe (Class 16, Malawi, Host: Population Action International), Rofaida Elzubair (Class 18, Sudan, Host: American Red Cross), and Sadia Ijaz (Class 18, Pakistan, Host: RESULTS) agreed that, while volunteering and service are universal, a lack of national leadership that values volunteering is a hindrance to the growth of volunteerism on a global scale.




"It was an honor presenting at the premier conference on volunteerism in the United States."

shared, Meredith. "I'm inspired by the enthusiasm for service from all the 'points of light' here. I was proud that Atlas Corps brought a global perspective to this movement!" The annual conference, which sees thousands of participants, focuses on how the next generation of change makers are creating new pathways for direct action and unleashing power to make a difference in the world.