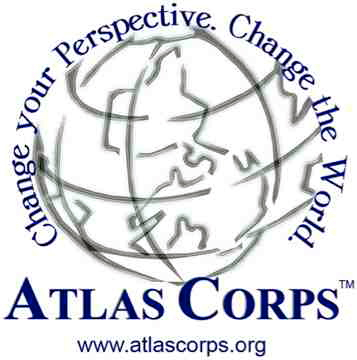 Happy International Women's Day (in preparation for tomorrow)! Did you know that approximately 70% of Atlas Corps Fellows are female? We are proud of the role these inspiring women have played in positively impacting their communities at home and abroad. Melat Tekletsadik (Ethiopia, Class 6, Host: Global Kids) is a great example. As a Fellow, Melat enhanced the outcomes measurement activities at Global Kids, a top organizational priority. Now, back in Ethiopia, Melat was just named the Interim Country Director for the Institute of International Education. She continues to be a thought-leader for her innovative approaches to leadership, inspired by the knowledge she gained during her experience in the United States. We celebrate her achievements. We invite you to read updates about our other Alumni.

In fact, this week of International Women's Day is a time for celebration, just as is every week. Therefore, I share with you some of the awards that our Fellows, partners, and even, Atlas Corps, has received over the past few weeks. We invite you to join our network as an active member. You can host a Fellow at your organization. You can become a Fellow who commits to a year of service abroad in the United States or Colombia. You can invest in our global network. Today, take action to "change your perspective, change the world"!
Thank you for your support and Congrats for all we have achieved as a network!




Scott Beale, Atlas Corps Founder & CEO

SAVE THE DATE! March 13, GlobalGiving Bonus Day - Invest 30% More in Atlas Corps.
All contributions matched 30% on Wednesday, March 13.
Donate Here: bit.ly/atlascorpsbonusday
Fellow Wins Intercultural Innovation Award from United Nations and BMW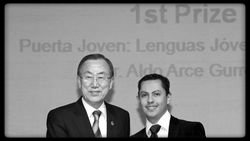 February 27, 2013 - Atlas Corps Fellow Aldo Arce (Mexico, Class 9, Host: National Audubon Society) won the coveted Intercultural Innovation Award - an honor designed to initiatives that contribute towards social stability and economic growth in multicultural societies. Aldo (pictured to left with UN Secretary General Ban Ki-moon) received the award during the Global Forum in Vienna on behalf of his organization in Mexico, Puerta Joven - Languages of Youth. Puerta Joven brings together indigenous youth groups who are discriminated because of their cultural identity or language. Their Lenguas Jóvenes (Languages of Youth) program fosters youth cultural expressions through mobile phones for intercultural dialogue. Professional filmmakers visit schools and community centers teaching young beneficiaries how to use creative tools to develop short films. The project has been developed in eight different cities in Mexico and will be replicated in Guatemala. Congratulations to Aldo and Puerta Joven!

Atlas Corps Recognizes "Global Service" Partners during Class 8 Celebration of Service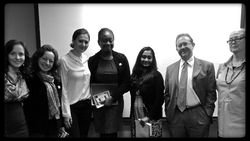 February 25, 2013 - Atlas Corps celebrated our Class 8 Fellows (pictured to left) with an evening of inspiration! Anna (Armenia, Host: Lutheran Social Services of Minnesota), Asja (Bosnia and Herzegovenia, Host: GeorgiaForward), Mikang (Nigera, Host: Population Action International), and Joyeta (India, Host: Habitat for Humanity International) received accolades from their service. Joining in the celebration were our keynote speaker, Rachel Gerrol (Co-Founder of Nexus: Global Youth Summit on Innovative Philanthropy & Social Entrepreneurship); Michael Pelletier (Deputy Assistant Secretary for the U.S. State Department) who accepted the Distinguished Supporter of Global Service Award on behalf of the U.S. Embassy Abuja; and Claire Timmons (tax professional) who received the Distinguished Volunteer Award. In addition, Ashoka: Innovators for the Public received the Distinguised Partner in Global Service. We wish the best to our Class 8 Fellows and thanks to our Class 8 Host Organizations!
Atlas Corps Named GlobalGiving Project of the Month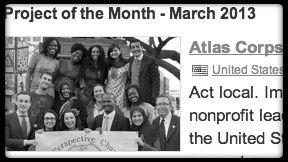 March 1, 2013 - Atlas Corps is honored to be named the GlobalGiving Project of the Month! GlobalGiving selected us for our work as this month's "high-impact project." Since Atlas Corps launched, we have partnered with GlobalGiving to raise more than $50,000 in funds from our generous donors around the world. In addition, GlobalGiving hosted Fellow Sudeshna Mukherjee (India, Class 6) who is currently working with the United Nations Development Programme. They also named our Colombia Director, Carol Mondragon, as one of their first GlobalGiving Ambassadors in 2012. Our multi-level partnership stems from our shared interest in strengthening the global nonprofit sector. When you invest in Atlas Corps through our GlobalGiving page, you support this international movement. It is a movement of individuals (like YOU) across the globe committed to improving our schools, community health, youth development, and more. Thank you all for the ongoing support.


SAVE THE DATE! March 13, GlobalGiving Bonus Day - Invest 30% More in Atlas Corps.
All contributions matched 30% on Wednesday, March 13.
Donate Here: bit.ly/atlascorpsbonusday



Forward this message to a friend
---