Fellows Gather for Global Leadership Lab to Learn from Deloitte, Meridian, Georgetown and More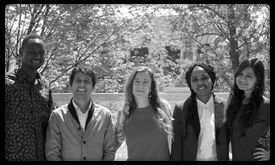 Washington, DC - More than 60 Atlas Corps Fellows, including those pictured, Yach Atiop (South Sudan, Class 14, Host: Amir), Narayan Adhikari (Nepal, Class 14, Host: Accountability Lab), Monica Aznar Diaz (Spain, Class 14, Host: Miriam's Kitchen), Maisoon Ibrahim-Ateem (Sudan, Class 13, Host: Elizabeth Glaser Pediatric AIDS Foundation), and Natasha Uppal (India, Class 11, Host: U.S. Center for Citizen Diplomacy/PYXERA Global), gathered during the first week of May to welcome Class 15 and to discuss communication and branding as part of Global Leadership Lab
. The four-day immersion included workshops presented by Deloitte, Meridian International, Preparing Global Leadership Council, Promethean Community, UN Foundation, U.S.-Japan Council, and more.

"When Fellows gather, the diversity of perspective inspires. The addition of the expert trainers creates pure synergy," reflected Younas Chowdhry (Pakistan, Class 14, Host: Atlas Corps) who coordinates the in-person and virtual professional development series.
See Global Leadership Lab highlights.