Meridian International Named Atlas Corps Distinguished Partner in Service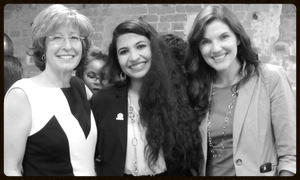 Washington, DC - As the world becomes more connected by common issues and modern technology, the need for global collaboration has rapidly increased. During the most recent Celebration of Service, Atlas Corps recognized Host Organization, Meridian International Center, with the Distinguished Partner in Global Service Award for their pivotal role in facilitating global connections over the last 50 years. Their engagement strategy includes a four-pronged approach: Exchange, Culture, Convening, and Training.
Meridian has conducted exchange programs for more than 65,000 foreign professionals and organized cultural exhibitions to 357 host venues in 44 U.S. states and 55 countries. Bonnie Glick, Senior Vice President, Global Connect Division (pictured left with Fellow, Safa Hajjaj (Class 16, Morocco, Host: Meridian International Center) and Kelly Reid, Chief Operating Officer at Atlas Corps) notes that Atlas Corps plays a key role in the achievement of Meridian's impact. "Atlas Corps Fellows," shared Bonnie, "exemplify those very people who are willing to take time out of busy lives to learn new skills, to meet new people, and to form new networks that will have a transformative impact on their lives when they return home." She believes that this willingness among participants is a key element for achieving success in the sector.

Learn more about how your organization can become an Atlas Corps Host Organization here.