Good morning ,
It's about 9:30 AM here and do you know what day it is? Give2Max Day!!! For the first time in the Washington area, nonprofit organizations are uniting on a metro-wide philanthropy drive that is all based online. You can do good without even leaving your chair. With Atlas Corps, you can impact globally while remaining local! The entire event last 24 hours and Atlas Corps is focusing on a "power hour" of giving from 3:00 - 4:00 PM EDT (no matter where you are you can donate). The bonus is that the organization with the most votes in that hour achieves an additional $1,000 bonus!

Do you have $10 to invest in global service, leadership development, and citizen diplomacy? With a simple click, you can benefit your local community, strengthen the global nonprofit sector, and invest in a growing network of Atlas Corps Fellows. So, give now. Donate at 3:00 PM EDT. Invite 5 people to join you. Your $10.00 supports a network of leaders from more than 30 countries!


Thanks! Let's Give2Max!

Scott & the Atlas Corps Team


PS Your "Give2Max" contribution to Atlas Corps supports our 2012 goals: 50 new Fellows; 1 new country and 2 new cities (at least); and 100% of your donation goes directly to support our Fellows.

---
Where in the World Are the Atlas Corps Fellows?
From honors achieved prior to initiating their Fellowship year to activities within their Host Organizations, Atlas Corps Fellows are constantly on the move. Most recently, Esther and Takawira returned from visits to Africa where they shared their perspectives as emerging, African nonprofit leaders in conversations with top officials and community members.
Esther Agbarakwe (Nigeria) Presents at the Annual African Economic Conference.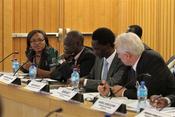 (from blog post by Esther Agbarakwe, pictured far right)
"On July 18th 2011, I received an email from the UN Economic Commission for Africa, NEPAD Division, an invitation to be a panelist on a special session during the 6th Annual African Economic Conference….

So I packed my bags and travelled to Addis Ababa on Sunday, the 23rd of October….

Speaking at the Special Session on the Role of the State in promoting Green Economy, I on behalf African Youths urged government to ensure that decent Jobs are indeed created for Africa's youths…. African youth want unemployment to be reduced through the creation of green jobs with a living wage and the stronger consideration of the impact of employment policy on youth. Governments should promote young people's role in the workforce by providing them with the appropriate skills and knowledge to improve their employability."

Read more online.
---
Takawira Kapikinyu
(Zimbabwe) Travels with Refugees International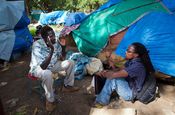 (from the blog post by Takawira Kapikinyu, pictured left)
"Upon our arrival in South Sudan, my colleague, Peter, and I drove to Juba port on the river Nile. There, we were greeted by the sight of two barges that had come arrived from the North eleven days earlier.

After walking through the area and chatting to some of the barges' passengers, we met Emidio. He was busy directing people where to offload his personal belongings. He was an old man perhaps in his sixties, and spoke fluent English. After forty years in Khartoum working as a textile technician, he decided to move to the new South. He had no idea what he might do for a living, as South Sudan still lacks a thriving industry where he could put his skills to use. He was hoping to perhaps get a job as a teacher.

After our conversation with Emidio, we met another recent returnee - soft spoken Alex. Alex invited us to take a seat on tiny stools that he placed in the mud. He told us how he fled Juba in 1992, during Sudan's long-running civil war. Some of his family went to Uganda, but Alex fled north to Khartoum."

Read more online.


---
24 Hours of Giving - Give to the Max on 11.9.11!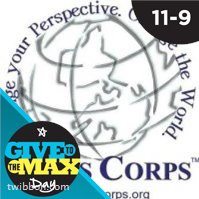 Do you have $10 to invest in Atlas Corps?
give2max.razoo.com/story/atlascorpsdonate
Give to the Max Day is a one-day fundraising event on November 9, 2011 that will unite local Maryland, Virginia and Washington, DC communities to support nonprofits serving the area. Our goal is to get thousands of local residents to support their favorite regional charity, raising millions in donations and grants in just 24 hours!
---
Support Atlas Corps (#35006) in the CFC!