Beyond Service—International Service Is Shaping the Future of Diplomacy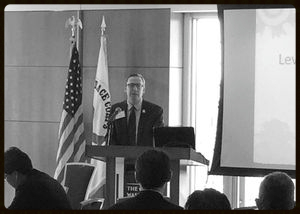 Washington, DC - Increasingly, volunteerism across borders has been a powerful tool in forging global ties and fostering understanding among nations. Insights on this viewpoint were shared at the "Leveraging Volunteerism for Global Impact Conference," hosted by the U.S. Peace Corps on April 1. A panel comprised of service leaders from City Year, Habitat for Humanity International, IBM, and the U.S. Peace Corps examined the challenges and opportunities facing United States based volunteerism models, as they relate to development impact and diplomatic efforts. The session was moderated by Scott Beale, Founder and CEO of Atlas Corps (pictured here). Also, in attendance was Atlas Corps Partnerships Manager, Ebben Wiley Bell, a Return Peace Corps Volunteer who served in Burkina Faso from 2010 - 2012.

"I am inspired by our ability to have an innovative dialogue around the engagement and empowerment of local volunteer efforts in the developing world," shared Ebben. "By coming together, we share the collective accomplishments of international service for diplomatic benefit. We also look at ways to enhance our unique volunteer models " The session brought together more than 75 practitioners and stakeholders in the volunteer sector.