GRN Merchandise On Sale
Chattahoochee River User's Guide Now Available!
Georgia Water Wire Blog: Climate Change Shocks Georgia's Rivers
GRN Monthly Photo Contest
End of the Year Gifts to GRN
Wish List
1% for the Planet
Get GRN News in our RSS Feed
---
GRN Merchandise On Sale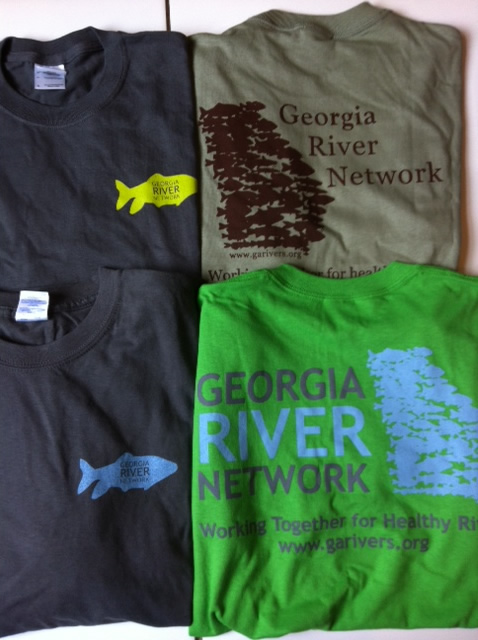 Support Georgia River Network's work to protect rivers by purchasing some of our merchandise this season and/or purchasing items from those who so generously support GRN by donating a portion of their sales to us! All of GRN's merchandise is being sold at a DISCOUNT now through December 31! Place your order today by calling Debra or Dana at 706-549-4508. Visa, Mastercard and Checks accepted. Prices include shipping. Images, inventory list and descriptions of each item are included. Click here to view the sale items.
---
Chattahoochee River User's Guide Now Available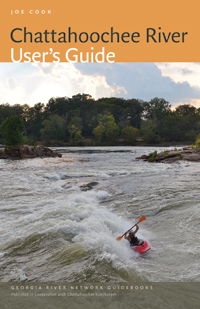 The Chattahoochee River User's Guide—the latest in a series of river guides from Georgia River Network and the University of Georgia Press, traces the 430-mile course of the Hooch from its headwaters at a spring on Coon Den Ridge near Jacks Knob in northeastern Georgia to its confluence with the Flint River, where they form the Apalachicola River. The Georgia River network guides provide many little-known facts about Georgia's rivers, bring to life these rivers' cultural and natural history, and present river issues in an immersive and engaging manner that will inspire users to help protect their local waterways. Click here to purchase and learn more.
---
Georgia Water Wire Blog: Climate Change Shocks Georgia's Rivers

Why should Georgia citizens be concerned about the impacts of global climate change? The National Climate Assessment reports that global climate change is responsible for changes in precipitation patterns, rising sea levels, more acidic oceans, and increased frequency of extreme "weather whiplash." In Georgia, changes in precipitation patterns are leading to decreased river flows, and rising sea levels are causing accelerated intrusion of saltwater into freshwater wetlands, streams and rivers. Moreover, stream and river temperatures are increasing in Georgia. Climate change is affecting precipitation patterns that directly affect Georgia's rivers. Click here to read the full water wire post.
---
GRN Monthly Photo Contest

Each month we have a different theme and invite you to send us a photo that you think best represents the topic of the month: Dec - Funniest Paddling. Submit your photo to gwyneth@garivers.org. Click here to visit our homepage to view a slideshow of the entries and winners.
---
End of the Year Gifts to GRN

As you begin to think about your year-end philanthropy, know that Georgia River Network considers YOU a river hero. With your generous financial support, you have earned the thanks of our entire state. Because of you, clean water is a reality for many Georgians. Because of you, our beautiful rivers are protected every day. Because of you, there is a watchful eye on our state legislature and state agencies encouraging them to do the right thing. Because of you, GRN is mentoring the river stewards of tomorrow. Because of you, our wonderful watershed groups have support to carry on their important work of monitoring our river. All of this happens because of your financial support! Please consider making a year-end gift before December 31 to Georgia River Network. You can easily and quickly make a donation at our website – www.garivers.org. Just click the big red DONATE button in the top right hand corner.
---
Wish List

GRN is looking for the following new or gently used items for our office: a picnic table or concrete outdoor patio set, a vacuum cleaner, rolls of Forever stamps, a conference table, canoes and kayaks (sit on top kayaks, receation kayaks, tandem kayaks, and canoes - in good shape), and a flat screen computer monitor. Email info@garivers.org or call 706-549-4508 if you would like to donate any of these items.
---
1% For the Planet Partner

Georgia River Network is a 1% for the Planet non-profit partner. Over 1200 companies are giving 1% of their profits to organizations in the network that are committed to creating a healthy planet. Learn more at www.onepercentfortheplanet.org.
---
Get GRN News in Our RSS Feed

Not on Facebook? Want to see what is going on each day in the world of Georgia rivers? Go here: http://garivernews.wordpress.com/. Click on the "follow" button in the bottom right corner, enter your email address, and our daily news will be delivered to your inbox.
---
Forward this message to a friend