---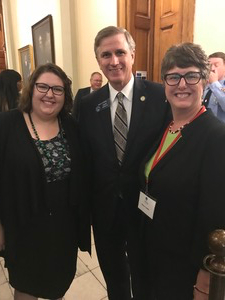 participate in the Capitol Conservation Day (CCD). It was exciting and rewarding to become a
contributor and not just a cheerleader and I came away with a few personal reflections.

First, It was a privilege to be an active participant in the workings of our government. To see the capitol full of constituents, to 'call out legislators' from the chambers, and to see dedicated public servants in action was encouraging for the future of our Republic.

Second, it was enlightening to see the behind the scenes work going on year round by those dedicated to Georgia's Water Advocacy. These individuals represent diverse backgrounds and political beliefs. Yet, through my Paddle Georgia experiences, and now my added experience
with CCD, I continue to be heartened that water is the common denominator
uniting us all.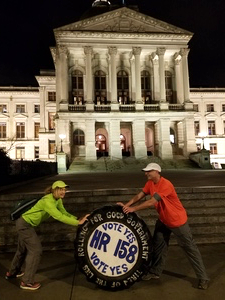 Finally, it was easy to participate in CCD. Legislative issues were clarified during breakfast and breakout sessions,
talking point materials were provided, and the steps for gaining access to legislators (and their staff) were clearly explained.
The primary goal of CCD is to share personal thoughts with our legislators, a critical
responsibility of 'we the people'. I look forward to continuing this role with a renewed sense of purpose,
thanks to the CCD!
GRN Members Anne Ledbetter and Steve Houghton (photo on right) helped in the 24 hour tire
roll around the capitol to support passage of House Resolution 158 to put the trust back in trust funds.
---
GRN Member Spotlight: Jeannie Brown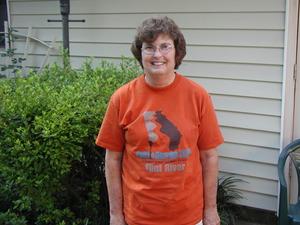 Jeannie Brown is a native of South Georgia and spent her childhood in Tifton, Georgia. She has lived in Albany, Georgia for over 40 years. She attended ABAC and graduated from UGA in 1967 with a B.S. degree in Zoology. She then worked for 4 years with the State of Georgia Health Dept. Water Laboratory in Atlanta and returned to UGA in 1972 to pursue a graduate degree. She received her M.S. degree in Aquatic Entomology in 1976, then was employed by the State of Georgia Department of Natural Resources (Albany District EPD) for 27 years as an Environmental Specialist until she retired in 2005.

Prior to her retirement, she was active in the Georgia Environmental Education Alliance (EEA) and the Georgia Adopt-a-Stream Program. She became a certified trainer for Project WET and also held a number of Project WET Workshops for teachers and gave demonstrations to students. She has continued these environmental education activities into her retirement and has been a presenter at Keep Albany-Dougherty Beautiful's Annual Water Festival where over 900 Southwest Georgia 3rd Graders from area schools participate each September. She has demonstrated the Enviroscape Model of water pollution within a community and also chaperoned 7th Graders on Fall Paddling Trips down the Flint River. In 2005, she was the recipient of Keep Athens DB's Environmental Leadership Award.

Jeannie says "I learned about the Georgia River Network through the 2008 EEA Conference and later participated in GRN's 2008 Paddle Georgia on the Upper Flint River. It was a challenge but I have no regrets." She contributes to Georgia River Network to assist our work providing opportunities for Georgians to explore our beautiful rivers and streams, and also "appreciates GRN's efforts toward protecting and preserving our precious water resources".

---
Paddle Georgia 2018 - Yellow and Ocmulgee Rivers- 2 Paddle Lite Options Available!

84 Miles, 7 Days, 1 Great Time
June 16-22, 2018
Daily paddling trips averaging 12 miles

Nightly camping with meals, games, entertainment and educational programs

Tours of historic sites, industrial facilities and more

Chemical and biological water monitoring opportunities

Companionship and camaraderie with hundreds of fellow paddlers

Fundraiser for Georgia River Network, Yellow River Water Trail, Ocmulgee River Water Trail and Altamaha Riverkeeper
This year during Paddle Georgia, we want to get new paddlers out on Georgia's rivers so they'll know what you already know: Georgia's rivers are a great place to spend some time!
Recruit a Friend; Get A Discount
Have you invited a friend, family member or business associate to try Paddle Georgia? If not, here's your chance to introduce someone new to our rivers and get a refund on your Paddle Georgia registration.

Georgia River Network is providing a $25 refund/discount for any currently registered participants OR past participants who recruit a new paddler to participate in Paddle Georgia 2018 (Lite or Thru).

Here's how it works: If you recruit a new paddler, when they register, they'll be prompted to name their "sponsor" We'll make note of that sponsor, and refund your credit card $25 for every new paddler you recruit...up to $200.

So...get out there and recruit some new paddlers!

Porta-Potty Auction
A time-honored Paddle Georgia tradition. You can "purchase" a porta-potty pit stop from Georgia River Network for just $100, giving you sole rights to decorate this throne in the woods any way you wish. Make some signs, leave a message for fellow paddlers, advertise a service or your business. You provide the decorations, we'll put 'em up. CLICK HERE TO PURCHASE A PADDLE GEORGIA PORTA-POTTY. All proceeds go to river protection and water trail projects.

Youth Scholarships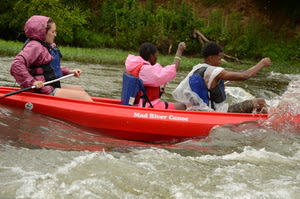 Each year, Georgia River Network partners with Camp Horizon to afford a group of youth from Georgia's foster care system to participate in all seven days of Paddle Georgia. This is a once-in-a-lifetime opportunity for these children and for many a life-changing experience.

You can support this program by making a donation to the GRN youth scholarship program. CLICK HERE TO DONATE AND HELP A CHILD EXPERIENCE GEORGIA'S RIVERS.
---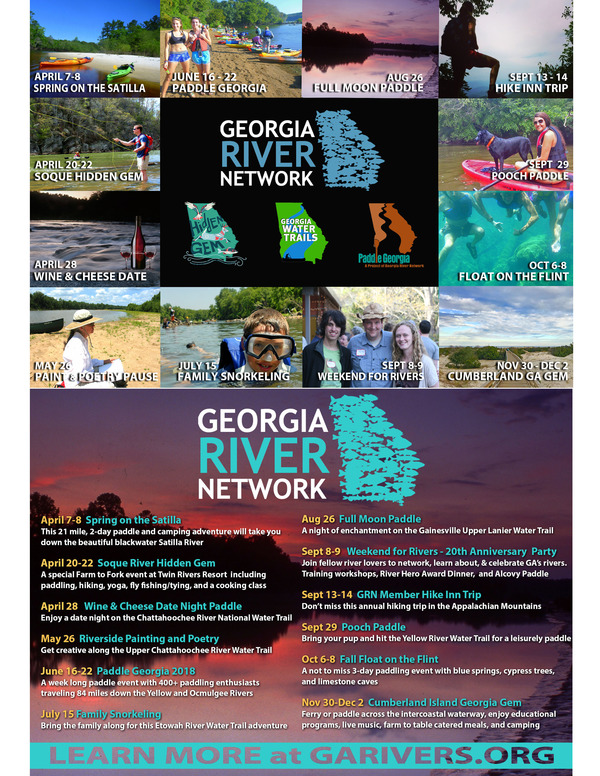 ---
HOT OFF THE PRESS: GA's Established Water Trails Featured on GRN's New I Love Rivers Shirts!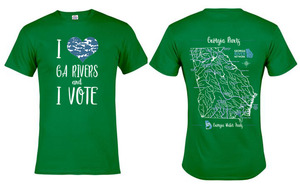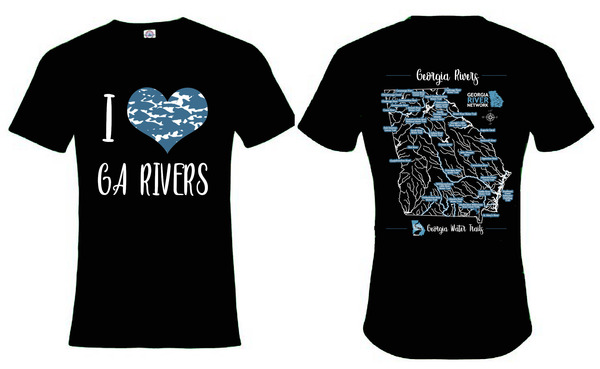 Check out our NEW I Love GA Rivers Shirts with Map of Georgia's rivers and established water trails!!!

Show your support for GA Rivers and wear these shirts PROUDLY!
"I Love GA Rivers" shirts are available in purple, charcoal, forest green, black, and jade. "I Love GA Rivers and I Vote" available in kelly green.

Shop today in the online store!

---
Weekend for Rivers: Mark Your Calendars!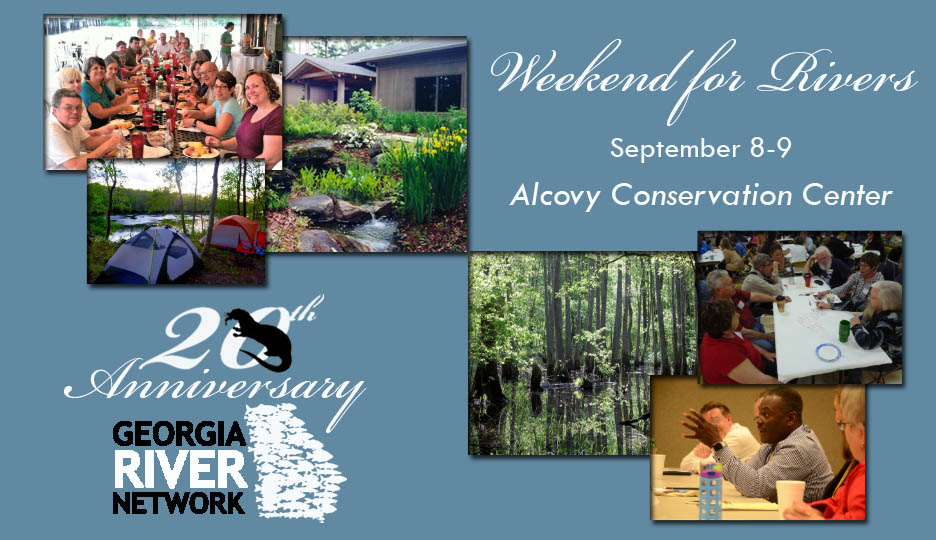 Mark your calendars for Georgia River Network's Annual Weekend for Rivers Conference and River Celebration Awards Party September 8-9, 2018 at Alcovy Conservation Center near Covington, GA.

Celebrate GRN's 20th Anniversary with Delicious Food & Live Music. Learn, Network, ​and​ Share with Watershed Groups ​and Fellow River Advocates while diving deeper into the work of ensuring healthy rivers. The weekend will include intriguing ​& informative speakers, organizational​ ​and water Trail development workshops, River Hero awards ceremony, camping/cabins with activities and games, and a guided paddle on th​e​ majestic Alcovy River.

Be on the lookout for more information!

---
The Ocmulgee River: Vexing Explorers for 154 Years
By Joe Cook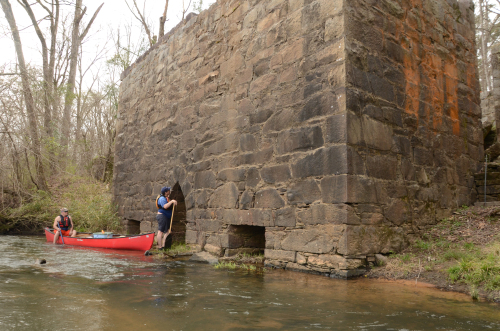 For two weeks in July and August of 1864, Maj. General George Stoneman and several thousand of his Union cavalry alternately blundered and pillaged their way along the east bank of the Ocmulgee River in Jasper and Jones counties. The ultimate goal of this daring raid behind the Confederate Army defending Atlanta was to rendezvous with other Union cavalry on the west side of the Ocmulgee and destroy railroads leading to Atlanta.

Destruction of the railroads would, Union Gen. William T. Sherman believed, cut off vital supplies to the Confederate Army defending Atlanta and force the city's surrender.

Maj. Gen. Stoneman planned to cross the Ocmulgee on a bridge that presumably spanned the river at Seven Islands, near a mill that was churning out textiles for the Confederacy. But, contrary to intelligence reports, there was no bridge at Seven Islands, only a small ferry. Moving 2,200 men and horses across the river on a ferry boat was simply not practical.

Vexed by the river, Stoneman and his men never made the rendezvous west of the Ocmulgee and the daring raid turned disaster. The Confederates repelled and hunted them down as they desperately tried to reach the safety of the Union lines. Their harrowing tales of escape are the stuff of legend.

154 years later, the Ocmulgee is still a vexing vessel of water, if for different reasons. The Paddle Georgia quandary, like Stoneman's quandary, is how to move hundreds of intrepid explorers safely through the Ocmulgee's storied Seven Islands region—a place studded with as many historic sites as shoals and rapids.

This past weekend, I traveled with Kit Carson, Mary McDonnell, Keith Haskell and Vincent Payne to scout the Seven Islands, home to Lamar Mill Rapid. In today's river vernacular, it is a noted "Class III" obstacle (a level of difficulty prohibited by our Paddle Georgia liability insurers).


Some hundred years ago, in the vernacular of The Engineering Magazine, Lamar Mill was a shoal that if properly dammed would be capable of producing 3,500 horsepower. And harnessed it was. Lamar Flour Mill operated there well into the 1900s.

Still further back in history, entrepreneur C.A. Nutting knew only that this impressive force would certainly turn the spindles in his textile mill, and thus at this beautiful shoal, a thriving industry and community sprouted in 1845.

Some 20 years later that community was destroyed. In November 1864 after setting ablaze Nutting's mill, the Union army did finally cross the Ocmulgee here at Seven Islands, setting down pontoon bridges and marching across the river in route to Savannah.
This summer, we follow in these historic footsteps and hoof prints. 150 year hence, what might the historians note about an army of 300-plus paddlers embarking on a bold journey down—not across—the Ocmulgee?

Our goal might not be as lofty as preserving a country or ending slavery, but never doubt, our week of fun each summer is about something far greater than a playful water battle on a hot summer day.

By traveling the Yellow and Ocmulgee this summer, we push the cause of those working to establish the Yellow and Ocmulgee River Water Trails. We change the conversation from "horsepower" to "Class III." We usher in an era when our rivers are cherished not just for their power to turn spindles, grind corn or light our homes, but also for their intrinsic beauty and the recreational opportunities they freely provide us.

Onward soldiers! Now to navigate the shoals surrounding Lamar Mill Rapid safely!
---
Paddle Georgia Educator Scholarships: Apply Today!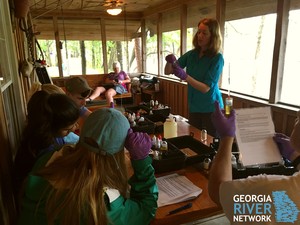 Receive environmental education training for free on this years Paddle Georgia trip! Paddle Georgia's Educator's
Scholarship Program will provide complimentary registrations valued
at $425 to Georgia teachers in grades K-12.
Recipients of the Paddle Georgia Educator Scholarships will paddle for seven days while receiving training in the Project WET environmental education curriculum and Georgia Adopt-A-Stream water monitoring protocol.

"The goal of the program is to have teachers use their experiences on the river and in the workshops to incorporate environmental education in their classrooms," -Joe Cook

Learn more and apply with the Educator's Scholarship application. Applications are due April 20th, and
winners will be announced April 25th!
---
Spring on the Satilla - Kayak Raffle (You DON'T Have to be Present to Win!)



Raffle drawing will be held the weekend of April 7-8 at the Spring on the Satilla event, you do not have to be present to win.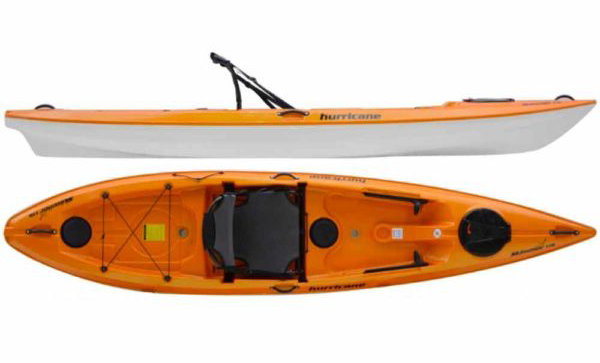 The Hurricane Skimmer 116 sit-on-top kayak is a good looking sit-on-top and only weighs 42 pounds! The touring style hull and refined scupper system allows the Skimmer 116 to skim across the water, cut through waves, and slice through any chop. This is a beautifully classic and cutting-edge modern boat with a glossy orange finish. Features: Rear well bungee for deck storage, bow and center storage hatches, paddle holder, cup holder, and Airstream seatback.

Tickets are $10 each and if you spend $100 you get 15 tickets!

Purchase your raffle tickets

here

.
---
Clean 13 Celebration A Huge Success!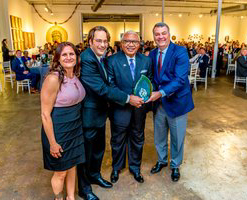 The Georgia Water Coalition's Clean 13 event was a major success! There were more than 200 river lovers in attendance and over $36,000 was raised to support the Georgia Water Coalition's work to secure sound state water management
policies that protect Georgia's water resources. In addition, attendees began to build new relationships through
this event and enhanced recognition of the Georgia Water Coalition and the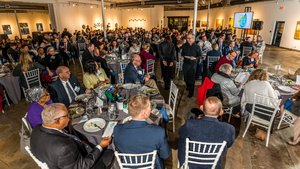 good work that is going on all over the
state. This year's Clean 13 honorees were City of Atlanta, Cox Enterprises, Georgia Department of Natural Resources, Georgia Institute of Technology, Chair John Meadows, Ladybug Farms, Macon Water Authority, Mark Masters, Scott Bridge Company, Solar Crowdsource, South Fork Conservancy, Storm Water Systems, and United Parcel Service.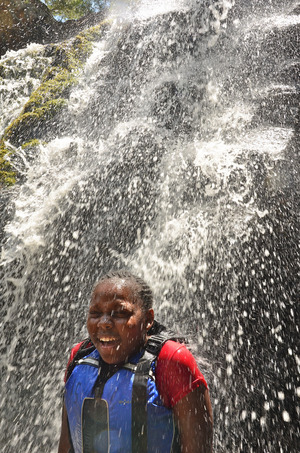 The Paddle Georgia youth program makes a huge difference in the lives of these young people. Here's what past participants have said about the experience:
"I was afraid that it would be hot, hard, and uncomfortable and it was. What I did not realize or expect was what I would learn from this experience. I learned how to face my fears and how to keep pushing when I feel like giving up. Paddle Georgia was an invigorating experience. I will never forget it." -Erica

"When I first came here, I thought this was going to be a tiresome and boring trail with no entertaining technology (a.k.a. TV). But, despite being pestered by bugs, dehydrated, tired, and sore, I would do it once, twice, three times more." -Kari

Please help us continue these great memories for these young people by making a donation to this program.
​​
Each year, through your generous donations and through grants from foundations and Paddle Georgia sponsors, Georgia River Network offers a group of youth from the Atlanta area to participate in all seven days of Paddle Georgia. For many, this is a transformative trip and the biggest adventure of their young lives.

To make this happen, we need to raise at least $4000 to cover their meal costs and Georgia River Network's expenses in providing this opportunity. That's about $285 per youth and their adult leaders.

Please consider sponsoring a youth at the $285 level. $285 too much? Any amount will help get these youth on the water. Click here to donate online now!
---
GRN Trash to Art Contest
Georgia River Network will be presenting a Trash to Art Contest on September 8, 2018! We are encouraging as many participants as possible to submit their artwork that they create from trash that has been found at river/lake/ocean clean-ups. All ages are welcome to submit entries. There is no cost to register and the contest will award first to third place prizes. Email Gwyneth@garivers.org to sign up!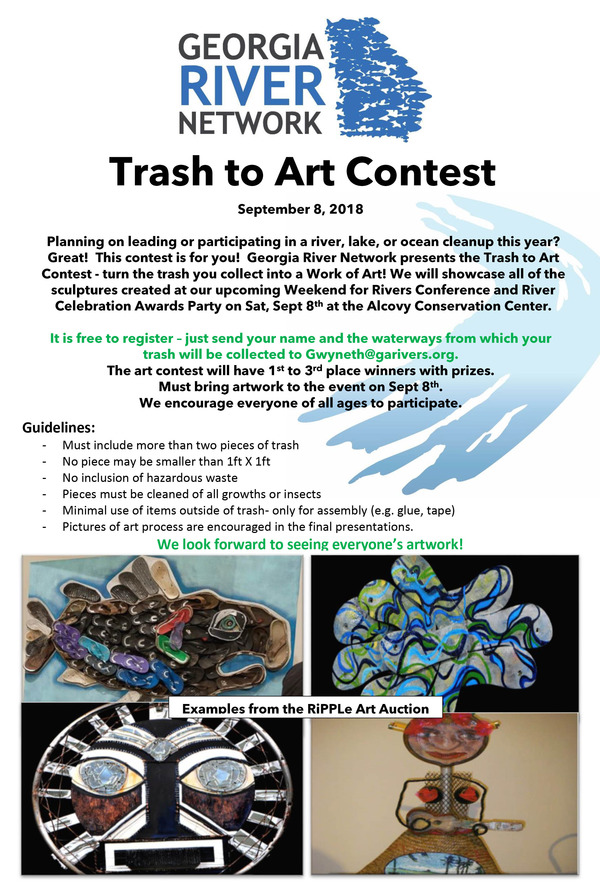 ---
Soque River Hidden Gem: Farm to Fork Mountain Cabin Getaway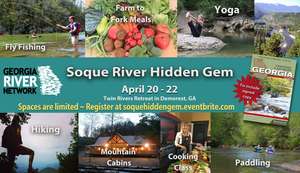 Join the Georgia River Newtork and Soque River Watershed Association on Earth Day weekend for this special Farm to Fork event at Twin Rivers Resort & Retreat including paddling/hiking, yoga/meditation, a gourmet cooking class, fly fishing and fly-tying course, plus evening entertainment including presentations and Southern Appalachian tales, singalongs and instrumental music.

​Participants will stay in cabins at the fully furnished ​Twin Rivers ​Resort in the North GA mountains near Demorest​,​Ga.

We will connect with farmers and growers ​in North GA through a weekend of eating fresh locally grown food and experience activities that highlight rivers and the wildlife and farming that depend on this valuable resource for vitality and survival.

Food for our gourmet meals throughout the weekend will be sourced from local farms and prepared by renowned Chef David Sweeney, local Chef Maria Loveless, and local Chef Leslee Pennington.

Starting Friday late ​afternoon, arrive at Twin Rivers Resort to register/check-in and enjoy the kickoff Farm to Fork dinner followed by presentations by Andrew Linker of Northeast Georgia Locally Grown and the Soque River Watershed Association President, Duncan Hughes.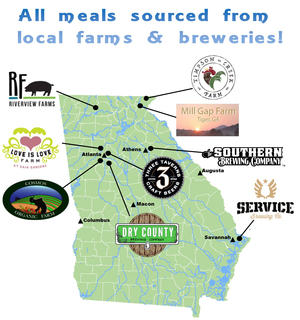 Saturday, enjoy either a Scenic​ Paddle on the Soque River ​or join
the noted local naturalists, Jim Sullivan and Joel Volpi, on the 2 to 3-mile guided Nature Hike. The evening will include another delicious Farm to Table dinner as well as a presentation and book signing by author​ Suzanne Welander
and live music (Southern Appalachian Tales, Singalongs and Instrumental music).
Sunday, enjoy either the ​Riverside ​Yoga - Meditation Class with South Africa native Janita Nelson and the Gourmet Cooking Class taught by culinary alchemist Chef MiMi McGee​ or the Fly Fishing & Tying Workshop led by experience guides Stephen Roberts and Ron Thomas of Unicoi Outfitters.

Tickets also include a signed copy of the "Georgia Canoeing & Kayaking" Guidebook!
Spaces are limited: reserve your spot for this Hidden Gem today! *Must register by April 4th to recieve desired tshirt size*
---
Georgia River Network is a member group of EarthShare of Georgia

— a non-profit federation of over 60 Georgia non-profits, all of which work to educate, conserve, or protect our air, land, and water throughout Georgia. Through workplace giving campaigns at participating companies, EarthShare raises funds for the member group non-profit organizations in Georgia. Employers who include EarthShare as part of their annual pledge campaign empower their employees with additional ways to improve their world. EarthShare of Georgia, as part of the EarthShare national employee giving program, is part of a network representing more than 400 environmental groups working locally, nationally and internationally. You can support Georgia River Network easily through the annual campaign.

If your company would like add an EarthShare giving campaign, contact Dana at dana@garivers.org. Learn more at the EarthShare website.
---
Protect Georgia! Sign Up for Advocacy Alerts!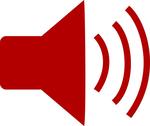 Protect Georgia is a collaborative effort among environmental and conservation organizations throughout the state to educate and mobilize their memberships through an electronic action alert system. This system provides the conservation community with a powerful means for getting their collaborative message out to elected officials, administrative decision makers, and leaders in big business and industry. Simply enter your name, address and email and the system will allow you to email important messages to your elected officials with a click of a button
To sign up, visit the Protect Georgia website!
---
Not on Facebook? Get GRN and other River News in Your RSS Feed
Want to see what is going on each day in the world of Georgia rivers? Go here: http://garivernews.wordpress.com. Click on the "follow" button in the bottom right corner, enter your email address, and our daily news will be delivered to your inbox.