---
GRN 2017 Accomplishments & By the Numbers: Yep - Time to Brag!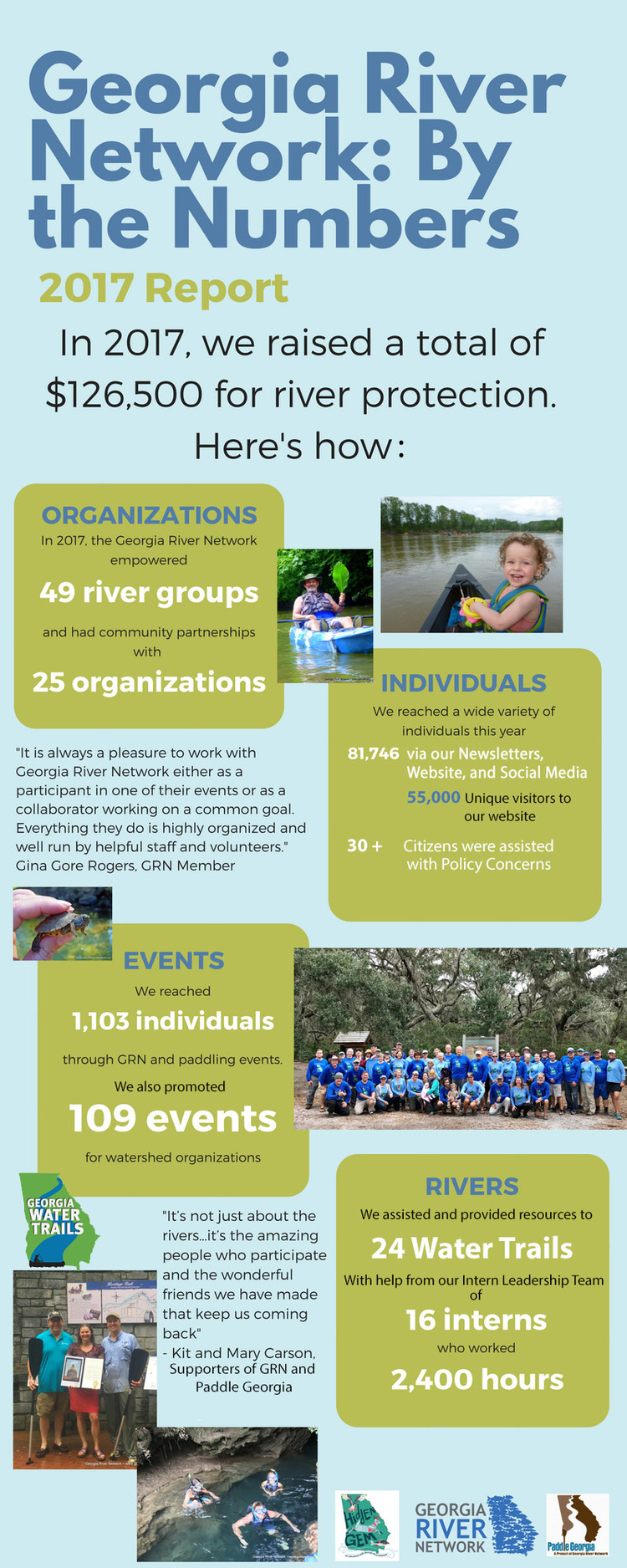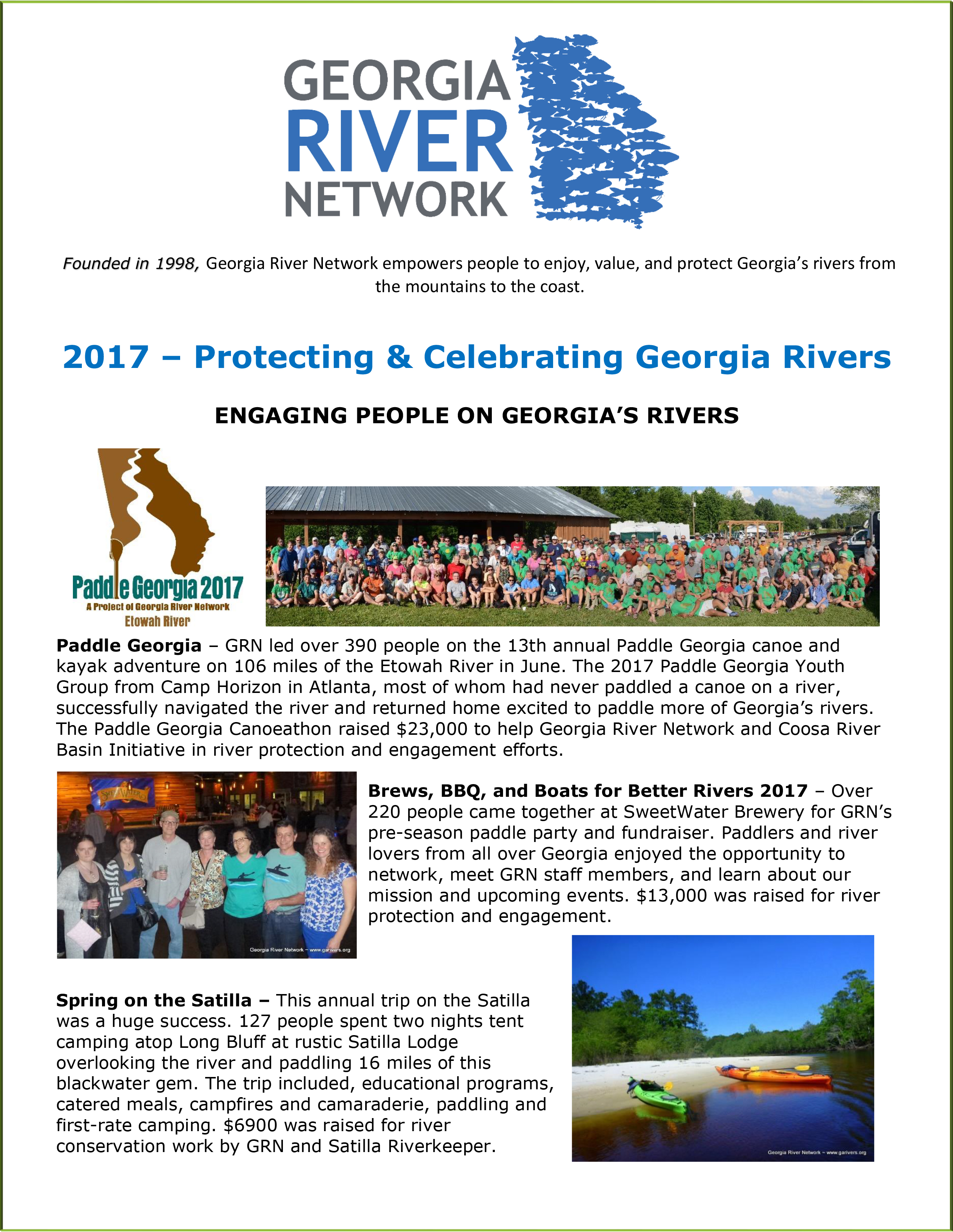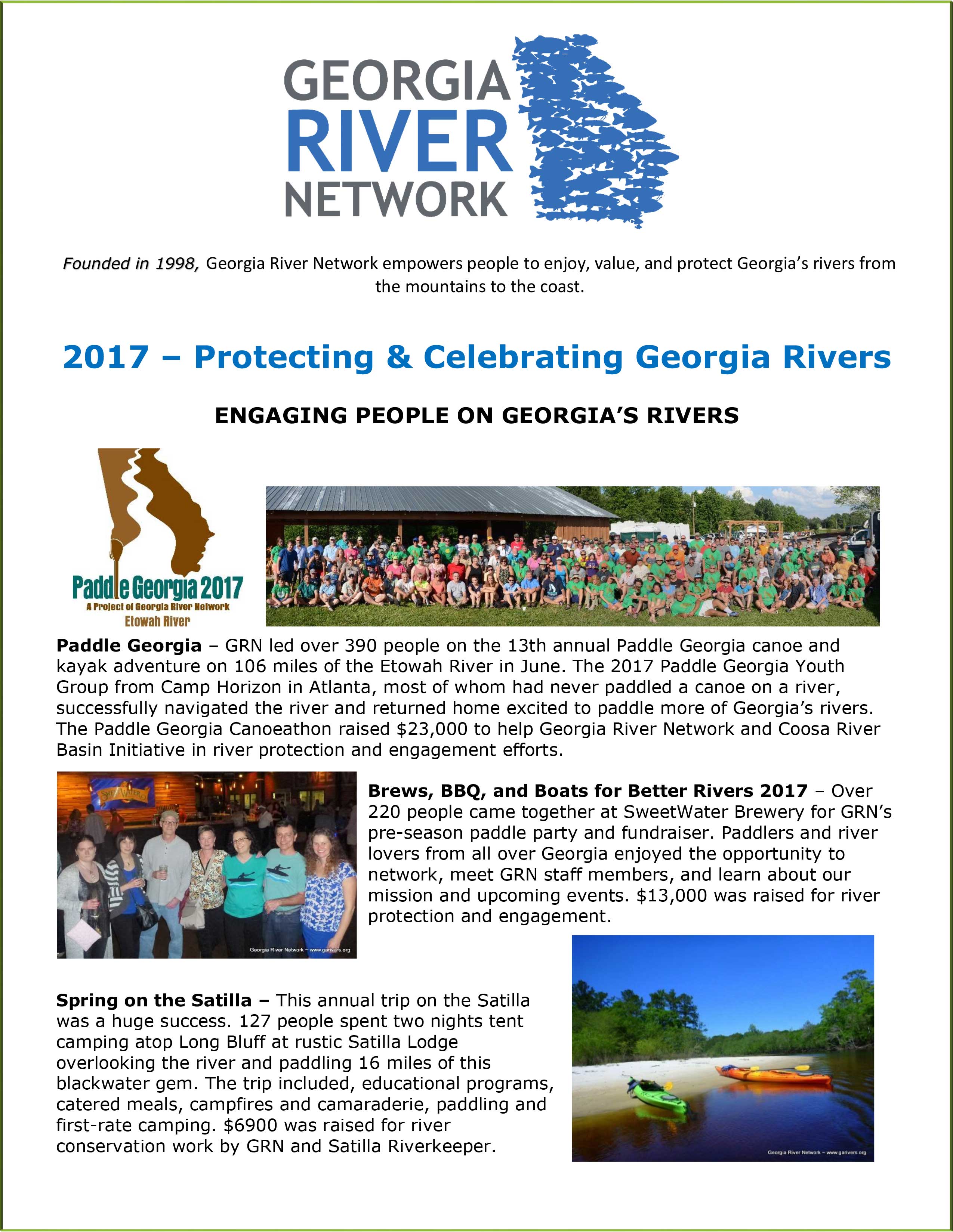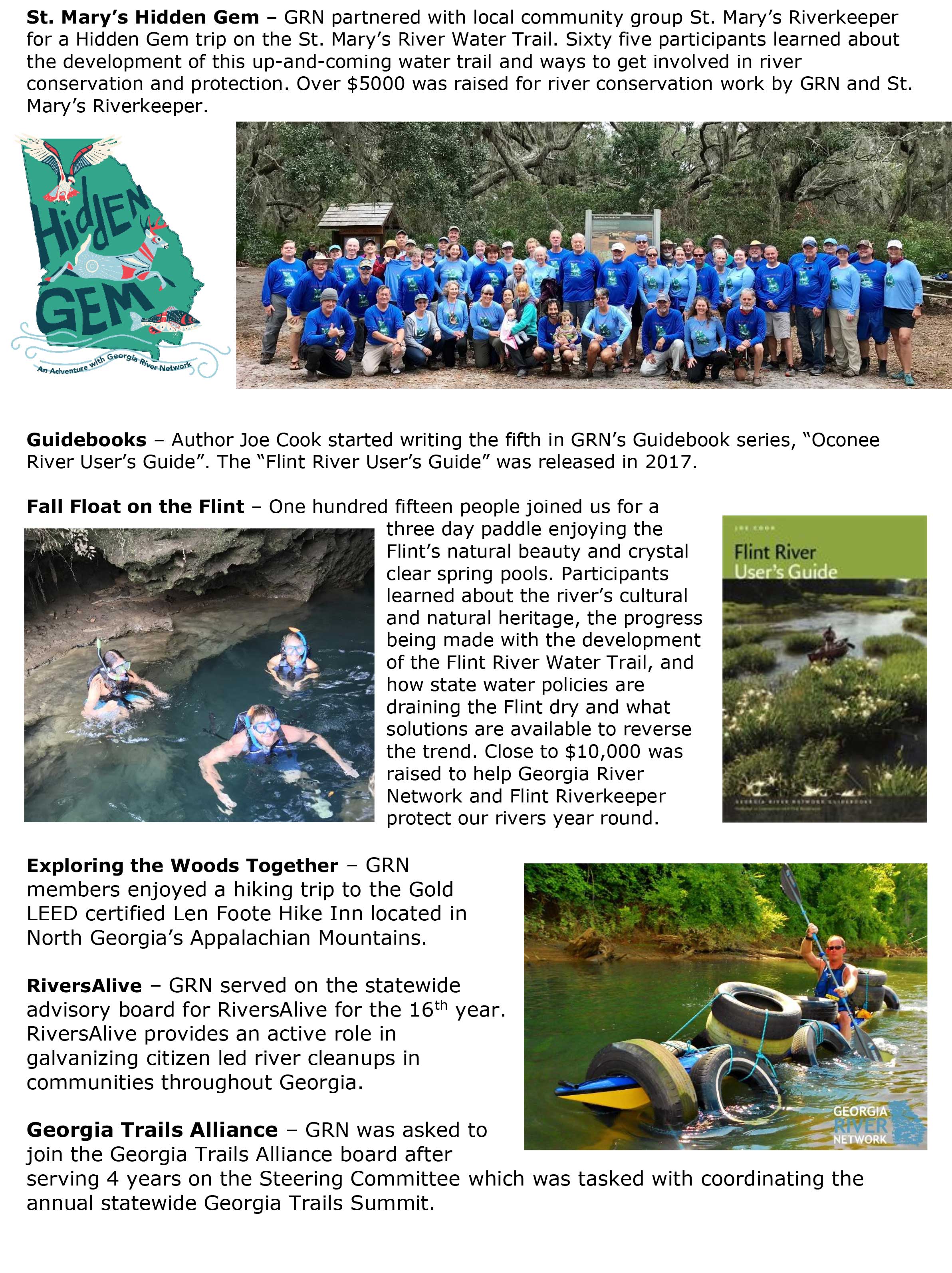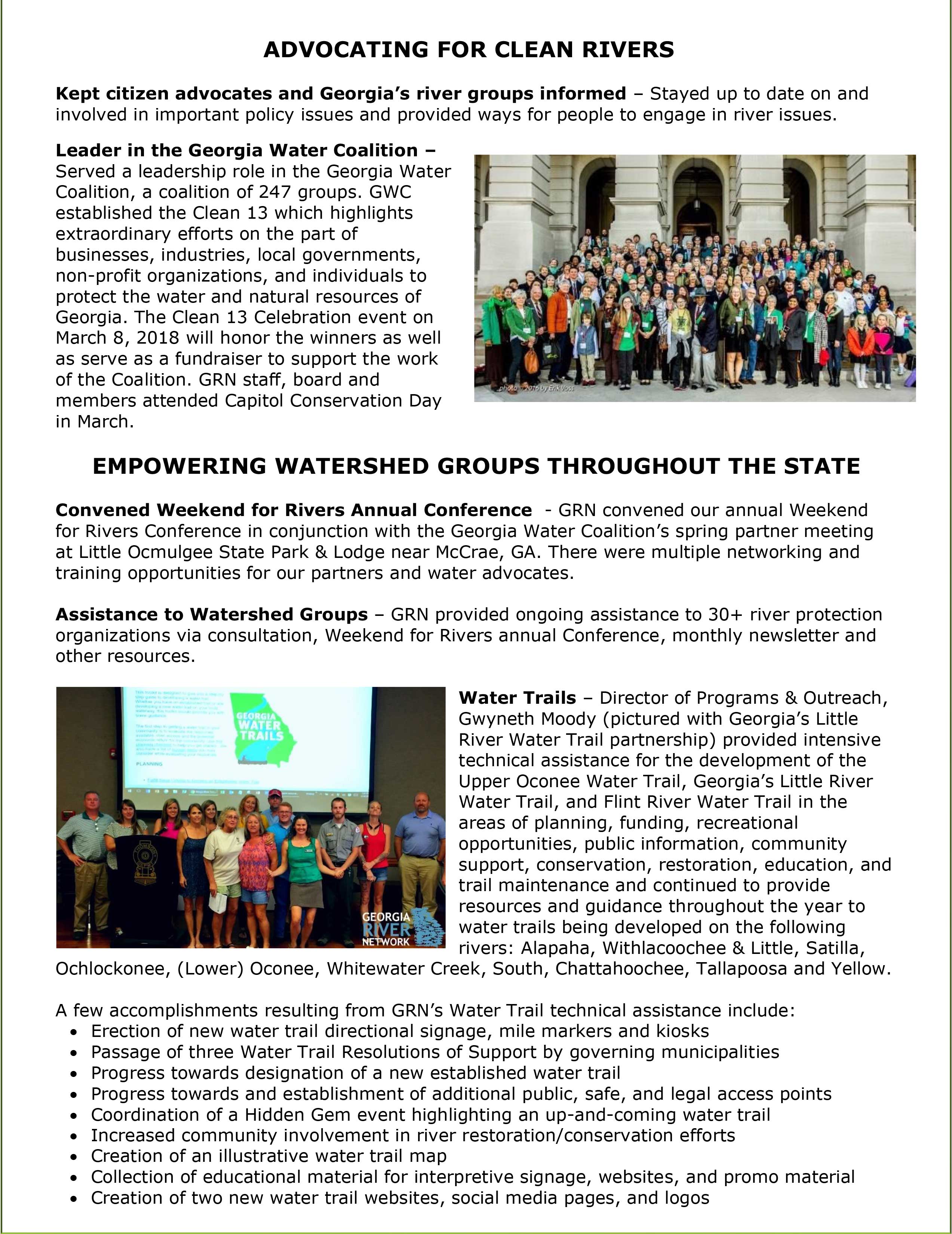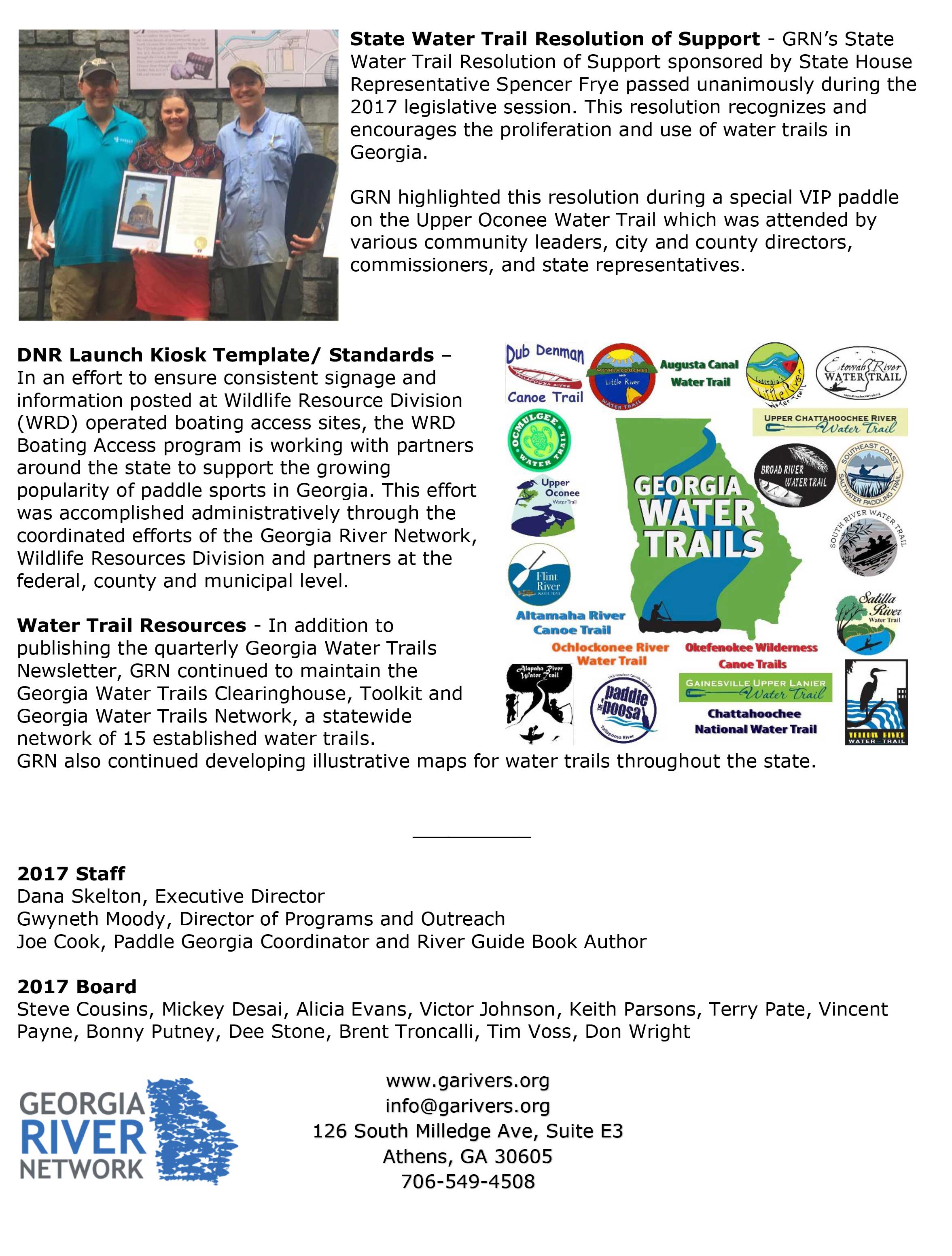 ---

St. Marys Hidden Gem - An Unforgettable Weekend!

What an incredible weekend on Cumberland Island! This Hidden Gem might have been our best one yet! We had perfect weather, delicious food, spectacular scenery, fascinating programs - all enjoyed by an awesome gaggle of river lovers! It was such an unforgettable time in fact, we've decided to have it again! So mark your calendar for Nov 30-Dec 2, 2018!
A gazillion thanks to St Mary's Riverkeeper Rick Frey (paddle safety and meal delivery) and GRN volunteers Daniel Peiken, Chuck Moody, Ofelia Sierra, Keith Clemmons, Karen Kataldi, Julie & Dennis Parson. All made possible with the help of Capt. Bob Guthrie of A to Zincs Mobile Marine Repair, the Fernandina Yacht Club and volunteers from Kayak Amelia - Cris McComas, Jules Ruppel, and Betty & Barrett King; Barry O'Neill and Carol Ruckdeschel for their awe-inspiring programs

; and Creative Catering for providing delicious meals!

Also HUGE thanks to MiMi McGee of Leafy Café for cooking an amazing Farm to Table Meal, Lucy Flight Foster for hosting this dinner as well as all of our wonderful sponsors (see below).

Thank you again, everyone, for your support...
See the full photo album!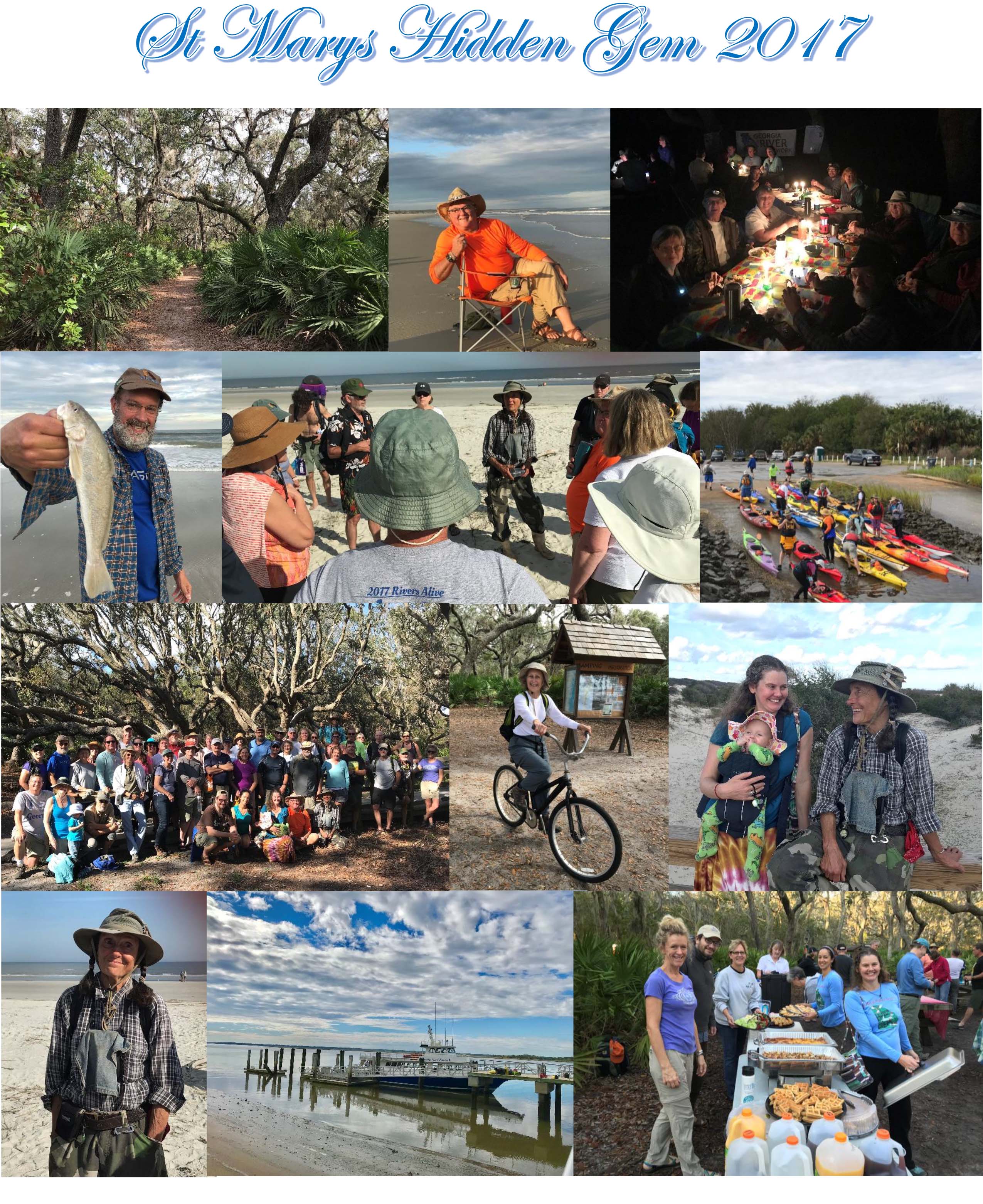 ---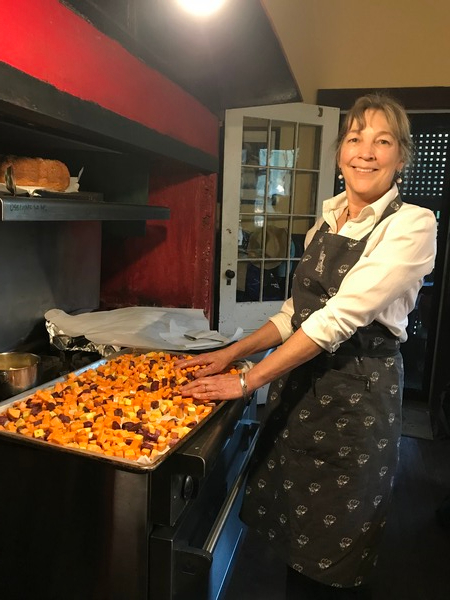 MiMi prepared an amazing Farm to Table Meal with food and drink donated by our

wonderful sponsors: Eagle Creek Brewing Company, Sweet Grass Dairy, Canewater Farm, Greyfield Garden, Grassroots Farm, Southern Soul Barbeque, Plantation Quail , Kaya Vineyard & Winery, Richland Rum, 12 Spies Vineyards and Farms, Uncle Don's Local Market, On The Fly Outfitters, and Sapelo Sea Farm.
MiMi is a Culinary Alchemist and Plant-based Nutritionista, who promotes health through culinary nutrition.
She has a B.S. in Environmental Science from Stockton State College, so she's well informed on the environmental issues facing rivers. She also has a A.A.S. in Culinary Arts from Johnson and Wales University in Charleston, SC, a Certificate in Plant Based Nutrition from T. Colin Campbell Center at Cornell in Ithaca, NY, a Certificate in Weight Management Leadership from the Cooper Institute in Texas, and is a Certified Health Coach through the L.E.A.N. Institute in Boulder, CO. She has combined her specialties to create delicious meals that are both good for your body and good for the environment.
MiMi is also quite the entrepreneur. She owns Leafy Cafe Private Coaching & Nutritional Counsel, Chef Services, & Cooking Classes and is a partner in Island Wellness Adventures, which focuses on providing group supported Wellness Adventures - soft, adventure travel for women with a focus on health and wellness, along with anxiety and stress-free travel to remote locations where one might not easily reach on their own. She'd also a member of many organizations including: American Association of Drugless Practitioners, Women Chefs and Restauranteurs, Chefs Move to Schools, and Food for Life Cooking and Nutrition Classes.
MiMi has another event called the Wellness Adventure coming up on March 17-20. To learn more about this event contact Mimi McGee at mcgee.mimi@gmail.com or call 912-230-2829. If you would like to learn more about MiMi, her services, or future events she will be involved in visit her website at

mimimcgee.com.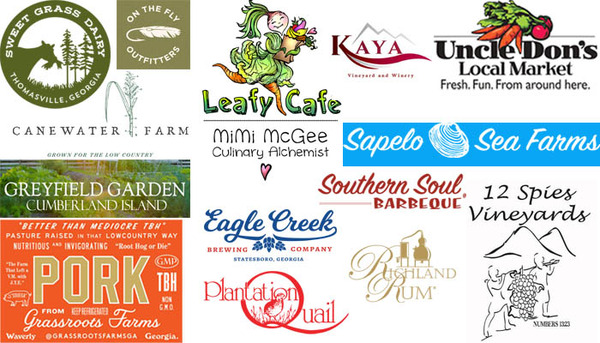 ---
Bon Voyage GRN Board Member Brent Troncalli and Welcome Kit Carson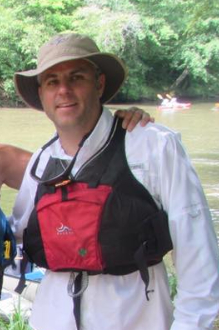 We have been so lucky to have had Brent Troncolli serve on the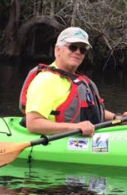 Georgia River Nework Board for 2.5
years and a supporter for many more. No
t only has he been a strong supporter of GRN through his generous donation of boats to help raise money at our events, he has provided a plethora of great ideas and river /paddling knowledge. Bon Voyage Brent and good luck on your circumnavigational sailing adventure!

We are excited to welcome our newest board member Kit Carson to the team. Kit has been a member of GRN since 2012 when he and (now wife) Mary McDonell attended their first Paddle Georgia. Welcome aboard!
---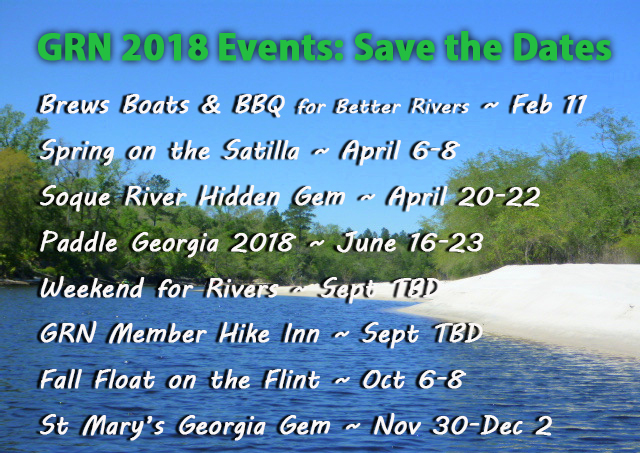 ---
Capitol Conservation Day

Save the date - March 1, 2018!
Capitol Conservation Day is an annual opportunity held by the Georgia Water Coalition for all Georgians to gather at the Capitol to tell our state representatives and senators that we value water for our families, economy, health, and future generations. On February 15, 2017, over 160 people came together to work on issues including coal ash, stormwater legislation and more. The day started with participants enjoying breakfast and attending workshops on issues before heading over to the Capitol to meet with legislators about specific issues. Learn more about Capitol Conservation Day
.
---
Last Chance for Paddle Georgia T-shirts 2005-2016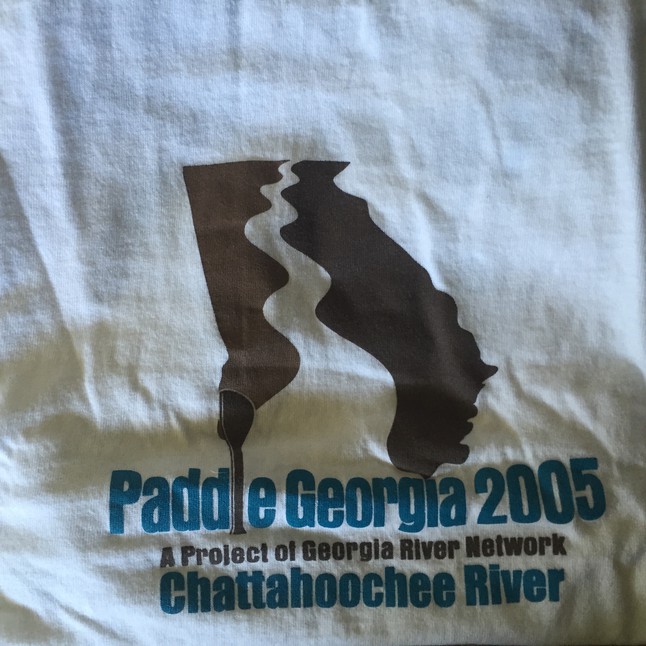 Attention collectors, paddlers and artists! GRN is clearing out the old and making way for the new. We will be letting go of our old Paddle Georgia shirts from years 2005-2016. If you would like to purchase a shirt for your collection, please do so by

January 30

. Old Paddle GA shirts are $5. If you are the creative type and would like to make something out of the shirts and donate it back to GRN for one of our auctions, we would be happy to ship you your choice of the remaining merchandise in exchange for the cost of shipping. Contact dana@garivers.org with questions.
---
GRN is looking for the following new or gently used items for our office: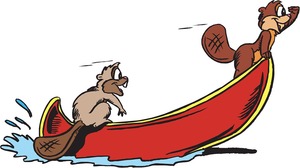 Sit on top kayaks, recreation kayaks, tandem kayaks, and canoes - in good shape

Graphic design and printing services

Donated office space in Athens

Adobe Creative Suite software

Covered trailer
Email info@garivers.org or call 706-549-4508 if you would like to donate any of these items.
---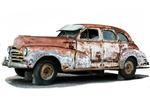 Donate a vehicle to GRN and help save our rivers! Turn your car, truck, RV, or boat into protection for Georgia's rivers. We accept any vehicle - running or not - by working with Charitable Auto Resources. Your vehicle is towed free of charge and the donation is eligible for a tax deduction. Contact Dana Skelton, at dana@garivers.org or 706-549-4508 if you are interested in taking advantage of this opportunity or for more information about the vehicle donation program.
---
Georgia River Network is a member group of EarthShare of Georgia

— a non-profit federation of over 60 Georgia non-profits, all of which work to educate, conserve, or protect our air, land, and water throughout Georgia. Through workplace giving campaigns at participating companies, EarthShare raises funds for the member group non-profit organizations in Georgia. Employers who include EarthShare as part of their annual pledge campaign empower their employees with additional ways to improve their world. EarthShare of Georgia, as part of the EarthShare national employee giving program, is part of a network representing more than 400 environmental groups working locally, nationally and internationally. You can support Georgia River Network easily through the annual campaign.

If your company would like add an EarthShare giving campaign, contact Dana at dana@garivers.org. Learn more at the EarthShare website.
---
Protect Georgia! Sign Up for Advocacy Alerts!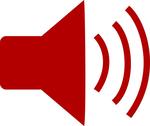 GRN members can stay up-to-date on issues affecting clean water, the health of our rivers, and Georgia's vital natural resources by signing-up for Protect Georgia action alerts. Protect Georgia is a collaborative effort among environmental and conservation organizations throughout the state to educate and mobilize their memberships with an electronic action alert system. This system provides the conservation community with a powerful means for getting their collaborative message out to elected officials, administrative decision makers, and leaders in big business and industry. The system automatically allows you to easily contact your senator, representative, or other decision makers via e-mail when an important decision is pending or a vote is scheduled.
To sign up go to www.protectgeorgia.org.
---
Not on Facebook? Get GRN and other River News in Your RSS Feed
Want to see what is going on each day in the world of Georgia rivers? Go here: http://garivernews.wordpress.com. Click on the "follow" button in the bottom right corner, enter your email address, and our daily news will be delivered to your inbox.
Georgia River Network
126 South Milledge Ave.
Suite E3, Athens, GA 30605
(706) 549-4508


http://www.garivers.org




Become a Member Today -

Join