News Stream

News
Workshops/Conferences/Calendar Items
Non-Profit Resources:​​
News
---
GWC Legislative Tracker: Legislative Update Number 1 (January 12, 2018)
Georgia Water Coalition
On Monday, January 8, the Georgia General Assembly kicked off the 2018 session, though there have been a number of audibles from the State of Georgia changing the schedule in order to accommodate Downtown Atlanta crowds here to watch UGA play in the College Football National Championship at the start of the week. The first week came to a close yesterday, Thursday, January 11. The General Assembly has now convened for 4 days of the 40-day session, and legislators will return to regular business on Thursday, January 18 (Day 5).
The Georgia Water Coalition is working on a number of issues during the 2018 session, including:
Trust Fund Honesty
GWC is pushing passage of
HR 158
, a resolution to restore trust in trust fund honesty. The Georgia Constitution, as currently written, does not allow legislators to "dedicate" fees collected by the state to their intended use—whether to clean up environmental waste sites, fund teen driver programs or support training for peace officers. The fees collected are placed in the state general fund for allocation by state legislators as they deem fit, even though the bill creating the fee may say differently. GWC wants to see programs like the Solid Waste and Hazardous Waste Trust Funds receive the fees due so that EPD can clean up tire dumps, leaky landfills and contaminated properties.
HR 158 proposes an amendment to the Georgia Constitution that would ensure fees dedicated to a specific purpose are annually appropriated for that purpose. If the resolution passes, the amendment will be placed on the election ballot in November 2018 for consideration by state voters. Let's help restore trust in our government and ensure that important state programs are properly funded by passing House Resolution 158 during the 2018 session of the General Assembly.
Addressing Uncertainty Surrounding Stream Buffer Protections
This year, the Coalition is continuing its intensive efforts to re-establish buffer protections on all state waters, after this vital water quality protection was limited by a 2015 Georgia Supreme Court decision. The Coalition is working with legislators on a simple, logical fix to ensure these vital protections continue to apply to our lakes, rivers and streams.
Ensuring Safe, Secure Disposal and Storage of Coal Ash Wastes
GWC also is working to address the huge volumes of coal ash waste stored at Georgia Power plants and municipal solid waste landfills across the state. CRK and our partners are dedicated to ensuring that this waste is disposed of in a way that keeps it out of nearby rivers and streams and from contaminating groundwater beneath private property located near storage sites. GWC will share more information on how you can help advance this issue once legislation is introduced.
---
GA EDP Responds to "Dirty Dozen" Listing by Proposing Dirty Rule Change
Georgia Water Coalition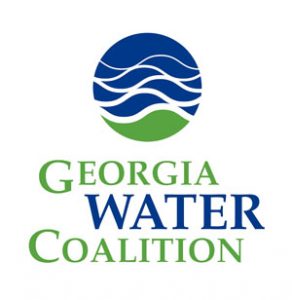 One week after Rayonier Advanced Materials was listed as a top polluter in the Georgia Water Coalition's 2017 Dirty Dozen report, the Georgia Environmental Protection Division proposed changes to clean water regulations to allow Rayonier to continue polluting the Altamaha River. The smelly and visible discharge from the facility prevents many community members from swimming and fishing in the area. EPD's request to change the rule also comes after a state administrative law judge recently ruled that Rayonier AM's discharge violates existing state water quality rules. In its letter to the Board of Natural Resources, EPD requested approval for amendments that would re-write the regulation:
"All waters shall be free from material related to municipal, industrial or other discharges which produce turbidity, color, odor or other objectionable conditions which unreasonably [language added] interfere with designated [replaces "legitimate"] water uses."
These changes would have major ramifications and would apply to all of Georgia's rivers, lakes and streams. Changing "legitimate" to "designated" would reduce legal protections for activities such as boating and swimming. The insertion of "unreasonably" would give industrial polluters an additional loophole to weaken citizen enforcement suits.
"Every waterfront property owner in Georgia and every fisherman, paddler, and swimmer should pay attention," said Gordon Rogers, Flint Riverkeeper. "Your water and your property values are being put in jeopardy by the state agency that is supposed to protect you, but in fact is in the pocket of well-connected, powerful polluters."
"This isn't just a simple matter of changing a few words in a meaningless rule—these proposed amendments would gut protections for Georgia's rivers, streams and creeks across the entire state," said Jen Hilburn, Altamaha Riverkeeper. "Giving polluters a free pass has already contributed to the degradation of the Altamaha River, and continuing down the path of weaker enforcement does nothing to protect Georgia citizens."
---
Call to Action: Change the Designated Use of Chattahoochee River from Peachtree Creek to Franklin to 'Recreation'
​
Every three years Georgia's Environmental Protection Division (EDP) reviews and makes revisions to our state water quality standards with input from the public. During this process, EPD assigns "Designated Use" classifications for different sections of our rivers and streams based on how these waterways are used. Common Designated Uses assigned to rivers in Georgia include Fishing, Recreation, and Drinking Water Supply, and each of these categories is affiliated with specific water quality standards. For example, a section of river whose Designated Use is Recreation is held to a higher water quality standard than a section whose Designated Use is Fishing.
On the Chattahoochee River, different sections are classified with different Designated Uses. From the river's headwaters in North Georgia until it reaches the City of Atlanta at Peachtree Creek (135 miles), the Chattahoochee river's Designated Use is Recreation and/or Drinking Water. Below Peachtree Creek, the Chattahoochee's Designated Use changes to Fishing, and the river's designation does not include Recreation again until it reaches West Point Lake at the confluence with the New River.
This means that nearly 76 miles of the Chattahoochee from Atlanta to West Point Lake are held to a lower protective standard for water quality than upstream or downstream of this section.
EDP's current Triennial Review process is an opportunity to increase protection of the Chattahoochee River downstream of Atlanta by updating this river section's Designated Use to include Recreation. This agency is currently considering changing a 13-mile portion of this section of river to include Recreation, which is good news, but the remaining 63 miles should be granted the same designation. Hundreds of people paddle, swim, and wade in the Chattahoochee between Peachtree Creek and West Point Lake each year, and this section of river is cleaner today than it has been for decades. Middle Chattahoochee communities are reconnecting with the river and should have access to a Chattahoochee held to the same protective standard as the river is both upstream and downstream.
Now is the time to ask EDP to update the Designated Use of the Chattahoochee River between Peachtree Creek and West Point Lake to be consistently designated for Recreational Use.

Sign the petition and learn more ways to protect the Middle Chattahoochee at
http://Chattahoochee.org/EPDPetition
.


Thank you for helping protect our waterways!
---
GA DNR Requesting Voluntary Release of Spotted Seatrout Operation "ROE"
Georgia DNR Weekly Bulletin
Since late December water temperatures in Georgia estuaries have been below average and in early January inland water temperatures dropped below 44 degrees – a critical level for some marine organisms. The Georgia Department of Natural Resources (DNR) and many anglers are concerned about the status of species that support the state's valuable recreational saltwater fishing activities including spotted seatrout. These fish live in grassy or shell-strewn flats, marshy areas, and estuaries, but can also be found in rivers and along beaches.
"Water temperatures in the mid to low 40s are lethal to some fish species, such as spotted seatrout. We documented low water temperatures during the winter of 2009/2010 when angler reports and observation by state natural resource agency staff indicated that seatrout populations in the Carolinas and Georgia were adversely impacted by the temperature drop," explained Doug Haymans, director of the Coastal Resources Division of DNR. According to Haymans, staff are currently monitoring water temperatures coastwide as they continue to remain below 44-degrees. Even when fish are not killed immediately, they can suffer physiological stress that leads to mortality.
Coastal Resources Division is requesting anglers voluntarily release trout over 18 inches in length during the period from January 10th through September 2018. Operation ROE (Release Over Eighteen) is a precautionary effort that should protect larger more prolific spawners and result in increased egg production during the 2018 spawning season. This cooperative, angler driven effort, along with favorable environmental conditions should lead to a strong year class of juvenile trout going into the winter of 2018/2019.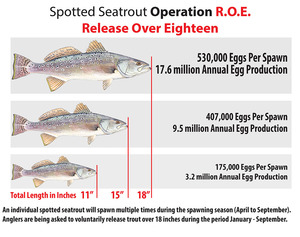 "The Georgia seatrout population is comprised largely of age one and age two fish - smaller younger fish that represent much of the spawning stock that are susceptible to stress during these cold conditions and suffer higher rates of mortality as a result," states Pat Geer, Chief of Marine Fisheries at Coastal Resources. "We know that older larger fish can produce substantially more eggs and are more tolerant to cold water conditions. The spawning season immediately following such a cold event may consist primarily of the older and larger trout that survived. Protecting larger older fish following a cold winter event may help the population rebound in the absence of smaller fish that may have been lost".
Fall sampling (prior to the cold winter event) yielded above average numbers of spotted seatrout captured as part of Coastal Resource Division's Marine Sportfish Population Health Survey. This survey is a long-term standardized survey designed to monitor the status of many popular recreationally important marine species in Georgia. This higher abundance along with proactive angler participation should help seatrout numbers rebound quickly. Coastal Resources Division will continue to monitor the situation heading into the spring spawning season.
---
Residential Water Use Study- Metropolitan North Georgia Water Planning District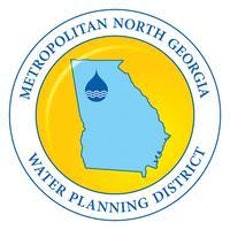 The Metropolitan North Georgia Water Planning District is seeking participants for a comprehensive residential water use study that will help the Metro Water District learn more about how water is used not only across the different basins in the region, but how an engaged stakeholder population compares to a generic residential water use in the District. To help gather information from stakeholders, Metro Water District has prepared a household water use assessment form. The online version can be found here:
http://northgeorgiawater.org/water-audit
It is the hope of the Metro Water District that this will be the beginning of a long-term project which can potentially direct further education and outreach efforts, technical assistance programs, and potential new incentive programs.
---
Hurricane Created New Island off Georgia Coast
Excerpted from Online Athens by Lee Shearer
When Hurricane Irma raked Georgia's coast Sept. 12, the powerful storm inflicted heavy damage, but it also created. Georgia now has a new coastal island, thanks to the powerful storm.
The new island formed when the storm shifted the channel of Blackbeard Creek and blew out part of a narrow finger of land that extended from Blackbeard Island south toward Sapelo Island, explained Marguerite Madden, head of the University of Georgia's Center for Geospatial Studi
es.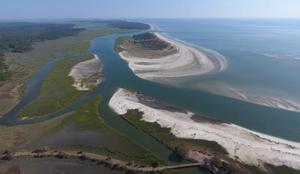 The new island is small — about 100 acres, estimated Fred Hay, Sapelo Island manager for the state Department of Natural Resources' Wildlife Resources Division.
They're calling the little island Little Blackbeard, since it was formed from federally-owned and protected Blackbeard Island. Blackbeard Island is about 5,600 acres, and Sapelo is nearly 16,500 acres.
Aerial photographs show the gradual growth of the narrow spit of land that became the island since the 1940s, Hays said.
Because of the direction of currents off the Georgia coast, its coastal islands change continually, eroding on their north ends, building up on the southern ends. But a big force such as a hurricane can dramatically speed up that natural process, Hay said.
Hay, among others, is curious to see what will become of the little island in the future.
As the process of erosion and accretion continues on the barrier islands, the little island might eventually attach to Sapelo, Madden told scientists at the recent Southern Forestry and Natural Resource Management GIS Conference in Athens.
Little Blackbeard also might just disappear, Hay said.
"It's really changing the currents coming in there," said Madden, who's using satellite imagery to help gauge the damage to the island. In another project, she's using imagery to map and gauge tornado damage and recovery in the Smoky Mountains.
Irma inflicted millions of dollars in damage as it swept northward in September, and Sapelo took its share.
Hay is seeing "considerable" tree mortality caused by the spray of salt water on the ocean side of the island. Sand dunes were also blown away, but the dunes will replenish themselves, Hay said.
Surging storm waters brought salt water up onto much of Sapelo, flooding the St. Luke Baptist Church and about a dozen homes, some owned by the University of Georgia, others privately owned in Hog Hammock, a small African-American community founded by former slaves on Sapelo.
Read the
full article on Online Athens
.
---
Workshops/Conferences/Calendar Items
---
Brews, Boats, & BBQ for Better Rivers - Win a New Jackson Kayak! Buy Tickets Now!
When: February 11, 5pm-8pm
Where: SweetWater Brewing Company, 195 Ottley Dr NE, Atlanta, GA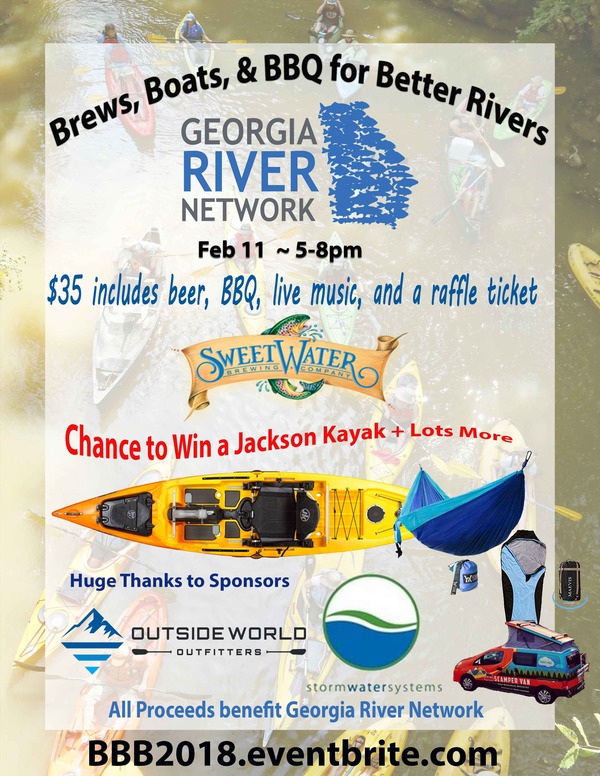 Join Georgia River Network for our 5th Annual 'Brews, Boats & BBQ for Better Rivers on Sunday February 11, 2018 at SweetWater Brewery in Atlanta, Georgia!
This kickoff paddle party and GRN fundraiser is a pre-season gathering of paddlers and river lovers from all over Georgia at SweetWater Brewery.
We invite paddlers of all skill levels and disciplines, as well as those who have never paddled but are interested in this wonderful sport to come meet GRN staff members and learn about our mission and upcoming events.
Tickets are $35 and include:
SweetWater Brewery Tours
Six Tickets for your choice of a variety of Sweetwater Beers on Tap (Wine will also be available)
BBQ by Low Country
One chance to win a Jackson kayak (exact model to be announced soon!)
Live music - (Mike Snowden Band)
Representatives from several paddling groups across Georgia will be there. There will also be silent and live auctions.



Silent auction includes:
American Spirit Whiskey: winning bidder and 10 guests to join us for a 5-flight whiskey tour

Atlanta Botanical Gardens: pack of admission tickets

Fernbank Museum: membership

High Museum: membership

Scamper Van: Scamper Van Rental

Zoo Atlanta: membership

Fox Theatre: tickets to a broadway show

Puppetry Arts Center: tickets

iHome portable wireless speaker

Ultra light down 32 W XL jacket

Maevis sleeping bag 15-30 envelope

Portal ultralight chair

Waterproof portable outdoor blanket

Etekcity personal water purifier

Winners Outfitters double travel hammock

Sterling silver Drop earrings and necklace with pressed flowers

Columbia ​and Patagonia Outdoor Gear and clothing

Rak Outfitter Tshirt and Koozie
HUGE THANKS to our sponsors Storm Water Systems and Outside World Outfitters!
To learn more and register, visit
GRN's Brews Boats, and BBQ webpage
!
---
Stormwater Workshop -
GA Marine Extension and Georgia Sea Grant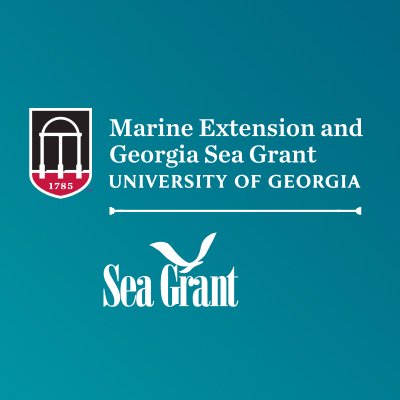 When: January 19-20, 5:00pm
Where:
UGA Marine Education Center and Aquarium
(30 Ocean Science Circle
Savannah, GA 31411)
Learn how to lessen the impact of stormwater runoff on water quality and coastal habitats during a two-day workshop presented by UGA Marine Extension and Georgia Sea Grant. The workshop, Jan. 19-20, will be held at the UGA Marine Education Center and Aquarium on Skidaway Island in Savannah.
Participants will have the opportunity to design a stormwater management system for a neighborhood or residence using different control measures, such as a rain garden or permeable pavement. As part of the exercise, they will calculate the amount of potential runoff at the property, determine the size and shape of the low impact development practice they want to apply, select vegetation and produce a maintenance plan.
Cost of the workshop is $100 and includes dinner Friday night and lunch on Saturday. Registration is required. Contact Kayla Clark at 912-598-3345 or kayla270@uga.edu. More information is available on the
UGA Sea Grant Events page
.
---
Build Your Own Kayak Workshop
When: January 20-28
Where: Tannery Row Artist Colony (554 W Main St., Buford, GA 30518)
The workshop will be taught by Kiliii Yuyan, of Seawolf Kayak​, and this is the first he's done in Georgia. The boats are light, super sturdy, and agile -- ranging from 17' sea kayaks to 12' kayaks suitable for rivers and rock gardening. The cost is $1900 for a nine-day course, January 20-28, in Buford, GA. You'll be carving your own Greenland Paddles​, as well.
More info, and pics! can be found at www.seawolfkayak.com or on the Seawolf Facebook event page.
---
Upper Oconee Watershed Network Winter Quarterly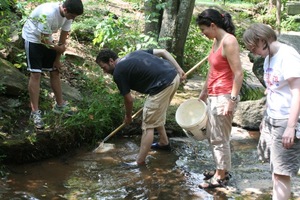 Join Upper Oconee Watershed Network (UOWN) on Sunday, January 21, to collect water samples from various stream sites in the Athens area!
Meet up at Sandy Creek Nature Center at 9am for a brief introduction to the water sampling methodologies that will be used. Then, venture out to select stream sites where you will monitor for biological, bacterial, and chemical water quality. No experience is necessary, and all ages are welcome to participate!
UOWN is trying to better anticipate the number of volunteers planning to attend. Therefore, please pre-register by visiting the
UOWN Winter Quarterly sign-up link
!
---
Extended Deadlines for Adopt-A-Stream Awards Nominations and Poster Abstract!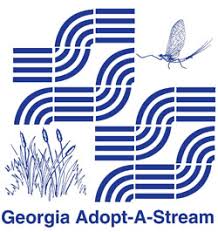 When: January 22
Georgia Adopt-A-Stream needs your help!
Nominate an active AAS trainer, volunteer, or group organization
that exemplifies the five goals of AAS, or
submit an abstract for the Water Science Poster Session
. Poster sessions provide a platform for students and volunteers to share their water science research projects and monitoring results, and to receive recognition throughout the water quality monitoring community.
---
River of Words Contest - Project Wet
When: February 1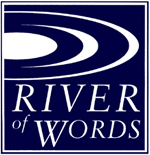 The River of Words Project is a FREE program designed to help K-12 students understand their sense of place by studying a watershed in their own environment then expressing what they discover through poetry and art. The art and poetry can then be entered into a state-wide contest.
Find information about
ROW guidelines and entry forms
at the Georgia Project WET website!
---
Water Quality Training - Satilla Riverkeeper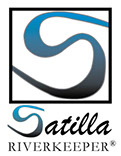 When: February 2, 10am-2pm
Where: Susan Shipman Environmental Learning Center (1 Conservation Way, Brunswick, GA 31520)

Join the Coastal Resources Division - Georgia DNR and the Satilla Riverkeeper for this FREE
volunteer learning opportunity. Take action and do your part in prote
cting your coastal resources by earning your Georgia Adopt-A-Stream Chemical Monitoring Certification. Participants will learn about basic coastal water chemistry and how to conduct a variety of tests with hand-held equipment. This workshop will have both a classroom session and a hands-on outdoor training segment. No prior experience is required, and all materials will be provided!
RSVP on the Satilla Riverkeeper Facebook Event.
---
---
Capitol Conservation Day Scheduled for March 1st - Register Now!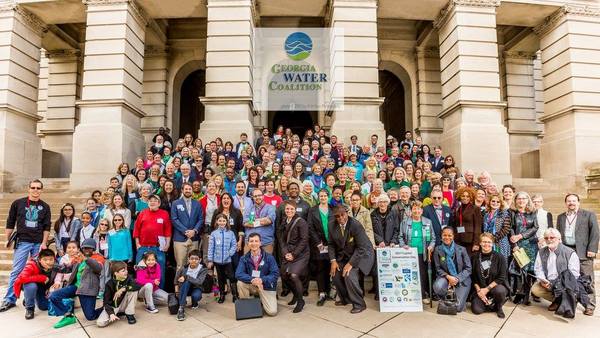 Capitol Conservation Day is an annual opportunity for all Georgians to gather at the Capitol to tell our state representatives and senators that we value water for our families, economy, health, and future generations. On February 15, 2017 over 160 people came together to work on issues including coal ash, storm water legislation and more. The day started with participants enjoying breakfast and attending workshops on issues before heading over to the Capitol to meet with legislators about specific issues.
Register for the 2018 Capitol Conservation event today
!
---
Register NOW - Spring on the Satilla!
When: April 7-8 (check-in April 6)
Join Georgia River Network, in partnership with Satilla Riverkeeper, for a voyage down the Satilla River!
Spring on the Satilla is the ultimate South Georgia river adventure. In early April while north Georgia is just emerging from the winter doldrums, the Satilla River in far southeast Georgia will be brimming with life…(and in early April, not brimming with the eternal heat of summer!). For two nights you'll tent camp atop Long Bluff at rustic Satilla Lodge overlooking the river and over the course of two days of paddling you'll experience nearly 21 miles of this blackwater gem where moss-draped cypress and tupelo crowd the banks and where it seems oxbow lakes and sloughs radiate from every bend. Educational programs, catered meals, campfires and camaraderie round out a weekend of leisurely paddling and first-rate camping.
Don't miss out! Register now for
Spring on the Satilla
!
---
Georgia Water Coalition's Inaugural "Clean 13" Celebration - Tix Now on Sale!
When: March 8, 6:30-9:30pm
Where:
Mason Fine Art
(415 Plasters Ave., Atlanta, GA 30324)
The Georgia Water Coalition's inaugural Clean 13 Report and Celebration highlights extraordinary efforts on the part of businesses, industries, local governments, non-profit organizations, and individuals to protect the water and natural resources of Georgia. The Clean 13 Celebration event will honor the winners as well as serve as a fundraiser to support the work of the Georgia Water Coalition.
Join us in honoring Georgia Water Coalition's Clean 13 Winners!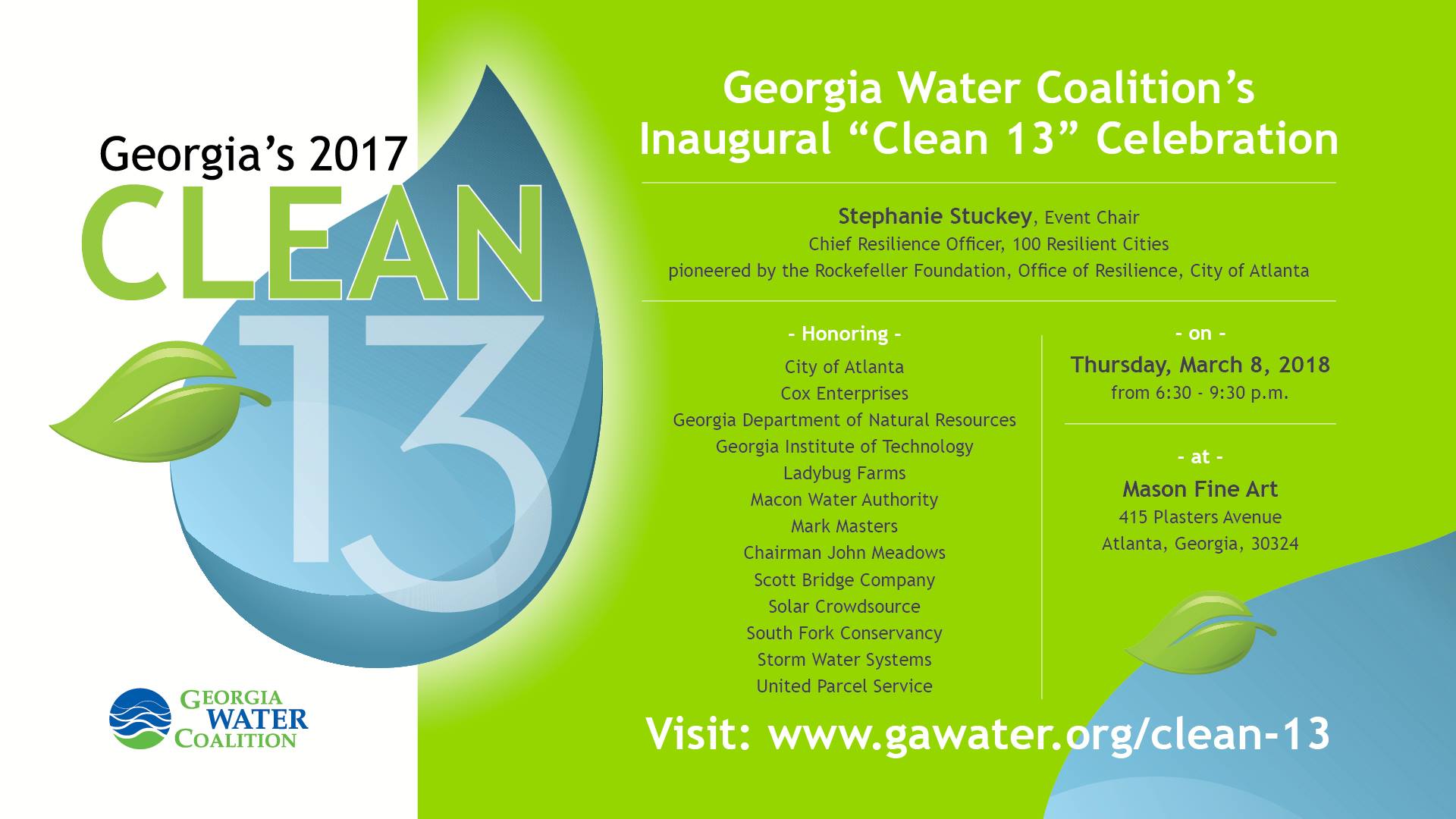 Buy your tickets now for the Clean 13 Event!
---
Non-Profit Resources
---
Webinar- Get Your Board to Give Their Biggest Gifts and Help You Fundraise
When: January 17, 1:00pm
OR
January 25, 3:00pm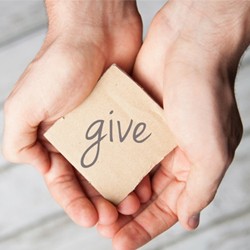 Imagine how much you could accomplish if every board member contributed his or her best gift and was enthusiastically involved in helping the organization fundraise.
Well, that's not going to happen unless you educate the board and develop a strategic plan for their involvement. You can't just keep asking them to "solicit their lists" - it's not strategic and it deadens your board members' spirit and willingness to be involved.
Your board must lead the way in fundraising if your organization is going to fulfill its vision and have the impact everyone wants. That means a thought-out, formal board solicitation process and a detailed plan for how to strategically involve board members in fundraising. Visit
CharityHowTo to learn more about board fundraising
.
---
Webinar - How to Create and Use a Nonprofit Dashboard: A Step by Step Guide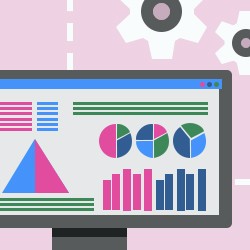 When: January 23, 3:00pm
This live nonprofit webinar will show you step-by-step how to easily create powerful dashboards to help you communicate your nonprofit's performance to staff, board members, and donors. You will also receive worksheets for collecting the data you need for your dashboard as well as plug-and-play Excel dashboards that you can use for fundraising, finance, and program data. To learn more about the importance of dashboards, or to register for this webinar, visit
CharityHowTo
.
---
Webinar - Fundraising Essentials for Success: Making "the Ask"- from Prospecting to Follow-up
When: February 1, 1-2 pm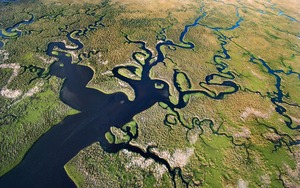 Nearly 80% of contributions to nonprofit organizations come from individual donors, yet asking for a donation can be a stumbling block to successful fundraising. The process of "asking" may be, at the minimum, uncomfortable or, at the most, paralyzing. This session breaks down the process of soliciting a gift from a major donor from prospecting (identifying and ranking potential donors); to getting an appointment with the donor; to prepping for the visit; to the actual "ASK" and all-important follow-up actions after solicitation. To learn more or to register for the webinar, visit River Network's website and events page.
---
WATERSHED ACADEMY WEBCAST SERIES: Surface Water Toolbox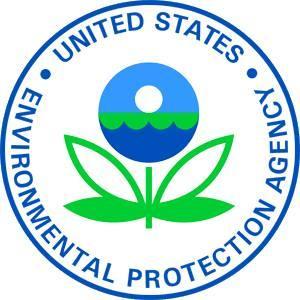 When: February 8, 1:00-3:00pm
Join the U.S. EPA Office of Water for a Webcast on the new Surface Water Toolbox developed by the U.S. Geological Survey and the U.S. Environmental Protection Agency.
The Surface Water Toolbox is a user friendly, downloadable tool for water managers to estimate a wide variety of streamflow statistics.
The tool can be downloaded from
https://water.usgs.gov/osw/swtoolbox/
---
Join Georgia River Network!
If you find News Stream and other information and services provided by Georgia River Network useful, we would appreciate your financial support.

Make a difference and JOIN TODAY!
---