---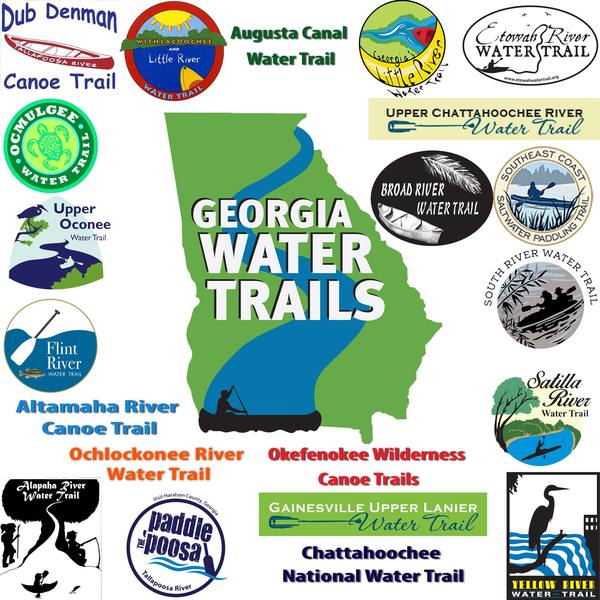 Greetings water trail enthusiasts, planners, and developers!
Although the chilly temps don't feel like it - Spring has officially sprung and paddling season is upon us. Outfitters are beginning to open up shop and recreationists are filling their calendars with outings. Georgia River Network has a Day-cation Series this year specifically focused on providing trips for folks to enjoy some of GA's Water Trails so be sure to
check out our events
and mark your calendars.



This is an exciting year for Georgia Water Trails as there are a number of developing trails that have almost fulfilled their criteria and will soon become 'officially' established!

Kudos to all of you for your hard work and thank you for supporting GRN and the work we do!
As always, I encourage you to check out our
Water Trails Toolkit
and add your events to our
Statewide Calendar
by emailing me.


Happy 'Water' Trails!

Gwyneth Moody
Director of Programs & Outreach, Georgia River Network
Board Member, Georgia Trails Alliance
---
HOT OFF the PRESS:
GA's Established Water Trails Featured on GRN's New I Love GA Rivers Shirts!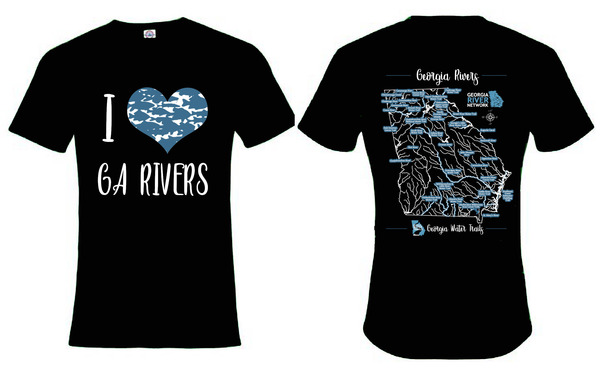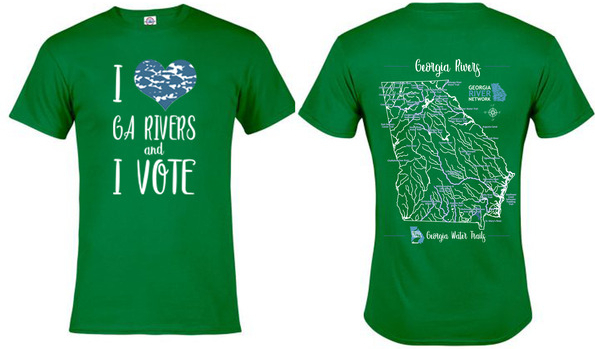 Check out our NEW I Love GA Rivers Shirts with Map of Georgia's rivers and established water trails!!!

Show your support for GA Rivers and wear these shirts PROUDLY!
"I Love GA Rivers" shirts are available in purple, charcoal, forest green, black, and jade.
"I Love GA Rivers and I Vote" available in kelly green.

Shop today in the online store!
Exciting News! Ochlockonee River Water Trail Soon to Receive 'Established' Designation
By Margaret Tyson, Ochlockonee River Water Trail
We are excited to announce that Georgia River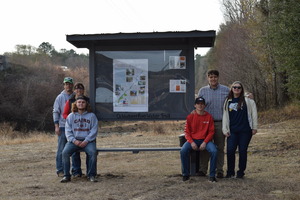 Network has listed the Ochlockonee ​River Water Trail as 'Established' and it will be officially designated soon with a ribbon cutting.
Most recently we have partnered with students at Cairo High School for them to construct a kiosk at our Hadley Ferry Landing. It was a great project for the students and they now say they want to paddle this spring. There is nothing more rewarding than introducing people to this wonderful pastime of paddling, birdwatching, and plant and critter identification, all in our own backyard, along our local river. We soon will have a ribbon cutting with the Cairo/Grady Chamber at the kiosk and are featured in our area tourism efforts. We spoke recently at our local Rotary Club and sparked their interest, especially with we spoke about the benefits of eco-tourism. Our plans include a business paddle, participation in the annual Earth Day at Thomas University, regular cleanups and a fall paddle and camping trip with Birdsong Nature Center. Check our Facebook page and website for updates.
---
'Altamaha River Canoe Trail' Name Change to 'Altamaha River Water Trail'
By Susan Inman, Altamaha River Partnership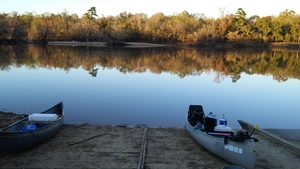 The Altamaha River Partnership group met in Baxley, GA for one of their regular scheduled meetings. This partnership has started to change the name of the Altamaha River "Canoe" Trail to the the "Water" Trail. This is just another step in promoting one of the largest state treasures in Georgia by bringing more of a multi purpose name to the vast wetland wilderness of the Altamaha River.
With this change it also gives us a new opportunity to remind people of what a great river we have and that we need to protect to keep it clean for all of us to enjoy. So get out there and enjoy one of the many group paddles that are sponsored by the Altamaha River Partnership throughout the watershed by going to
the Altamaha River Partnership website
and click on events to find one near you.
---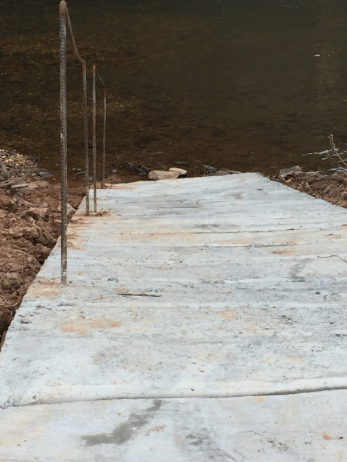 New Paved Site at Dub Denman Canoe Trail
By Gail Priest, Tourism Director Haralson County

Brandon Alexander, a local Boy Scout working on his Eagle Scout attainment, has designed retaining walls for the Poplar Springs and Broad Street sites to help with the problem of too much silt on the launch pads. He is in the last phases of aproval from scout leaders and ready to proceed.
The Hwy 100 launch site is finally paved. We no longer have to exit and climb under the bridge at this site.
It's a little steep but hand rails were installed and a chain is at the top to help pull the boat if necessary.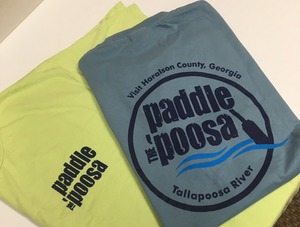 We plan to add wood slides for a better ease of pulling the boats up the paved launch.
This makes three paved launch sites to be able to enjoy the river with better ease of entry and exit.
We have t-shirts for sale- "Paddle the Poosa" in blue and mint green. They can be purchased from

the Dub Denman Canoe Trail page

.
---
The Headwaters North Georgia Water Trail

- a.k.a Coosawattee River Water Trail
By David Teffeteller
With 17" of rainfall over 33 rainy days since the first of the year, the Cartecay, Ellijay and Coosawattee rivers have afforded kayakers and canoers great paddling water. The 60 miles of the Headwaters North Georgia Water Trail provide one of the most popular year-round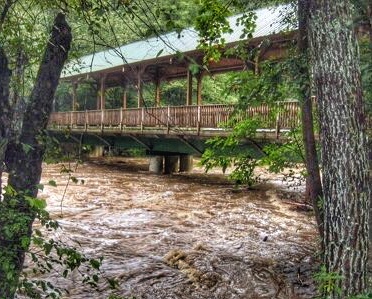 opportunities for paddlers in the Southeast.

Kayakers and canoers daily experience the rolling
whitewater of the Coosawattee and its tributaries the Cartecay, Ellijay, Mountaintown and Talking Rock
rivers as well as the placid flatwater of Carters Lake. With strategically located canoe and kayak launches and campsites, recreationists, fishermen and paddlers can enjoy a few hours or a few days on Gilmer County's streams, rivers and lakes.

NOTICE: The Lower Cartecay Road bridge remains closed pending rebuilding by the Georgia Department
of Transportation. Paddlers wishing to enter the Cartecay River at this access should be aware of the detours from GA Hwy 52.
---
Come Visit the Okefenokee National Wildlife Refuge
By Susan Heisey, Supervisory Refuge Ranger
Okefenokee National Wildlife Refuge, located in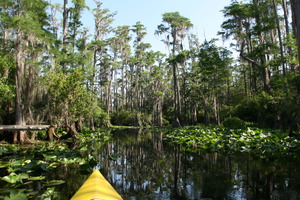 south Georgia, has nearly 120 miles of water trails, accessible to the day-use visitor as well as overnight camping opportunities. The spring is the most beautiful time to be in the Okefenokee, experiencing the sights and the sounds of the swamp as it awakens and comes back to life after the cold winter months. Carnivorous plants are visible, even the most inconspicuous spoonleaf sundew.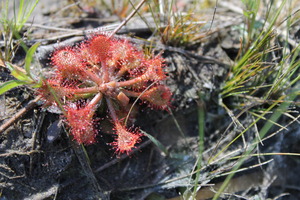 The more showy, hooded pitcher plants and swamp iris will be putting on a show in the coming weeks, with their
beautiful blossoms on full display.
Come out and witness the ever-
changing Okefenokee - the water levels are good, the trails are open,
the birds are singing, and the alligators are swimming!
You can find us online at
www.fws.gov/refuge/okefenokee
or on Facebook.
---
Paddle Georgia 2018 Highlights Emerging Water Trail System on Yellow and Ocmulgee Rivers
Excerpted from Marietta Daily Journal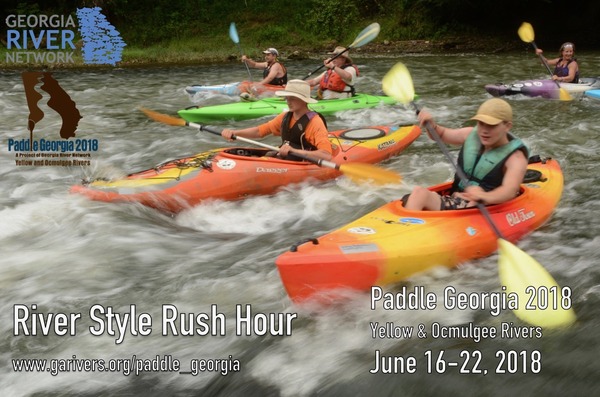 The country's largest week-long canoe/kayak camping adventure this year embarks on the Yellow and Ocmulgee Rivers between Stone Mountain and Macon to highlight Georgia's emerging water trail system.

The event, which attracts more than 400 participants each year, is set for June 16-22. Registration for the annual event organized by Georgia River Network is now open at www.garivers.org/paddle_georgia. Registration is on a first-come, first serve basis until all spaces are sold.

The 14th annual Paddle Georgia charts a four-day course through suburban Atlanta on the Yellow River in Gwinnett, Rockdale and Newton counties to Lake Jackson and then continues for three more days on the Ocmulgee River, flowing through Jasper, Butts, Monroe and Jones counties before finishing in Macon.

Local river boosters, with assistance from Georgia River Network, are developing water trails on both the Yellow and Ocmulgee by improving public access to the rivers, providing information about river conditions and promoting events on these rivers.

"During the past several years, we've seen an explosion in water trail development," said Gwyneth Moody, Director of Programs and Outreach with Georgia River Network. "Local communities are rediscovering their rivers and recognizing them as a recreational amenity for residents and visitors on par with ball fields, parks, walking trails and other more traditional public recreation projects."

The event is designed to connect people with Georgia's rivers. In addition to paddling about 12 miles each day, participants will learn about the river through nightly programs about the river's ecology and cultural history and special tours of historic sites and industrial facilities.
Learn more and register for 2018 Paddle Georgia here!
---
Growth on the Etowah River Water Trail and Oostanaula-Coosa River Water Trail
By Joe Cook, Coosa River Basin Initiative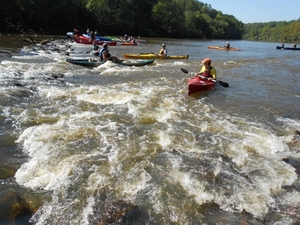 In 2017, the Etowah River Water Trail added two new public boat launches, bringing the total number of developed public access points on the river to 12. A decade earlier, there were only three. Launches were added at Eagle's Beak Park in Forsyth County and at Hardin Bridge Road in Bartow County. The Forsyth County Parks & Recreation facility creates a 6-mile paddle route from Kelly Bridge Road in Dawson County and a 9-mile route to McGraw Ford Wildlife Management Area in Cherokee County. The new Bartow County boat launch creates paddle routes of four and six miles with already existing public launch sites. But, perhaps the biggest news from the Etowah River Water Trail is that Floyd County voters overwhelmingly approved using some $1 million in Special Purpose Local Option Sales Tax funds to build new public access points on the Etowah and Oostanaula rivers, including boat-in-only campsites. Collections for this SPLOST fund don't begin until 2019, but stakeholders are already taking steps to identify potential sites for these exciting developments.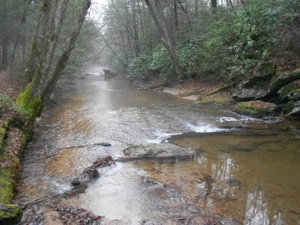 The growth of the Etowah River Water Trail is spawning business investments in local communities. The Trail now supports three businesses offering boat and tube rentals, including outfitters in Dahlonega, Euharlee and Rome. Additionally, the Dunham's sporting goods store in Rome ranks fifth among the chain's 252 nationwide outlets in terms of canoe and kayak sales. This business growth shows that investments in water trails create jobs and tax revenue in local communities. In 2018, the Etowah River Water Trail stakeholder's group plans to install two new information kiosks at public access points.
---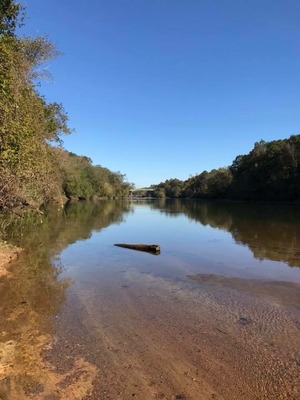 Come Visit the Lower Oconee Water Trail
By Debra Tucker, Lower Oconee Water Trail
The Lower Oconee Water Trail is currently in the Milledgeville / Baldwin County area and extends 8.5 miles. The LOW Trail runs from the Sinclair Dam towards the Altamaha River where the two join and eventually empty into the Atlantic Ocean. The Low Trail includes 3 public boat ramps and our beautiful Oconee River Greenway that offers a wonderful place to rest along the way. There you will find picnic tables, restrooms and beautiful walking trails.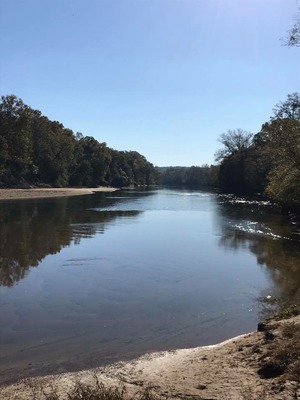 A
bit farther down the Oconee river you will find sandbars, rocks and a variety of wildlife.
The water is so clear you can see the sand riverbed, shells and rocks.
You will also discover a nice cool creek that empties into our river called Camp Creek. This is also a nice area to rest as you will be only 20 minutes from the State boat ramp located near Central State Hospital grounds and Selma Erwin Trails. We plan to raise funds for signage and maps to help guide you along the way. Oconee Outfitters is located about 1/2 a mile from the Greenway boat ramp. They provide kayaks, shuttles and guidance you may need for your adventure.
---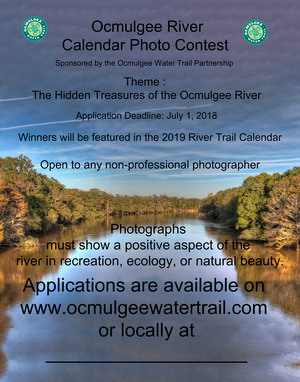 Treasures of the Ocmulgee Photo Calendar Contest
By Sherri Wood, Ocmulgee Water Trail Partnership
The Ocmulgee Water Trail Partnership Is pleased to announce their first ever photo calendar contest. Winners will be featured in our 2019 River Trail Calendar.

The contest theme is "Treasures of the Ocmulgee" and entries should show a positive aspect of the river in recreation, ecology or natural beauty. The contest is open to all non-professional photographers.

Application forms can be downloaded from the Ocmulgee Water Trail Partnership website under News & Events.
---
Alapaha River Water Trail Soon to be Established
By John Quarterman, Suwannee Riverkeeper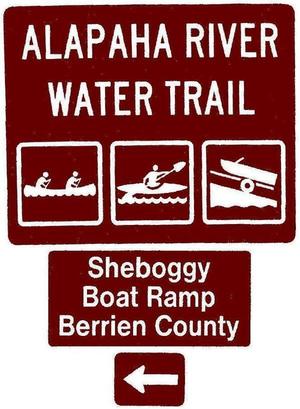 WWALS Watershed Coalition is fundraising to pay for road signs we have ordered for all Alapaha River Water Trail (ARWT) public access points in Georgia, with nine pairs from the Georgia Department of Transportation (GDOT).
Thanks to the Berrien County Commission for three renamings: Sheboggy Boat Ramp at US 82, Berrien Beach Boat Ramp at GA 168, and Nashville Landing at GA 135. Thanks to the Atkinson County Commission for Willacoochee Landing at GA 135. Now that all the Georgia landing names are set, the ARWT brochure has already had two 5,000-copy printings, and now we can update it.Thanks to Atkinson County and Lanier County for recent resolutions supporting the ARWT, and to the Valdosta-Lowndes Development Authority Authority for a letter of support. Lowndes County says it will finish the Naylor Boat Ramp soon, and then Public Works will plant signs on US 84. WWALS plans to have a couple of kiosk signs by the water by the end of March, and the ARWT will be finished! Come paddle with us on the 2018 Alapaha Quest, covering the 125-mile length of the Alapaha River Water Trail! Learn more
on the WWALS Watershed Coalition website
!
---
Yellow River Water Trail Update
By Debra Griffith, Chairman YRWT
On Saturday, Feb 24, Yellow River Water Trail (YRWT) partnered on a very successful river clean up on the upper reaches of the Yellow River watershed near Lawrenceville. A big THANK YOU to Gwinnett County's Dept of Water Resources, students from local 3 high schools: Collins Hill, Brookwood, Discovery High School, and to members of the community.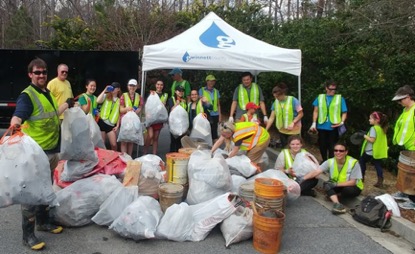 In addition to the above, several board of directors and members of Yellow River Water Trail attended the GRNs annual fund raiser (Boats, Brew and BBQ) at Sweetwater Brewery on 2/11, Capital Conservation Day on 3/1, Gwinnett Clean and Beautiful Partner meeting on 3/2, and Georgia Adopt-a-Stream Confluence on 3/23-24. Members from YRWT will attend the Newton County Board of Commissioners monthly meeting on April 4th in support of the agenda item to get commissioners' approval on the contract with the engineering firm for designing and permitting of a new kayak/canoe launch at Yellow River and Brown Bridge Road. YRWT is funding the 20% match of a GA DNR grant for this launch.
2018 Paddle Georgia will begin on June 16 on the Yellow River in Gwinnett County. We look forward to hosting many paddlers on our river.
---
New Changes for the Middle Chattahoochee Blueway
By Tisha Brangan, Middle Chattahoochee River Water Trail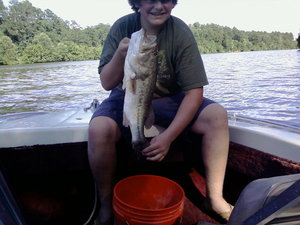 The Middle Chattahoochee Blueway is experiencing
some exciting growth through the efforts of Georgia River Network. It currently runs from Chattahoochee R
iver National Recreation Area to Chattahoochee Bend State Park, through South Fulton, Carroll, and Coweta County. The Friends of Snake Creek Park in Heard County has asked to join the Middle Chattahoochee Blueway t
o expand it's length to cover the entire middle section of the Chattahoochee River from Peachtree Creek to West Point Lake.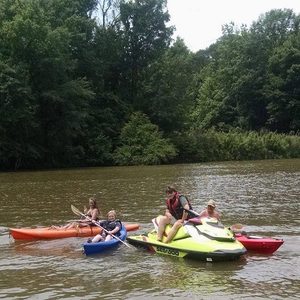 This expanded water trail will also get a new name of Middle Chattahoochee River Water Trail, to be consistent with the rest of the state, and include the sub-named section of Chattahoochee Old Town Riverway in Heard County. Heard County's Chattahoochee Old Town Park is the native site of the origin where the Chattahoochee River got its name from. Chattahoochee Old Town Riverway is very excited to join in this venture of promoting stewardship over our waters and engaging young and old through educational and recreational activities. We will be working in tandem to establish what we hope will be an exciting new Middle Chattahoochee River Water Trail with many options for fun adventures.
---
Upcoming Events on the Satilla River Water Trail
By Laura Early, Satilla Riverkeeper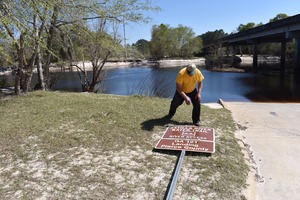 The Satilla River Water Trail Partnership has hit the ground running in 2018! By moving our monthly partner meetings to different locations in the watershed we've reinvigorated the enthusiasm of our existing partners and engaged new, valuable partners, too.

With fluctuating water levels in the recent weeks and therefore shifting sands, one of our Water Trail signs was washed out. Thanks to the watchful eyes of our volunteers, the sign was recovered and will be re installed shortly. The water level on the Satilla River can rise and fall quickly, so the links to USGS water gauges on our website and printed maps is an essential resource for paddlers.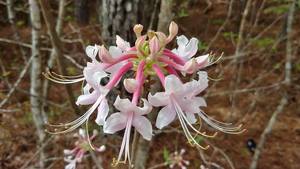 Spring has sprung on the Satilla, and we are looking forward to beautiful paddling in the coming weeks. Wild azaleas (pictured) are one of the treasured blooms you'll find along the river this time of year.
Visit the
SRWT website
to learn more and find out a
bout our upcoming events.
---
Soque River Hidden Gem ~ Farm to Fork ~ Mountain Cabin Getaway Adventure
Join the Georgia River Newtork and Soque River Watershed Association for this special Farm to Fork event at Twin Rivers Resort & Retreat including paddling/hiking, yoga/meditation, a gourmet cooking class, fly fishing and fly-tying course, plus evening entertainment including presentations and Southern Appalachian tales, singalongs and instrumental music.

Tickets also include a signed copy of the "Georgia Canoeing & Kayaking" Guidebook!
Register HERE
!
---
River Rally 201
8 - April 28-May 2 - Olympic Valley, California
River Rally, hosted annually by River Network, is a national conference for river and water champions. Unique in its focus on providing practical education, inspiring courage, and celebrating achievements, River Rally brings together hundreds of people from across the United States and the world who care about rivers and water issues. Join NGO staff and volunteers, academics, agency and foundation representatives, industry innovators, and community leaders for the biggest (and most fun) water-focused event of the year! River Rally 2018 takes place on

April 28-May 2, 2018 in Olympic Valley, California.

For more information and registration, visit

The River Network

.
---

2019 Georgia Trail Summit: Save The Date!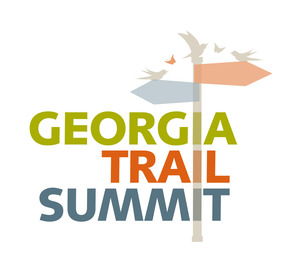 Everyone recognizes the value of the Georgia Trail Summit and appreciates the efforts of those who have gotten this initiative off to such a solid start. Moving forward, The Trust for Public Land's Georgia office has agreed to shepherd this Summit. We believe that we have a date/location for the 2019 Georgia Trail Summit. Please pencil-in the following:
Columbus Convention and Trade Center
Sunday, May 5 and Monday, May 6, 2019

Partners are working hard to bring the strongest combination of tours/trips, break-out sessions, and keynote speakers together to educate and inspire all attendees. Whether you hike, bike, paddle, walk, or jog on trails, you won't want to miss these two days to get connected. Please direct comments, questions and ideas to Walt Ray: Walt.Ray@TPL.org
---

Help Establish a Water Trail on the Flint River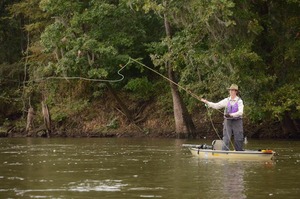 The Flint River Water Trail (FRWT) is a citizens group working to establish a water trail on the Flint River. We aim to create the water equivalent of a hiking trail on the Flint River, by identifying and improving access points on the Flint River where boats can be put in or taken out and cars can be parked safely, identifying suitable day trips for paddlers and anglers, and providing information on river conditions and nearby support for camping, lodging, dining, outfitter services, etc.

Both the
Georgia River Network
and
Flint Riverkeeper
have sponsored the formation of FRWT.

To sustain both the trail and the reputations of the trail organizers and sponsors, we strive to protect and respect private property along the river. Only a well-crafted FRWT will promote restoration, preservation, and conservation of the river through sustainable recreation, environmental education and awareness, and programs that build respect and stewardship.

Because of the length of the Flint River (341 miles), two coordinated citizen groups have been formed to promote the upper part of the FRWT (from metro Atlanta to Montezuma) and the lower part (from Montezuma to Bainbridge). Flint Riverkeeper encourages all paddlers, anglers, landowners, and decision makers who appreciate the recreational possibilities and conservation needs of the Flint River to become involved with one or both of these two groups.
Elliott Jones
is the contact person for the upper FRWT and
David Dixon
is the contact person for the lower FRWT.
Please join us and
follow the Flint River Water Trail on Facebook
.
To learn more about water trails in Georgia, visit the
Georgia River Network's Water Trail Website
.
---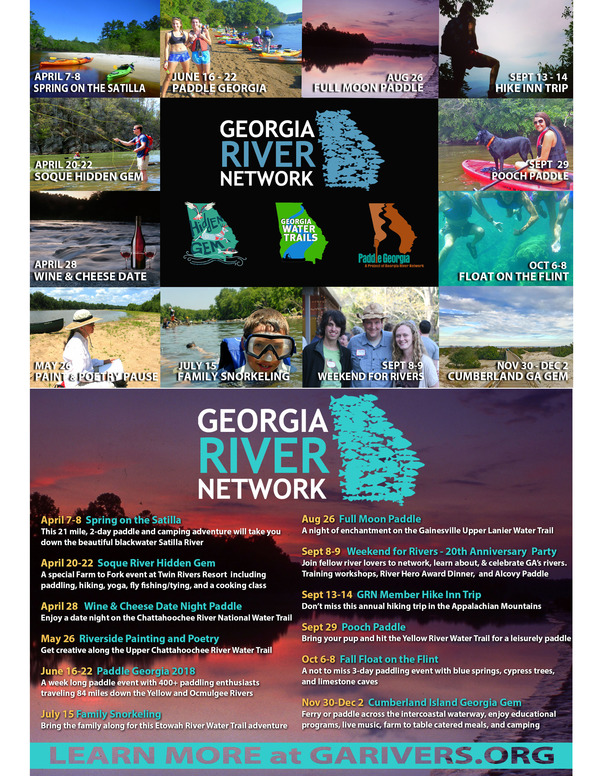 ---
Rivers, Trails and Conservation Assistance Program (RTCA) Grant Applications Due June 30th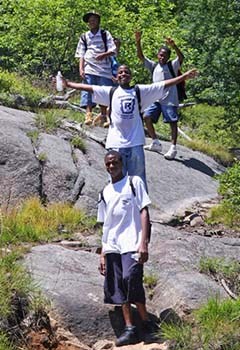 The National Park Service's RTCA program provides technical assistance to locally-led natural resource conservation and outdoor recreation projects.
Applications are evaluated according to the following criteria:
The project has specific goals and results for conservation and recreation expected in the near future.

Roles and contributions of project partners are substantive and well-defined.

There is evidence of broad community support for the project.

The anticipated role for the National Park Service is clear and fits the National Park Service mission.

The project advances one or more key National Park Service objectives as described in the application.
---
By Fay Augustyn, American Rivers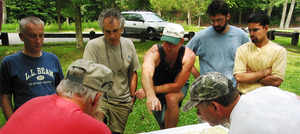 American Rivers presents a free March Blue Trails Guide webinar,
"
How Much Is A River Worth?
"
, on Tuesday, March 27th at 1 pm. You can
reserve your spot for the webinar today
!

Having clear and trusted information about the economic value of your river can help support your conservation message, engage new partners, and guide future investments. The Huron River Watershed Council commissioned a unique study to measure the economic impact of the river on local communities, focusing on water trail activities and the value of natural systems that maintain a healthy river. The Economic Impact of the Huron River revealed the river's contribution to the local economy to be enormous.

Tune in and learn the answers to these questions:
- What is the economic impact of river-based recreation?
- What do you need to consider when planning your own study?
- How can economic value be used simultaneously to protect and market your river?

When: Tuesday, March 27, 1 p.m.
Presenter: Elizabeth Riggs, Deputy Director, Huron River Watershed Council
Who should attend:
- Community decision makers and small business owners
- River managers
- Conservation and environmental stewards

---
American Trails Needs Your Proposals!
By Candace Mitchell, American Trails

American Trails is calling for presentation proposals from you for our 2019 International Trails Symposium! Our theme is, "Health, Heritage, & Happiness.", and proposals can be focused nationally, or internationally. The International Trails Symposium is the premier opportunity for greenways and trails advocates, managers, planners, builders, and users, as well as
environmental, tourism, development, and business interests, to come together to strengthen America's remarkable network of trails!
What is a topic you believe the trails world needs to hear more about? S
ubmit your proposals on the
American Trails website
today
.
---

Paddle Nation Project Grant: Deadline is April 13th!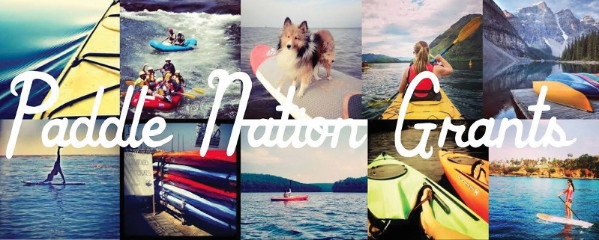 Outdoor Nation recognizes that sometimes the smallest awards can make the largest differences. The Paddle Nation Project will award grants up to $5,000 that are designed to give organizations the resources and funding needed to bring their innovative ideas to life.

This funding opportunity supports pioneering projects and initiatives that result in increased paddling participation. Projects should reinforce the idea that recreational paddling is one of the most accessible and impactful ways in which young Americans are introduced to the outdoors.

Non-profit organizations can be awarded UP TO $5,000 for requests that work towards creating connections between young people with their local waterways through recreational paddling. Projects will be awarded funding along with technical support and guidance from the Outdoor Foundation. Proposals must be submitted by April 13, 2018. Learn more
about the Paddle Nation grant!
---
Flotsam and Jetsam
Why Would Anyone Kayak Across an Ocean - at 70?
Excerpted from New York Times, By Elizabeth Weil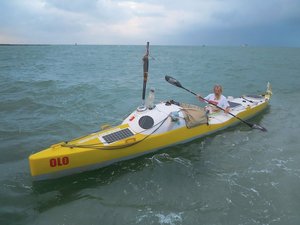 When Aleksander Doba kayaked into the port in Le Conquet, France, on Sept. 3, 2017, he had
just completed his third — and by far most dangerous — solo trans-Atlantic kayak trip. He was a few days shy of his 71st birthday. He was unaccustomed to wearing pants. He'd been at sea 110 days, alone, having last touched land that May at New Jersey's Barnegat Bay. The trip could have easily ended five days earlier, when Doba was just a few hundred feet off the British coast. But he had promised himself, when he left New Jersey, that he would kayak not just to Europe but to the Continent proper. So he stayed on the water nearly another week, in the one-meter-wide boat where he'd endured towering waves, in the coffin like cabin where he spent almost four
m
o
nths not slee
ping more than three hours
at a stretch, where he severely tried his loved ones' patience in order to be lonely, naked and afraid. Then he paddled to the French shore.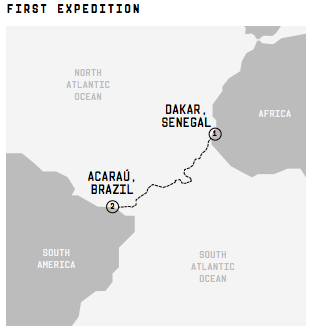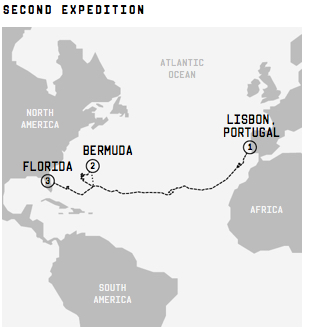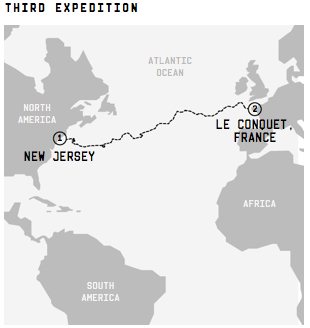 ---
GRN Trash to Art Contest

Georgia River Network will be presenting a Trash to Art Contest on September 8, 2018! We are encouraging as many participants as possible to submit their artwork that they create from trash that has been found at river/lake/ ocean clean-ups. All ages are welcome to submit entries. There is no cost to register and the contest will award first to third place prizes. Email Gwyneth@garivers.org to sign up!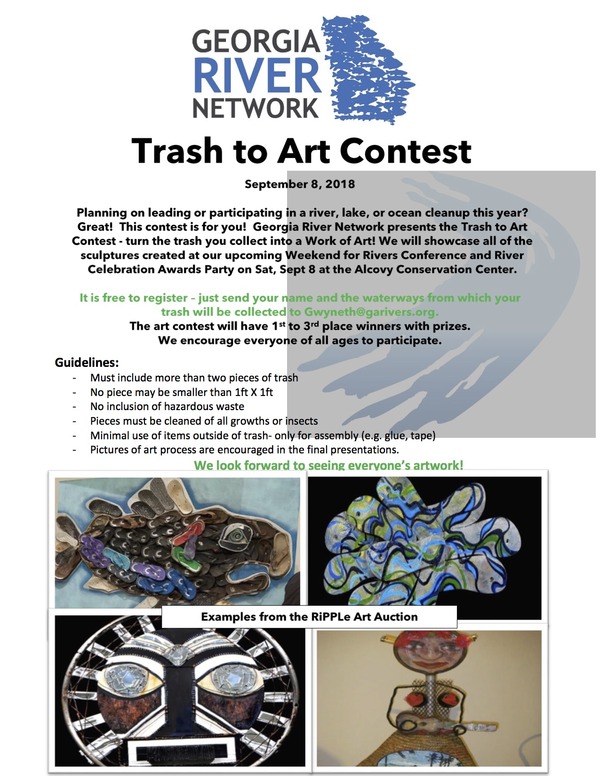 ---
Spring on the Satilla - Kayak Raffle (You DON'T Have to be Present to Win!)

Raffle drawing will be held the weekend of April 7-8 at the Spring on the Satilla event, you do not have to be present to win.

The Hurricane Skimmer 116 sit-on-top kayak is a good looking sit-on-top and only weighs 42 pounds! The touring style hull and refined scupper system allows the Skimmer 116 to skim across the water, cut through waves, and slice through any chop. This is a beautifully classic and cutting-edge modern boat with a glossy orange finish. Features: Rear well bungee for deck storage, bow and center storage hatches, paddle holder, cup holder, and Airestream seatback.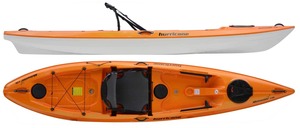 ---
How can others sign up for this GA Water Trails Newsletter?
It's EASY! Just fill out
this sign up form
.

Please send news and developments on your trail, contributions to be included in the newsletter, and any suggestions to
gwyneth@garivers.org