Help GRN Win a Grant Today
Patagonia - Buy Shoes, Support Rivers
Three More Complete "Paddle 12 Rivers in 2012 Challenge"
GA Water Wire Blog Post - Pollution Updates on the Ogeechee and Altamaha
Why Do You Love GA's Rivers? Check out the Photos From GRN's Photo Booth at Terrapin Brewery in Athens
South & Yellow River Clean Up Trainings and Natural History Float
Upcoming Water Trails Workshop
Like Us on Facebook
1% For the Planet
Just One More Donor Needed to Meet the Challenge
Get GRN News in our RSS Feed
Planned Giving for Georgia Rivers
---
Chase Giving - Vote for Georgia River Network Today

Tis the election season… Vote for Georgia River Network TODAY!
Vote today for Georgia River Network in the Chase Community Giving program and help us get enough votes to share in $5 million in grants that we can use for river protection in Georgia.
You can vote for us in two ways:
Facebook users CLICK HERE to vote for GRN.
AND, if you are a Chase customer you can also vote for us AGAIN by CLICKING HERE to vote for GRN to give us a second vote!
Facebook users will have the opportunity to earn one bonus vote on Facebook which you can cast for GRN. To have this chance, share information about the Chase Community Giving opportunity on your Facebook or Twitter and if someone clicks your link to cast a vote, you will earn a bonus vote!
Please support Georgia River Network by voting today!
---
Patagonia - Buy Shoes, Support Rivers

Georgia River Network is pairing up with the Patagonia store in Atlanta for a fantastic fundraiser! For each pair of Patagonia shoes sold in the Atlanta store between September 14 -30, Patagonia will contribute $10 to Georgia River Network. As part of their Advocate Weeks Programs, Patagonia is donating to help serve local conservation and education efforts. The store is open 7 days a week and is located in the Buckhead neighborhood in Atlanta at 34 E Andrews Drive (30305) and can be reached by phone at (404) 266-8182.
---
Three More Complete "Paddle 12 Rivers in 2012 Challenge"

Congratulations to Bobby Marie, Rhonda Martin and Lonny Martin for joining Gerry Cowart in completing the "Paddle 12 Rivers in 2012 Challenge". Read stories of their adventures by clicking here.
---
GA Water Wire Blog Post

Pollution Updates - Ogeechee and Altamaha
By Chris Manganiello (PhD), GRN Policy Director

Read the latest water wire post to learn more about the Ogeechee and Altamaha. Read the entire Water Wire blog post on "Permit Updates"
---
Why Do You Love Georgia's Rivers? Check Out the Photos!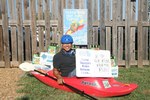 Check out the photos from the photo booth at a recent event at Terrapin Brewery in Athens.

See photos on facebook by clicking here.


---
Yellow River Clean-up Training and Natural History Float
Unveiling the Hidden Gems of Metro Atlanta
An occasion to rediscover Atlanta's nearly forgotten rivers…
Yellow River, Sept 15th 9 am-2pm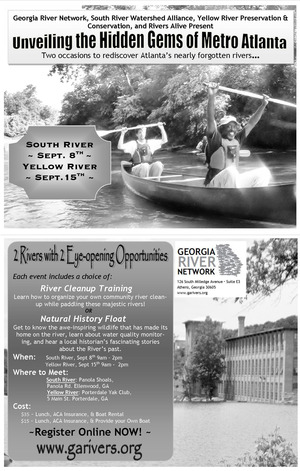 The South River Unveiling this past weekend sold out and was a TREMENDOUS success!

Don't miss the opportunity to be a part of the Yellow River Unveiling...
Due to popular demand, we have opened up a few more spots, so be quick and register online before they sell out!

The event includes:
River Cleanup Training - Learn how to organize your own community river cleanup while paddling these majestic rivers!
OR Natural History Float - Get to know the awe-inspiring wildlife that has made its home on the river and hear a local historian's fascinating stories about the River's past.
Cost: $35 per person includes canoe rental, lunch and insurance fee, $15 per person includes lunch and insurance fee, or $5 registration if you bring your own boat and sack lunch.
Register for the Yellow River trip now at http://www.garivers.org/news/377-eventregistration.html
---
Register Now: Water Trails That Work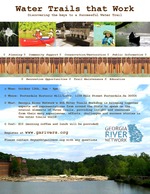 GRN's 4th Water Trails Workshop
Water Trails That Work
October 13th, 2012 along the Yellow river in Porterdale, Georgia!

Georgia River Network's 4th Water Trails Workshop is bringing together experts and representatives from around the State to speak on the crucial elements of water trails, providing insight and resources from their many experiences, efforts, challenges and success stories in the water trails world.

Click here to get the details and register now for Water Trails That Work.
---
"Like" Us on Facebook



Find out about river events, learn cool facts and enjoy photos. "Like" our fan page on facebook at https://www.facebook.com/#!/georgiarivernetwork
---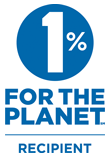 Georgia River Network is a 1% for the Planet non-profit partner. Over 1200 companies are giving 1% of their profits to organizations in the network that are committed to creating a healthy planet. Learn more at www.onepercentfortheplanet.org.
---
Just One More Donor Needed to Meet the Challenge

An anonymous couple has issued Georgia River Network a challenge. If we can raise $10,000 in cash by October 1, they will match each gift dollar for dollar. However, there is a catch, the gifts have to be $1,000 or more and must come from a donor who has not made a $1,000 gift to GRN before today. The anonymous couple wants to encourage new major donors in the work of protecting Georgia's rivers. This exciting challenge has the potential to generate $20,000 for GRN's mission!
Double Your Financial Gift
GRN is thrilled about this opportunity and hopes that you will be excited as well. Here is a great chance to make your generous $1,000 gift become a $2,000 gift immediately.
If you have any questions or are willing to accept this challenge, please contact Davin Welter at: davin@garivers.org or 706.549-4508.
---
Get GRN News in Our RSS Feed

Not on Facebook? Want to see what is going on each day in the world of Georgia rivers? Subscribe to our RSS feed and get information about news and events delivered to your RSS reader. Sounds interesting but you have no idea what an RSS reader is? Chances are you already have a way to accept news feeds in your internet browser or in your email program (such as in Outlook). Search help to find out about feeds on your particular set up or check out one of the many free readers online.
---
Planned Giving for Georgia's Rivers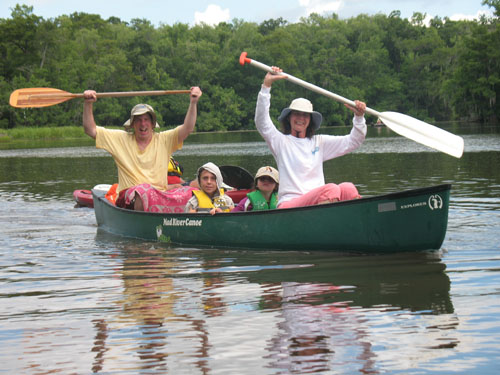 Did you know you can make a significant gift without reaching for your checkbook?

How you ask? By including Georgia River Network in you will. Think this is difficult? It is not. All you have to do is insert this simple paragraph in your will: "I give, devise, and bequeath [$] or [%] of my Residual Estate to Georgia River Network tax id #58-2404112. Georgia River Network may be contacted in care of GRN, 126 S. Milledge Ave. Suite E3, Athens, GA 30605, 706-549-4508" OR "I give and devise to Georgia River Network, Inc., a Georgia 501(c)(3) non-profit corporation, (Tax ID 58-2404112), located at 126 S. Milledge Ave., Athens, GA, 30605, all (or state a dollar amount or a percentage) of the rest, residue, and remainder of my estate, both real and personal, to be used for its general support (or for the support of a specific fund or program)."

It is quick and easy and makes a huge difference! Once you have done this, let us know so we can say thank you!
---