Eleven Finish the 14 in 14 Challenge
Paddle Georgia Registration
Brews, Boats, and BBQ Party
Kayak Raffle to Support GRN
Capitol Conservation Day
Chattahoochee River User's Guide Available!
Donor Will Match Your Gift to GRN
Wish List
1% for the Planet
Get GRN News in our RSS Feed
---
Eleven Finish the 14 in 14 Challenge

Georgia River Network is immensely proud of the eleven people who successfully completed the 14 in 2014 Georgia River Challenge: Marie Short, Anne Ledbetter, Tamela Mills, Patrick Phelps,Kane Mills,Cindy Wolfe, Emily Strickland,Janet Pearson,Chris Thompson,and Lonny & Rhonda Martin. All 14 in 2014 finishers will be recognized at the GRN Party and Fundraiser event: Brews, Boats and BBQ for Better Rivers 2015 at Sweetwater Brewery on February, 8th 2015! Check out all of the Challenger's 14 in 2014 activities and events here.
---
Paddle Georgia Registration

Paddle Georgia 2015 registration will open soon. Paddle Georgia will be held June 20-26 on the Ogeechee River. Visit http://www.garivers.org/paddle_georgia/pgregister.html for details.

Priority Registration: Jan. 27-Feb. 6
Priority registration is for those who raised $300 or more in Canoe-A-Thon donations in 2014. A registration code is needed from Georgia River Network to complete registration and will be emailed out this month.
Regular Registration: Feb. 10 and Feb 19
The remaining spaces will be opened on a first come first served basis. Half of the spaces will be released on Feb 10, and the remaining spaces will be made available on Feb 19. We will open spaces at 8am eastern time on those dates. Both thru and lite spaces will be handled this way.

Thru-Paddler 2015 Registration Fees
$425 Adults
$230 Children (8-17)
$30 Children (7 & under)

Lite Registration Fees
$120 Adults
$70 Children (8-17)
$15 Children (7 & under)
---
WHEN: Sunday, February 8, 2015, 5pm – 8pm
WHERE: SweetWater Brewing Co., 195 Ottley Drive NE, Atlanta, GA 30324
COST: $25
Join Georgia River Network (GRN) for our 2nd Annual 'Brews, Boats and BBQ for Better Rivers' - a kickoff paddle party and GRN fundraiser! This fundraiser is a pre-season gathering of paddlers from all over Georgia at SweetWater Brewing Company. We invite paddlers of all skill levels and disciplines, as well as those who have never paddled but are interested in this wonderful sport. Come meet GRN staff members and learn about our mission and upcoming events. This is also a great opportunity to meet new paddling friends and renew old friendships! Representatives from several paddling groups across Georgia will be there. We will also be honoring our 14 in 2014 finishers, which are individuals who took on GRN's challenge to participate in 14 water-related events in 2014. So, come on out and mingle with us! NOTE: All attendees must be 21 years of age or older as of February 8, 2015. Tickets must be purchased in advance of the event.
Ticket includes:
Live DJ, Complimentary SweetWater Brewery Tours and Tastings, SweetWater Pint Glass, Great Food, Door Prizes AND... 1 complimentary raffle ticket entry to win a sit-on-top, Jackson, Riviera kayak from our awesome event sponsor Outdside World Outfitters. You MUST be present at the event to win this kayak.
Outside World Outfitters will have a display area set up where attendees can view boats and ask questions about all things related to paddling! Their amazing sponsorship and support of GRN is greatly appreciated. We hope you will stop and visit with them a bit!
If you are interested in stand up paddle boarding (SUP), Surfrider Foundation - Georgia Chapter will have a booth at the event and are excited to speak with you!

To learn more about Georgia River Network, go to www.garivers.org.
Register here! https://bbb-for-better-rivers-2015.eventbrite.com
---
Kayak Raffle to Support GRN



Two kayaks are being raffled off in February. The one at the event above (must be prestent to win) and this second kayak (do not have to be present to win). Purchase raffle tickets for this Tie-Dye, Rogue, Jackson kayak from Outdside World Outfitters! This kayak will be raffled off at our 2nd Annual Brews, Boats and BBQ event (see above). If the winner is not present at the event, he/she will be responsible for picking it up at Outside World Outfitters in Dawsonville (471 Quill Drive, Dawsonville, GA 30534). To purchase raffle tickets for this kayak, visit https://donatenow.networkforgood.org/raffletickets/
---
Georgia Water Coalition Capitol Conservation Day—February 18, 2015
Save the date for the Georgia Water Coalition's Capitol Conservation Day on Feb. 18, 2015. While there, you can meet with your state legislators and tell them what you expect them to achieve during the 2015-2016 sessions. Bring your fellow members and other friends with you to support environmental and conservation causes!
The day will begin at 8:00 a.m. with complimentary continental breakfast in Central Presbyterian Church's Tull Hall, located across Washington Street from the Capitol. During breakfast, there will be a presentation on the most critical conservation bills in the General Assembly. Assistance will be available for identifying and locating your representative and senator. Following the informational session, the group will go to the Capitol around 9:30 a.m. for a group photograph to be taken at the bottom of the Capitol North stairs. After the group photograph, you will have time to call upon your legislators. Lunch will be on your own at either the "Sloppy" Floyd Building across Piedmont Avenue/MLK Drive or in the Capitol snack bar. Either before or after lunch, you will report to a debriefing room where you can share details of your visit. Please contact Tally Sweat with questions: tallys@bellsouth.net or 678-684-3203. Registration information coming soon!
---
Chattahoochee River User's Guide Available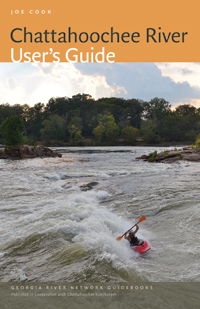 The Chattahoochee River User's Guide—the latest in a series of river guides from Georgia River Network and the University of Georgia Press, traces the 430-mile course of the Hooch from its headwaters at a spring on Coon Den Ridge near Jacks Knob in northeastern Georgia to its confluence with the Flint River, where they form the Apalachicola River. The Georgia River Network guides provide many little-known facts about Georgia's rivers, bring to life these rivers' cultural and natural history, and present river issues in an immersive and engaging manner that will inspire users to help protect their local waterways. Click here to purchase and learn more.

---
Donor Will Match Your Gift to GRN
The Georgia River Network has exciting news to share; thanks to an incredibly generous matching donation, together we can triple your donation and the impact on protecting all of Georgia's rivers. Here's how it works: when you sign up for a new monthly recurring donation, a generous anonymous donor will match your initial gift 200%. For example, if you sign up to give $15 a month, our matching donor will give GRN $30 a month for the rest of our fiscal year. We know that healthy rivers throughout Georgia are important to you and we are grateful for your past support. I hope you will consider taking advantage of this great matching opportunity that will make a significant impact for river protection.
It only takes a few minutes to set up a recurring donation. Click here or go to our website (www.garivers.org) and click on our large red donate button. Then select the amount you want to give monthly (or type it in the "other" section) and then select "Monthly" under donation frequency. Provide your payment information and you're done. One donation, three times the impact!
Thank you for making all of Georgia's rivers a priority in 2015, and remember, YOUR RIVERS are our #1 priority. You can easily and quickly make a donation at our website – www.garivers.org. Just click the big red DONATE button in the top right hand corner.
---
Wish List

GRN is looking for the following new or gently used items for our office: a picnic table or concrete outdoor patio set, a vacuum cleaner, rolls of Forever stamps, a conference table, canoes and kayaks (sit on top kayaks, receation kayaks, tandem kayaks, and canoes - in good shape), a covered trailer, and a flat screen computer monitor. Email info@garivers.org or call 706-549-4508 if you would like to donate any of these items.
---
1% For the Planet Partner

Georgia River Network is a 1% for the Planet non-profit partner. Over 1200 companies are giving 1% of their profits to organizations in the network that are committed to creating a healthy planet. Learn more at www.onepercentfortheplanet.org.
---
Get GRN News in Our RSS Feed

Not on Facebook? Want to see what is going on each day in the world of Georgia rivers? Go here: http://garivernews.wordpress.com/. Click on the "follow" button in the bottom right corner, enter your email address, and our daily news will be delivered to your inbox.
---
Forward this message to a friend