Georgia River Network News Stream
July, 2010
News
1. Paddle Georgia: One More Great Time on the Broad & Savannah
2. Don't Forget to VOTE on July 20th!
3. Gubernatorial Forum During Paddle Georgia 2010
4. Water Platform for the 2010 Governor's Race
5. Charting a New Course for Georgia's Water Security
6. Sierra Club Georgia Chapter Director Job Opening
7. Stormwater Education Specialist Job Opening in Athens
8. GRN Seeking Fall Intern
9. Trust for Public Land Saves 600 Acres

Workshops/Conferences/Calendar Items
10. Shoals of Time: Celebrating 237 Years of History on the Ogeechee
11. CRBI River Revelry—Save the Date!
12. 3rd Annual "Rivers Rock!" Low Country River Jam
13. Water Matters in Tift County
14. Snorkel the Conasauga with Georgia Forest Watch
15. Broad River Watershed Association 2010 Annual Meeting
16. 401 Water Quality Certification Training Online
17. Georgia Center for Nonprofit workshops on the Coast

Group Spotlight
18. Soque River Watershed Association

Resources
19. How to Resign from a Nonprofit Board
20. How to Deal with a Conflict of Interest

Fundraising Deadlines
21. Grants

*******************************************************************


1. Paddle Georgia: One More Great Time on the Broad & Savannah
Another Paddle Georgia has come and gone–building now on six years of memories, more than 600 miles of rivers, some 1800 smiling faces and more than $85,000 for river protection in Georgia. To find out more about the fun had on this year's trip, visit our Paddle Georgia blog at http://garivernetwork.wordpress.com.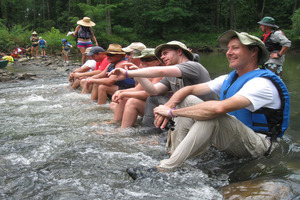 2. Don't Forget to VOTE on July 20th!
Don't forget the Georgia Primary is on July 20. Fox Atlanta conducted interviews with 8 of the candidates for Governor and posted them on their website. The interviews are titled "The Candidates on the Issues" and Water is one of the 5 issues featured. You can view and link to the videos here: http://www.myfoxatlanta.com/generic/news/politics/georgia_politics/governors-election-candidate-issues-water.

3. Gubernatorial Forum During Paddle Georgia 2010
On June 24, Georgia River Network joined with our Partners in the Georgia Water Coalition to host a Gubernatorial Candidates Forum on Water and the Environment in Martinez, Georgia in conjunction with Paddle Georgia 2010. Over 200 Paddle Georgia participants, Georgia Water Coalition and Savannah Riverkeeper members and Augusta-area citizens turned out to hear candidates discuss their views on water, energy, transportation and other environmental issues. The forum was moderated by Rob Pavey, the Outdoors Editor of the Augusta Chronicle.

Unfortunately, only 3 candidates turned out for the forum. Six candidates, from both major parties, committed to attend, but three pulled out at the last minute. Democratic Candidates Mayor Carl Camon, Representative DuBose Porter, and General David Poythress attended the forum and shared their views on water, energy, transportation and other environmental issues.

In the days leading up to the forum, transfers of water from one river basin to another became a hot topic in the Governor's race and they were much discussed that night. Columbia County Commission Chair, Ron Cross, welcomed the crowd and gave an impassioned speech about the need to protect all Georgia communities and their water supplies.

The forum continues to be discussed in the media because water, and in particular the issue transferring water from one area of the state to another, continues to be a hot topic in the race for Governor.

4. Water Platform for the 2010 Governor's Race
The Georgia Water Platform asks gubernatorial candidates to address five critical water issues as they seek election in November. You can view and download the platform by clicking this link:http://www.garivers.org/gawater/2010%20Elections.htm

The platform urges candidates to:
• Regulate the transfer of water from one river basin to another and require strict limits on new interbasin transfers to protect all Georgia communities and prevent harm to our rivers and the wildlife that depend on them.
• Ensure all Georgians have access to clean, reliable drinking water by implementing water conservation measures promptly, maximizing use of existing reservoirs, and engaging in transparent negotiations with neighboring states prior to pursuing new water supply sources that threaten the health of our waters.
• Forbid rollbacks to environmental regulations that protect our water, air, forests, and land.
• Make impartial appointments to the Coastal Marshlands Protection Committee and the Board of Natural Resources, including professionals in the earth sciences and leaders of conservation and environmental organizations.
• Allocate fees that are collected to fund conservation and environmental programs only for those purposes and not distribute them elsewhere in Georgia's budget.

The Georgia Water Coalition is working to keep water a top issue on the campaign trail and to impress upon candidates for governor the depth and breadth of the Georgia Water Coalition's membership. This can only happen if all of us take these issues to the 15 candidates running for governor. Please take a minute to:
• Post the Water Platform on your group's website—a text and pdf version of the platform are available on the GWC's website.
• Include an article about the Water Platform in your next newsletter or update. For a sample article email Jennette@environmentgeorgia.org
• Print out copies of the platform and take them with you to your next meeting or an event where candidates will be showing up—distribute widely, especially to candidates!
• Email Jennette Gayer if you would like to host a bird dogging/activism training for your members—this can be a fun, non-partisan way to get your membership involved in making sure our next governor is a green governor.

5. Charting a New Course for Georgia's Water Security
Thursday, July 15, Upper Chattahoochee Riverkeeper, Coosa River Basin Initiative, and Flint Riverkeeper issued a call to action to the state's gubernatorial candidates and other leaders, insisting on a change of course in resolving the Tri-State Water War and providing for metro Atlanta's water supply. Together they issued a three-point plan for resolving the Tri-State Water War without sacrificing Georgia's rivers or the communities that depend upon them. The plan, entitled Charting a New Course for Georgia's Water Security, has been endorsed by all of Georgia's Riverkeepers and can be found here: http://www.chattahoochee.org/charting-a-new-course.php.

6. Sierra Club Georgia Chapter Director job opening
It's a big job but somebody's got to do it! For more details, go to http://www.sierraclub.org/careers/chapters/chapter-director-GA.aspx

7. Stormwater Education Specialist position open in Athens
Athens, Georgia is a lovely college town and an awesome place to live and work. And you can live here, too, if you can land the job as the Stormwater Program Education Specialist for Athens Clarke County!

Here are a few of the duties of the position:
• Prepares and distributes news releases; coordinates photo opportunities/feature stories.
• Supervises/creates logos, images, and signage for the program.
• Creates advertising for print media and PSA spots for radio TV, internet, and other media outlets.
• Coordinates school education programs.
They're looking for a candidate with a background in public relations, journalism, marketing, telecommunications, or related discipline with one year of journalism, public relations, marketing, or education. The salary is just shy of $40k, which goes a long way in this part of Georgia.

Click here to learn more: http://waterwordsthatwork.com/2010/07/08/environmental-awareness-job-georgia.

8. GRN seeking Fall Intern
We are seeking an intern starting sometime in August or September to replace our wonderful Laura, who has been with us through the spring and Paddle Georgia. Click here for the job description: http://www.garivers.org/pdf_files/posting/job%20descriptionintern-fall10.pdf.

9. Trust for Public Land Saves 600 Acres
The Trust for Public Land, a national land conservation organization, has announced the addition of 581.6 acres on the west side of the Bond Swamp National Wildlife Refuge, located about six miles southeast of Macon. The acquisition is part of an ongoing project to provide breeding and brood-rearing land to birds that require large, unfragmented areas to sustain their population. The refuge currently includes about 6,500 acres of state-owned land and 1,000 acres of federal land that stretches across Bibb and Twiggs counties that are open to public use.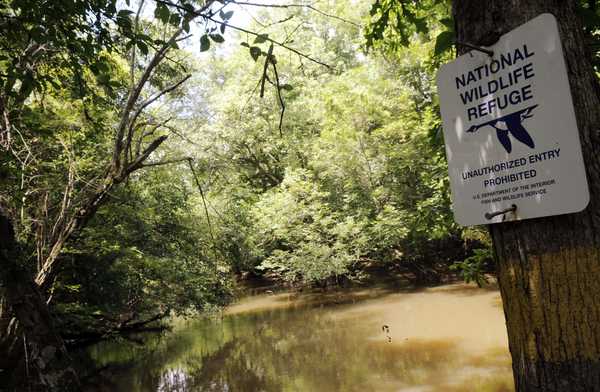 10. Shoals of Time: Celebrating 237 Years of History on the Ogeechee
A Book Launch for Bartram's Living Legacy: the Travels and the Nature of the South and The Flower Seeker will be hosted by Georgia River Network and Ogeechee Riverkeeper near Warrenton, Georgia on Saturday, September 11, 2010, 12:00 Noon – 4:00 pm. There wil be picnicking, kayaking on the Ogeechee River, camping under the stars, a marshmallow roast and a book signing with the authors, including Dorinda Dallmeyer, Phil Williams, Janisse Ray, Roger Pinckney, John Lane, Thomas Rain Crowe, Gerald Thurmond, Philip Juras, Dixon Bynum, Doug Davis, Thomas Hallock and Whit Gibbons. Cost: $15 per person, kids 12 and under free. Includes 1 year membership to Georgia River Network and Ogeechee Riverkeeper. RSVP by September 3, 2010. Contact Dana at GRN at 706-549-4508 to register.

11. CRBI River Revelry—Save the Date!
Save the Date! You are invited to Northwest Georgia's best end-of-summer party--CRBI's River Revelry--A Biodiveristy Bash set for Saturday, Aug. 21, from 6:30-10:30 p.m. at Rome's Heritage Park at the confluence of the Etowah and Oostanaula rivers. Tickets are $40 or $35 if you buy two or more. For more information about River Revelry and CRBI, visit www.coosa.org.

12. 3rd Annual "Rivers Rock!" Low Country River Jam
Altamaha Riverkeeper and Ogeechee Riverkeeper invite you to become a Sponsor at the 3rd Annual "Rivers Rock!" Low Country River Jam on October 7, 2010 at Moon River Brewing Company in Savannah. This exciting event features the used, abused, and rhinestone-infused band, Junkyard Angel, special beer crafted just for the occasion by Moon River brewery, and delicious munchies. You will be joining the steering committee members: David Acuff, Candice Connell, John and Jessica Mnieckowski, Jason Nielubowicz, Neely North, Jamie Smith, Kelly Weber, Lydia Williams and Ashleigh Womack, an impressive group of professionals working to increase conservation and generate new support for protection of our waterways and our way of life. Tickets $35 see www.riversrock.org for details.

13. Water Matters in Tift County
For folks in Tift, Turner, Ben Hill, Colquitt, Irwin, Worth, Berrien and Cook Counties: Find out why water issues matter in South Georgia and what you can do. Learn about the science and politics of water in our area, as well as efforts to conserve clean water at work and home. Saturday, August 21, 2010 from 9am - 3pm at NESPAL, UGA Tifton, 2356 Rainwater Road, Tifton, GA. Free and open to the public. Co-hosted by the Steering Committee for WATER MATTERS & Flint Riverkeeper.

14. Snorkel the Conasauga with Georgia Forest Watch
Georgia ForestWatch and the U.S. Forest Service are pairing up to offer you the chance to experience firsthand the awesome richness of the sparkling Conasauga River. Biologist Jim Herrig will be our guide as we snorkel a ¼-mile stretch of the river, where up to 45 species of fish have been documented and thousands of fish can be seen on any given day along with turtles, tadpoles, and salamanders.

Two outings will be held Saturday, July 31st, and Saturday, August 14th 2010. For more information, call Jill at 706-635-8733.

15. Broad River Watershed Association 2010 Annual Meeting
The public is invited to attend the 2010 annual meeting of the Broad River Watershed Association at 9:30 AM on Saturday, August 28 at the Group Shelter of Watson's Mill Bridge State Park near Carlton in Madison County, Georgia. The program will be a talk by GRN's Dana Skelton about GRN's state wide Water Trails Program, which promotes river recreation and water trails as a gateway for conservation and protection of Georgia's rivers. For more information, call Victor Johnson at 706-795-2184 or see www.brwa.org.

16. 401 Water Quality Certification Training Online
Back in May, River Network hosted a webinar on the power of 401 water quality certification as a tool for protecting and restoring your local rivers. Did you miss this webinar? Never fear, the recording is here! Now you can listen and learn at your leisure by visiting: http://www.rivernetwork.org/resource-library/401-certification-webinar

17. Georgia Center for Nonprofits workshops on the Coast
GCN has upcoming courses tailored to the needs of nonprofits on the coast and surrounding areas: http://www.gcn.org/AboutUs/GCNCoast/CoastalCourses.aspx

18. Group Spotlight: Soque River Watershed Association
The Soque River watershed is the "Heart of Habersham County." It is completely contained within Habersham County in beautiful northeast Georgia and is the central geographic feature of the area. No other county in Georgia possess a watershed the size of the Soque from its headwaters to mouth.

The Soque River Watershed Association has been doing a lot of cool work recently! SRWA works to protect and restore the Soque River, its tributaries and watershed. Since the Soque is a small watershed with a lot of agriculture, Executive Director Justin Ellis has been bringing the ideas of clean, plentiful water and sustainable agriculture together with a lot of success. To learn more about what SRWA is doing, visit their website and sign up for their bi-weekly newsletter (which always includes a great photo!):www.soque.org.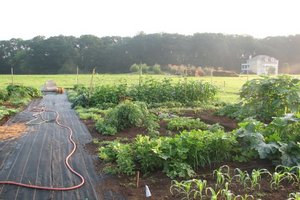 19. How to Resign from a Nonprofit Board
Here's how to do it gracefully: http://www.blueavocado.org/content/golden-rule-board-resignations

20. How to Deal with a Conflict of Interest
Find out here: http://www.blueavocado.org/content/nonprofit-conflict-interest-3-dimensional-view

21. Fundraising Deadlines
The following foundations are either new to our list of grants or have upcoming deadlines to submit proposals. To view grant makers that give throughout the year, visit our website at http://www.garivers.org/resources/tools/grants.html.
• AEC Trust Technical Grants are made to charitable organizations seeking technical assistance. Visit https://online.foundationsource.com/public/home/aec. Deadlines: April 1 and September 1.
• AGL Resources support environmental stewardship projects such as clean air, conservation, & green space. Unsolicited grants are welcome but are rarely approved. Deadline: Quarterly. Visit http://www.aglresources.com/community/guidelines.aspx.
• Ben and Jerry's Foundation provides grants ranging from $1,000 - $15,000 for grassroots organizing that leads to environmental change and addresses the root causes of environmental problems. Letters of inquiry may be submitted at any time and are reviewed three times a year. Click here for more information: http://www.benjerry.com/foundation/.
• The mission of the Educational Foundation of America is to improve individual lives and their surroundings through education and awareness, in hopes of bettering humanity and the world we inhabit. The Foundation's areas of interest include the environment, reproductive freedom, theatre, drug policy reform, democracy, peace and national security issues, education, medicine, and human services. Letters of inquiry may be submitted by email at any time. Visit http://www.efaw.org.
• Environmental Protection Agency: Source Reduction Assistance Grant Program EPA annually awards grants and cooperative agreements under the Source Reduction Assistance (SRA) Grant Program to support pollution prevention/source reduction and/or resource conservation projects that reduce or eliminate pollution at the source. The grant program does not support projects that rely on reducing pollution by using recycling, treatment, disposal or energy recovery activities. This solicitation announces that EPA's Regional Pollution Prevention (P2) Program Offices anticipate having up to $130,000, per region, to issue SRA awards in FY 2010. EPA will issue the awards in the form of grants and/or cooperative agreements. All funding will be awarded and managed by the EPA Regional P2 Program Offices. All of the forgoing estimates are subject to the availability of Congressional appropriations. Visit http://www07.grants.gov/search/search.do?&mode=VIEW&flag2006=false&oppId=50765
• The Home Depot Foundation makes grants to 501(c)(3) tax exempt public charities for several purposes including community cleanup. Grants typically range from $10,000 to $50,000. Preference is given to proposals that encourage volunteerism and community engagement that result in the restoration or conservation of community and wildland forests for a healthier environment that address one or both of the following: restore urban or rural forests for environmental and economic benefit using community volunteers in planting and maintenance efforts, promote sustainable forestry management to ensure responsible harvesting and use of wood resources. Proposals are accepted throughout the year, and grants are awarded four times a year. Visit www.homedepotfoundation.org.
• The Impact Fund awards grants to non-profit legal firms, private attorneys and/or small law firms who seek to advance social justice in the areas of civil and human rights, environmental justice and/or poverty law. They seek to provide funding for public interest litigation that will potentially benefit a large number of people, lead to significant law reform, or raise public consciousness. The Impact Fund has awarded over $4 million in general and donor-advised grants, since its inception. The Impact Funds awards grants four times per year, with the average grant size being $10,000 - $15,000. The maximum grant amount awarded to any single applicant per year is $25,000. Pre-applications reviewed 4 times a year. Visit http://www.impactfund.org/pages/grants/grants.htm.
• Ittleson Foundation supports innovative pilot, model and demonstration projects that will help move individuals, communities, and organizations from environmental awareness to environmental activism by changing attitudes and behaviors. Initial letters of inquiry due by April 1st or September 1st. Visit http://www.ittlesonfoundation.org/enviro.html.
• Mead Westvaco Foundation's primary focus is to enhance the quality of life in communities where MeadWestvaco has major operations and where MeadWestvaco employees and their families live and work. This includes providing direct grant support and encouraging active management and employee leadership involvement and volunteerism. Priorities for contributions in small and/or rural communities, where there are fewer sources of contributions, often address a broad range of needs. Support for urban communities is generally more targeted. Additionally, the Foundation seeks to provide leadership for advancing research, education and public dialogue on public policy issues of special interest, such as the economy, regulation and environmental stewardship. Proposals for grants are accepted throughout the year. Grants range from $250 to $10,000. Visit http://www.meadwestvaco.com/index.htm.
• Norcross Wildlife Foundation provides funding for equipment and publications. Grants range from $1,000 - $5,000. Visit http://www.norcrossws.org/.
• The Jessie Smith Noyes Foundation promotes a sustainable and just social and natural system by supporting grassroots organizations and movements committed to this goal. The Foundation provides support to organizations nationwide in the following funding categories: Protecting the Health and Environment of Communities Threatened by Toxics; Advancing Environmental Justice; Promoting a Sustainable Agricultural and Food System; and Ensuring Quality Reproductive Health Care as a Human Right. Applications are accepted throughout the year. Visit http://www.noyes.org/.
• Techsoup - Discounted Computer Software
Click on this website to purchase computer software at great prices. Must be 501c3. www.techsoup.org.

Join Georgia River Network
If you find News Stream and other information and services provided by Georgia River Network useful, we would appreciate your financial support! Visit www.garivers.org and join today!

To be removed from this list, send an email requesting removal to info@garivers.org.