Prizes, Innovation, and Change
Prizes can be an effective tool for innovation and can also be used to identify best practices and new levels of excellence, change wider perceptions, build a more effective network of problem-solvers, and mobilize new talent or funding.

There are several elements for developing and implementing a successful prize competition. The first and one of the most important steps is for an organization to clearly define the change it seeks. It's a complicated process and requires significant investment up front, of both time and resources. The most important step is clarifying if indeed a prize is the right strategy. Read more...
Congratulations to the 2011 Collaboration Prize Winners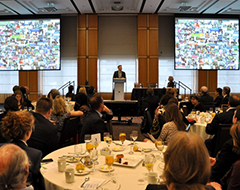 More than 150 philanthropists, foundation executives, and nonprofit and academic leaders gathered in New York City on April 8th to celebrate the selection of The Adoption Coalition of Texas as the winner of The Collaboration Prize. Read more...
Articles for Nonprofit Leaders
Our article series continues at CausePlanet, an online resource for nonprofit leaders. Every month, we contribute an article on a nonprofit management topic relevant to your professional learning.

In the recent article, Language Matters, Marco Montenegro explores the role of language in the nonprofit sector. Comparing terms like climate change to environmental justice, Marco describes how critical it is for today's nonprofit leaders to hear and understand the nuances of language in order to better serve their constituents.
New Resources
We encourage you to check out www.Nonprofits101.org, the new companion resource center for the upcoming book,

Nonprofit Management 101. Edited by Darian Rodriguez Heyman, the book launches May 2nd and features a chapter on Strategic Restructuring by David La Piana and Bob Harrington.

The new online resource center is aimed at providing easy to implement solutions from leading practitioners and seasoned experts. You'll also find useful tips of the week on the companion blog, Advancing Social Impact, free white papers, a directory of helpful support resources, sneak-peaks from the book, and more.

La Piana Consulting and ACEVO have partnered to customize The Nonprofit Mergers Workbook for organizations in the United Kingdom. Visit the ACEVO website for more details on A Guide to Mergers for Third Sector CEOs.

Welcome Thought Leaders

La Piana Consulting welcomes four new faces to our team this year. Senior Associates Marco Montenegro, Amari Romero-Thomas, and Maria Markham look forward to working with our clients across practice areas. On the operations front, we welcome Program Associate Ann Mayo.

Website Feedback

We want to hear from you! Tell us what you think our website. Take this brief anonymous survey.

Tell A Friend
Share the Learning Link with your colleagues and forward this message.