FEBRUARY 1, 2012
"Dennis Brown is My
Favorite Singer"
(A Musical Community's Trip Down Memory Lane)
8PM-3AM (WRFG 89.3FM)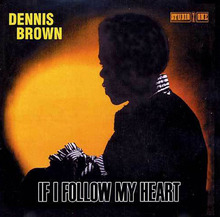 To launch Bob Fest 2012 in the spirit of the Fest's theme, "UNITY IS STRENGTH," several of Atlanta's prominent and not-so prominent musicians, radio personalities and DJ's (vinyl musicians) will get together and pour their musical sugar on us. Bob Marley often referred to Dennis Brown as his FAVORITE singer, and according to legend was the one to dub him the "Crown Prince Of Reggae." On Wed Feb 1st, the birthday of Dennis Brown, we exalt that legendary brotherly love with a trip down memory lane, exploring the sounds of Studio One and beyond. touching on the plethora of musical influences that Jamaican producers both drew from and in turn INFLUENCED, from Jazz to HipHop. WRFG 89.3 is a community owned and operated radio station, and opportunities are IMMENSE for very valuable promotion time to a wide and dedicated audience.
---
FEBRUARY 3, 2012
"ONE DROP"
West End Performing Arts Center
945 Ralph David Abernathy Blvd.
Atlanta, GA 30301
6PM-8PM
ADMISSION: $7 SINGLES/$10 COUPLES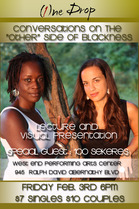 Africana Studies scholar Yaba Blay and award winning photographer Noelle Theard have launched their collaborative project, (1)ne Drop, a thought prov0ing look into the "other" faces of Blackness. Using the historical "one-drop rule" as a reference, Blay and Theard's project seeks to challenge the narrow, yet popular perceptions of "Blackness." This eventing of cultural sharing will include a few musical selections intertwined with a vivid presentation and discussion to follow. This is an event for the entire family, and promises to be a springboard for much greater dialogue and healing.
---
FEBRUARY 4, 2012
"TRENCHTOWN ROCK"
(International Night Dance and Concert)
The 5 Spot
1123 Euclid Ave.
Atlanta, GA 30307
9PM - Until
ADMISSION: $10 ADVANCED/$15 AT DOOR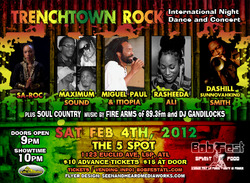 Tightly packed music house in Atlanta's historic yet trendy Little five Points area… Horns, keyboards, and vocals are hovering over sweaty bodies and thunderous drums. Color screen projecting classic images of musical days gone by alongside colorful logos of supporting businesses– timely images imprinted in the mind forever. Incense burning. Smiling faces. International night is the longest running event in the Bob Marley Birthday celebration. This year's lineup boasts an assortment of artists representing the pulse of African diasporic music. International night is music lovers' paradise, featuring Atlanta's premiere DJ's of African and Reggae music, along with top notch musical artists and bands. This annual concert is an advertiser's dream, merely because of the mass volume of patrons and even quadruples the amount in terms of reach.
---
FEBRUARY 5, 2012
SUNDAY NIGHT LIVE
"JAMMIN"
Venue: Cloud IX
177 Peters Street, SW ATL
7PM-MIDNIGHT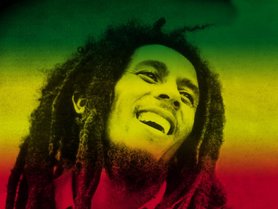 Every Sunday, we bring you one of the Best Open Mics in ATL plus featured performances! Experience 2 Levels/3 Rooms of Live Music, Art, Open Mic, Spoken Word/Poetry, Step/Ballroom Lesson and a Vendors Market @ Cloud IX. Hosted by Ms. Dia of WRFG 89.3FM
FEBRUARY 2, 2012
"POLITICAL EDUCATION 101: PASSIN IT ON"
The Shomrey HaTora Cultural Center
1386 Ralph David Abernathy, SW
Atlanta, GA 30310
7PM-10PM
FREE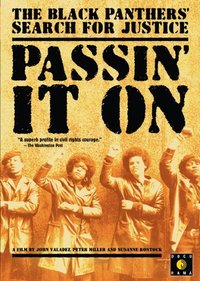 Bob Fest proudly links with the FTP
Movement, a grassroots organization which has been at the practical forefront for social change,
to present a film screening and discussion: PASSIN' IT ON - The Black Panthers' Search for
Justice. "A gritty and soulful classic, PASSIN' IT ON is the story of one man in search of justice
who is wronged by the nation with which he is at odds. Part indictment, part redemption tale, the
film offers startling insight into the role of the Black Panther Party in a social revolution, and the
New York Police Department and the FBI's devious targeting of one of the organization's most
fervent leaders--Dhoruba Bin Wahad (born Richard Moore).
---
FEBRUARY 3, 2012
"ONE FOUNDATION"
(HABESHA 10-year Anniversary Celebration)
Omenala Griot Museum
337 Dargan Place, SW
Atlanta, GA 30310
7PM-11PM
$10 ADULTS/$5 TEEN & ELDERS/ UNDER 12 FREE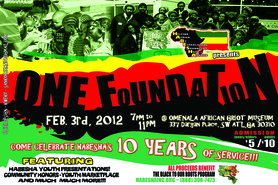 HABESHA inc, www.habeshainc.org, is a non profit organization which has built a solid international reputation based on quality education to adults and youth alike in the fields of sustainable culture. HABESHA produced a celebrated documentary, BLACK TO OUR ROOTS (featured nationally on PBS), which documented the yearly program (now operating in several cities) which culminates in a life changing journey to Africa for the youth participants. Locally, HABESHA is responsible for a number of seminal annual social activities, including the ever popular Organic Fest. On this night, in a familly friendly atmosphere, we team up with HABESHA for a celebration of 10 years of providing programs for the community.
---
FEBRUARY 5, 2012
"ZION TRAIN"
(All Faith Spiritual-Love Gathering)
Tasili's Raw Reality
1059 Ralph David Abernathy Blvd.
Atlanta, GA 30310
2PM - 6PM
FREE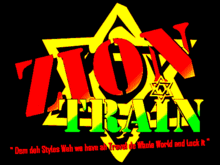 Over 200 years ago, a united and determined group of our ancestors used this affirmation as a rallying cry to overthrow the most powerful army on the planet at that time. Ironically, the devastated state of current Haiti bears testimony to this power. People don't bother the forces that they don't fear. We are in a time of harvest, a ripe time for the manifestation of the prayers of our ancestors. More than anything else, what is needed is Operational Unity. As a wise elder once asked, "what difference do our differences make?" On Sunday, Feb 5th, we continue the celebration with a POW WOW, an all faiths event of great magnitude, featuring expressions, prayers, chants and love energy from around the African experience. To quote H.I.M Haile Selassie, Bob Marley's chief influence in his life works, "when African righteous people come together, the WORLD will come together. This is our divine destiny…"
---
FEBRUARY 6, 2012
"MONDAY NIGHT FOOTBALL"
(Family Fun Night)
6PM-9PM
PLACE: TBA
ADMISSION: $10/Adults ~ $5/Under 16