Griot's Eye Youth Film & Culture Festival:

A visual & performance showcase of the African Diaspora in Baltimore


The Griot's Eye Youth Film and Culture Festival is an annual showcase of youth films and artistic performances celebrating the African Diaspora in Tubman City (Baltimore). The festival will feature:

Youth films and presentations
Live musical performances
Youth poetry & spoken word
African and urban dance performances
Vegan food from the African Diaspora
African Market
This year's festival features youth-produced film shorts created under the Griot's Eye Program over the past year, touching on topics from Youth Homelessness to Educational Challenges in Baltimore city to Reflections on Africa. The films created on locations from Park Heights to Harlem Park to Station North Arts District and beyond represent the imagination and thoughtfulness of a technically-oriented generation holding our future in their hands as they are transforming from mere media consumers to media producers in some of our most challenged neighborhoods. Early attendees will walk away with a free dvd of the impressive work and free popcorn.
12pm to 5pm
Saturday, February 16th
Baltimore Museum of Art
10 Art Museum Drive
Baltimore, 21215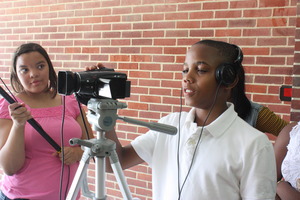 Click here to view past Griot's Eye productions

The Griot's Eye program is a media-based youth advocacy program through which young people are equipped with the technical and cultural skills to produce social media projects addressing issues of immediate relevance in their lives.

For More Info:
HABESHA - Baltimore
(443) 438 - 8697
www.habeshabmore.org
griotseye@habeshainc.org