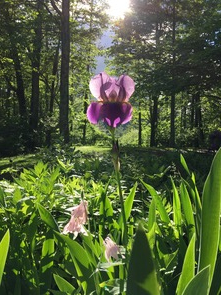 Iris & Columbine at Matagiri
This is an exciting time at Matagiri as we complete the first phase of preserving the basic infrastructure and begin construction on a building we're calling "Auroville House".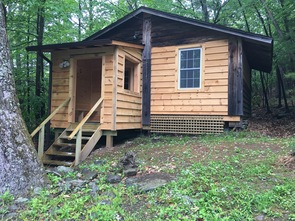 Sanctuary with New Entrance and Siding
Our preservation work over the winter created new foundations and support beams under the main cabin and we insulated the basement. We renovated the bathroom and kitchen, painted and laid a new carpet in the living room and put in a new hot water heater. In the Sanctuary, the corner posts were failing and the ceiling had been the home of generations of mice. Our team installed similar supports as we did under the cabin and insulated the floor. The new ceiling has created a more open space.
Inside the Renovated Sanctuary
New sheetrock was painted and a new carpet installed. We were grateful to see the space filled to capacity for the April Darshan.
Now we need to stain the wood and raise funds for an efficient propane heater. We believe everyone would appreciate more comfortable chairs.
Can you help
?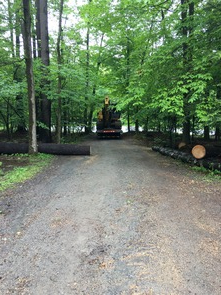 Backhoe Arrives
We had to take down some trees to give some access to the sun at the Auroville House building site. We plan to use as much of the timber we harvested as possible in the new building and will be milling the logs on site over the coming days. The new complex includes a straw bale eco-house and garage/apartment for the newest member of Matagiri, Julie Manna.
Please be a part of our Center activities and come to visit soon:
Wed July 12th 7:30 pm
regular Study Circle with special guest
Partho
Wed August 2nd 7 pm
Matagiri's 49th Birthday observed at Mountain View Studio in Woodstock with a concert by
Jonathan Kay
and
performance of "My Autopsy"
by Auroville resident Hamish Boyd
Sun August 13th Noon Darshan observing Sri Aurobindo's Birthday
Tues August 15th Sri Aurobindo's Birthday, Sanctuary open 8 - 5
Please check our website and Facebook page for other very interesting programs which are pending and will be announced soon.
And do register now for the
ALL USA MEETING
in Amherst. We hope to see you there.