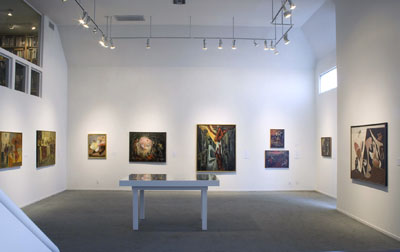 Installation Detail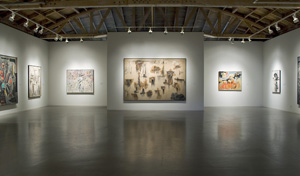 Installation Detail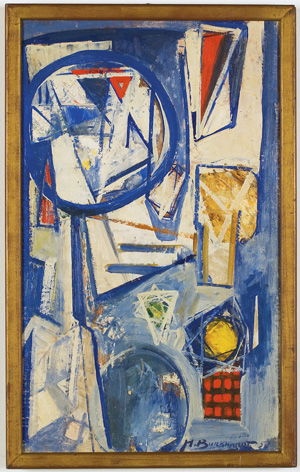 "Her Jewels," 1950
Oil on Canvas, 20 x 12 inches
Hans Burkhardt's (1904-1994) expansive career and influence in L.A. is the focus of this exhibition of paintings and drawings, juxtaposed with contemporaneous reviews and archival documentation spanning more than six decades. Arriving in L.A. in 1937, following his association with Arshile Gorky, whose studio he shared in N.Y. between 1928-37, Burkhardt represented L.A.'s earliest and most critical link to the N.Y. School. Included are important paintings shown in his first solo exhibition at the Stendahl Gallery (1939), and the L.A. County Museum (1945), after which Burkhardt was both celebrated and "censored" as his abstract works proved too provocative in those years leading up to the McCarthy Era. Nevertheless he was included in the Sao Paulo Biennale (1951), had 23 solo shows in the 1950s and his impact on artists such as Ed Kienholz, John Altoon, Karl Benjamin, Tony Berlant, etc. was significant. Also shown will be Burkhardt's profound anti-war paintings of the 60s and 70s which prompted art historian Donald Kuspit to cite: "Burkhardt is the master - indeed the inventor of the Abstract Memento Mori." The prescient nature of Burkhardt's work is evident in the exhibition, through the earliestanti-war subjects (1938) to his Graffiti paintings of 1983. His final work, included in the exhibition, dates from 1993, after receiving the American Academy's Lifetime Achievement Award.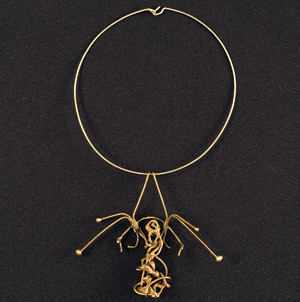 Necklace
Brass, 9 x 5 1/4 x 1 inches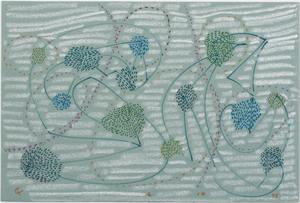 "Untitled," 1975
Gouache on Paper, 11 3/4 x 17 1/2 inches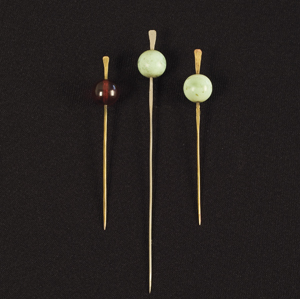 Pins, c. 1948
Brass & Resin, 4 inches
Nickel & Resin, 6 inches
Brass & Resin, 4 inches
Claire Falkenstein's (1908 – 1997) small scale sculpture, drawings and her highly prized jewelry transcend the traditional definition of the genre. Falkenstein's jewelry was the subject of a 1961 solo exhibition at the Louvre's Musee des Arts Decoratifs. Best known for her innovative large scale sculpture and public works, she pushed the boundaries in small and monumental sculpture as exampled by her fusions of metal and glass. Her sculpture even extended into the realms of printmaking by impressing her sculptures into paper; first in the Atelier 17 in Paris, and then when commissioned by the Graphic Arts Council at the Los Angeles County Museum of Art. This exhibition is presented in conjunction with Hans Burkhardt: Within & Beyond the Mainstream as part of the Getty's initiative Pacific Standard Time: Art in L.A. 1945 – 1980.