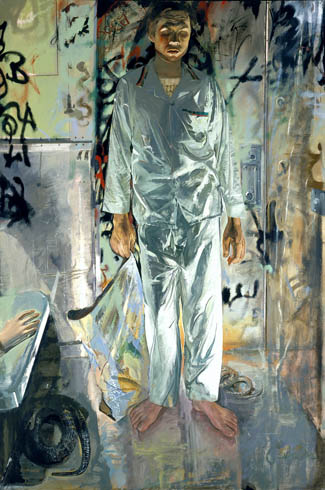 "Subway: A Marriage, 1981-83"
Oil on Canvas, Panel 1 of 4
72 x 228 1/2 inches overall
April 12–June 14
JEROME WITKIN
Paintings & Drawings
The Cole Art Center
Stephen F. Austin State University
329 E Main Street, Nacogdoches, Texas 75961
The Stephen F. Austin State University will present a significant exhibition "Jerome Witkin: Paintings and Drawings" by the American artist recognized as one of the most formidable figurative painters working today. Jerome Witkin has been called "a virtuoso painter" whose work is in dialogue with the old masters, social realism, history and even Abstract Expressionism.

Jerome Witkin is the 2014 Texas National Juror, and his show coincides with that exhibition. Opening reception April 12, 6-8 p.m.

John Handley, Director of the SFA galleries states: "We are very honored to have a juror of such stature as Mr. Witkin for the 20th anniversary of the Texas National, … Witkin's exhibition demonstrates why he is so critically acclaimed, … His art is not for the faint of heart. He renders in pencil and paint as skillfully and theatrically as Caravaggio or Rembrandt – Witkin is a contemporary master of drama and light."

A Special Program will be presented on Saturday, April 12, prior to the exhibition's opening reception, at 5:00 p.m. when Los Angeles art dealer, Jack Rutberg, will conduct an interview and conversation with. Mr. Witkin. The talk will be presented at 207. E. Main St., one block west of the Cole Art Center.

The Stephen F. Austin State University exhibition "Jerome Witkin: Paintings and Drawings" coincides with an important exhibition in Los Angeles at Jack Rutberg Fine Arts entitled "Twin Visions: Jerome Witkin & Joel-Peter Witkin." The Los Angeles exhibition pairs Jerome Witkin with his identical twin brother the renowned photographer Joel-Peter Witkin. The two artists were famously estranged until now

Additional SFASU Event:
On Friday evening, April 11, a 20th anniversary fundraiser party is planned that will feature food and entertainment at 6:30 p.m. at Karon Gillespie's El Atascossa Ranch. Tickets are $85 single or $150 per couple and can be purchased through SFA's Fine Arts Box Office at (936) 468-6407. Proceeds from this event go toward continuing to bring important contemporary art and artists to East Texas.