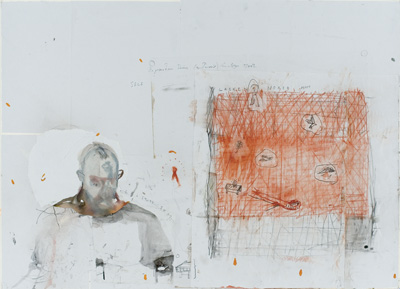 DEPOSITION, STUDY 6 2009 mixed media on board 32 x 44 inches
WASHINGTON, D.C., American University (AU) presents PATRICK GRAHAM: THIRTY YEARS—THE SILENCE BECOMES THE PAINTING, with an opening reception Saturday, June 9 from 6:00 to 9:00 p.m. The exhibition extends through Sunday, August 12, 2012. The exhibition curated by the legendary art historian and curator Peter Selz follows its critically acclaimed and record-breaking run in San Francisco at the Meridian Gallery museum space of the Society for Art Publications of the Americas.

This rare exhibition is accompanied by a 98 page full-color catalogue with compelling essays by Peter Selz, John Handley, Jarrett Earnest and Patrick Graham.
"Graham is widely considered Ireland's major contemporary painter; Graham's paintings indeed have vistas that cannot be measured, his figures are fragmented, wounded humans, they are vulnerable, but promise endurance."
- Curator Peter Selz
"The landscape has influenced my work right up to the present, particularly the low horizon; and that great vista where you can encounter space, and figures in it, in all kinds of ways….Silences. No conversations. A looking-in, rather than a lived experience. That 'looking-in on things' has stayed with me: a self-contained art."
- Patrick Graham
"Interior Visions." Irish Arts Review
Graham creates meditations in the form of landscapes and iconic imagery that touch upon questions pertaining to reality, the meaning of life, and the search for faith in a world of diminishing absolutes.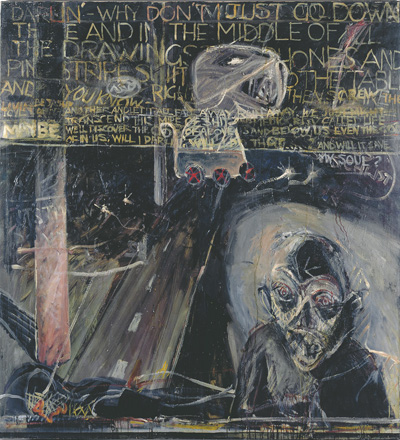 DARLIN' 1984-85 oil on canvas 72 x 66 ½ inches
Graham's work has been the subject of exhibitions and symposiums internationally, including the National Gallery of Ireland, the Berkeley Art Museum, the Irish Museum of Modern Art, Trinity College, Walker Art Gallery in England, the Hokkaido Museum in Japan, the University of Michigan, Northeastern University, and Boston Museum of Fine Arts.

PATRICK GRAHAM: THIRTY YEARS—THE SILENCE BECOMES THE PAINTING was organized with the support of Jack Rutberg Fine Arts in Los Angeles, international agent for Patrick Graham. The exhibition is supported by the Embassy of Ireland and Culture Ireland, the national body for the promotion of Irish arts worldwide and will next travel and open on September 23, 2012 at the Museum of Contemporary Religious Art at Saint Louis University.
A SPECIAL RELATED EVENT will be presented on June 23 at 4:00 p.m. when curator Peter Selz will be joined by Chief Art Critic of the San Francisco Chronicle Kenneth Baker and Jack Rutberg, director of Jack Rutberg Fine Arts in Los Angeles, who will discuss Graham's works at the American University Museum. This event is free and open to the public.