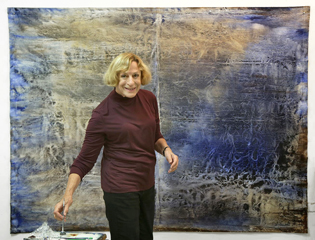 Ruth Weisberg
"La Commedia e Finita," 1977
Original Lithograph, 29 1/4 x 37 3/8 inches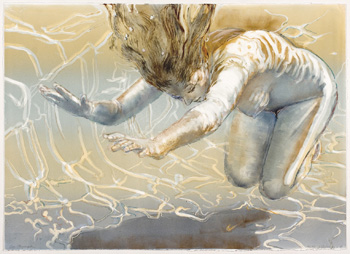 "Sea Nymph," 2009
Monotype, 20 x 27 5/8 inches
The SGC International is the largest print organization in North America. Its annual conference is the biggest annual gathering focused on the field of printmaking.


Ruth Weisberg has been an important influence on printmaking both as an artist and educator. Her creative activity and scholarship encompasses not only studio production in printmaking, painting, and drawing, but central and influential articles, essays and book chapters that have played a vital role in advancing print theory. Her 1986 essay "Syntax of the Print" published in the Tamarind Papers is frequently assigned to students in printmaking programs and remains relevant almost 30 years after it was first published. As one of her nominators, Mark Pascale, Associate Curator of Printmaking at the Art Institute of Chicago, praised not only her work as a printmaker and draftsman, he also emphasized her writings as an important contribution to the field of printmaking.

Ruth Weisberg's artwork is notable for her commitment to both extending the history of art, and its continued relevance to the human experience today. Her themes are often ambitious ones, including cultural identity, love, mortality, history and community. Her work has been widely exhibited nationally and internationally, with her recent exhibitions including "Ruth Weisberg: Guido Cagnacci and the Resonant Image" at the Norton Simon Museum, Pasadena, and "Ruth Weisberg: Unfurled" at the Skirball Cultural Center, Los Angeles. In total, she has presented over 80 one-person exhibitions at museums and galleries internationally. She is represented by Jack Rutberg Fine Arts in Los Angeles...