---
ECO-UNESCO Clubs
Want to set up an environmental club? Contact us to find out how you can start an ECO-UNESCO Club in your school, community or youth group. We'll help you out with resources and support to help make your club a success.
---
ECO-UNESCO,
the Greenhouse,
17 St Andrew St,
Dublin 2

t (01) 662 5491
f (01) 662 5493
e info@ecounesco.ie

New: ECO-Youth Outings 2014
A great way to kick off the New Year! ECO-UNESCO is organising an outdoor trip one Saturday each month for young people aged 14-18 who want to explore and enjoy our natural environment. Led by ECO-UNESCO, activities throughout the year include forest walks and hikes around Howth Head, Bray Head and Greystones along with practical conservation work along Ireland's coasts. The outing is free (note travel fare is not covered) and young people are advised to dress appropriately and bring any necessary refreshments with them. The outings are a great way for young people to meet with like minded peers, have some fun, take in the fresh air and get involved in environmental conservation work. The outing is open to ECO-UNESCO groups and members, while other young people can get involved by signing up as a new member (annual membership for under 18s only €10). New members must register with ECO-UNESCO at least one week in advance of the trip as parental/guardian consent is required for these outings. For more information please contact Feidhlim on ysd@ecounesco.ie or phone 01 662 5491. Our first outing takes place on February 1st. For future dates, please click here.
---
Youth for Sustainable Development:Global Youth Leaders for Change
Our hugely popular YSD programme begins again on January 29th at 5pm.The programme runs weekly each Wednesday evening and is open to young people from all over Dublin and surrounding counties. Free to all 15-18 year olds to attend, the Youth for Sustainable Development uses interactive learning techniques, peer education and local action projects to inspire, motivate and challenge young people to take action in favour of sustainable development. The programme also encourages young people to develop an awareness of global issues linking their own lives to young people in different parts of the world. We are looking forward to meeting a whole new group of new people on January 29th-just click here for more details on the programme.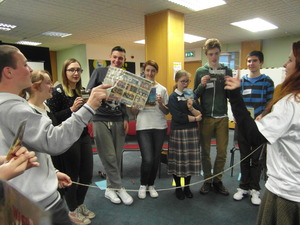 ---
President Higgins Announced as ECO-UNESCO Patron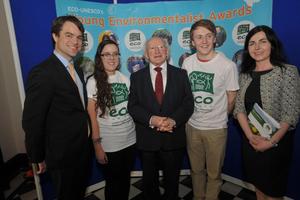 President Michael D. Higgins has been named as the sole patron of ECO-UNESCO, Ireland's environmental education and youth organisation. The President has been a very strong supporter of our flagship programme, the Young Environmentalist Awards, since his appointment to Áras an Uachtaráin and provided the lkeynote address at the 2013 YEA last May. We look forward to the President's support of our work over the next four years.
---
ECO-UNESCO's Short Courses


Click each course title for more information
Date: 5 March

Time: 10.00-16.00

In this training, participants will learn about project planning, communication and peer education through interactive environmental education activities. This workshop is exclusively for members of the ECO-UNESCO Clubs programme. To find out more about becoming an ECO-UNESCO Club please click here.

Date: 22 March

Time: 10.00-16.00

This short course provides a practical and interactive introduction to ECO-Community Gardens.

Date: 5 April

Time: 10.00-16.00



This training course focuses on how to take leadership in planning for Sustainable Development. The programme is of particular relevance to those wishing to build and take strategic actions on a personal, organisational, business and/or community level toward sustainable development

Date: 10 April

Time: 10.00-16.00

This short course explores an alternative approach to drug misuse prevention using environmental education as a resource for positive personal development of young people

Date: 14 April

Time: 10.00-16.00

This short course introduces the concept of environmental education, what it is and how you can incorporate it into your work using activities developed by ECO-UNESCO

Date: 15 April

Time: 10.00-16.00

This short course explores ways to plan, develop and integrate environmental education methodologies within different curriculum frameworks and/or in alignment with specific learning outcomes

Date: 1-5 July

Time: 10.00-16.00

ECO-Watchers training for teachers and leaders provide participants with the skills and expertise to encourage critical thinking in young people as they investigate practical solutions to environmental challenges

Short Training Course Fees

€70: ECO-UNESCO members, students, unwaged, young people under 25

€80: Voluntary and community sector

€90: Statutory

Special Offer: Book Environmental Education Course 1+2 and get a 10% discount
Are you a job-seeker?
Funding options are available - contact us for details. (Unemployed people registered with FÁS may be eligible for a Technical Employment Support Grant for this course)
---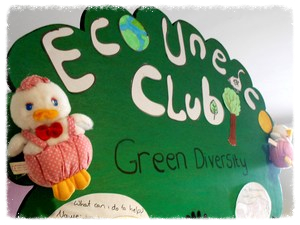 ECO-UNESCO Clubs
With the New Year just begun, we are now inviting people who may want to set up their own environmental club to become part of our ECO-UNESCO Clubs programme. If you want to start a Club in your school, youth group or local community, then get in touch with us and we'll help provide you with the support and resources you need to make your Club a success. Just contact clubs@ecounesco.ie or phone us on 01 662 5491 to find out more.
---
Green Pathways: Programme Update
Our Green Pathways programme which is funded under Momentum will see its third group of students complete their course next month. Since March of last year over 60 jobseekers have been up-skilled and trained through the programme. Green Pathways, which combines FETAC accreditation with a work placement experience, has been hugely successful with many of its students going on to find employment or continuing on to higher education. The Green Pathways Graduation Ceremony will take place on March 6th and we are looking forward to welcoming back all of our students for this special day.
---
Young Environmentalist Awards: Submission Deadline
The deadline for all YEA participants to submit their project is February 28th. We've had huge interest in the programme as always and we are really looking forward to receiving all of the projects and finding out what great ideas young people have for carrying out positive eco-action in their communities and further afield!
---
Current Opportunites with ECO-UNESCO
We are currently offering a number of internships and Department of Social Protection Work Placement Opportunities in the following areas:
These are hugely valuable opportunities for anybody wishing to gain experience in any of the above areas and wish to gain exposure to the youth and environmental sector. For details on all of our opportunities please click here.
We are also have a number of volunteering opportunities in area such as photography, design, youth work and events to name but a few. If you would like to learn more about our volunteering opportunities please contact admin@ecounesco.ie. Volunteering with us is a great way to give something back, meet new people, have some fun and contribute positively to environmental youth programmes.
---
Dear friends of ECO-UNESCO,
A very happy New Year to you all. I hope you enjoyed your Christmas break and are looking forward to the next few months as much as we are here in ECO-UNESCO.
We have a lot to look forward to in 2014 as we continue to engage and inspire young people to get involved in environmental protection and conservation through our numerous events, activities and youth programmes.
Along with some new youth initiatives for this year such as our Monthly Eco-Youth Outing, we will also be launching a number of new FETAC accredited courses in the areas of vegetable growing, crop production and ecology and the environment. These courses will be launched later this year and we are very much looking forward to adding them to our already popular list of training courses.
We will also of course continue to have our short training courses in a number of areas such as community gardening, environmental education and drug prevention.
Later this month we will also be accepting new members to our Youth for Sustainable Development: Global Youth Leaders for Change programme. This is an excellent opportunity for young people to get involved with eco-action projects, learn more about the environment and meet with like minded peers.
Sticking with our young people's programmes, our ECO-UNESCO Clubs is now seeking new leaders to set up and run a Club in their local area, school or youth group. Establishing an ECO-UNESCO Club is a great way to bring young people together, get them working on a project and contributing positively to their local community.
Our YEA is now in full swing and I am really looking forward to hearing about all the eco-actions that young people around the country have been engaged in when we receive the project submission next month.

I am also delighted to announce President Higgins as patron of ECO-UNESCO who has been a strong supporter of our YEA programme in particular since taking office.

So while it looks set to be a busy year ahead, we wouldn't have it any other way and we look forward to seeing you all throughout the year be it at a training, event or here in the Greenhouse.
Until next month, be sure to keep up to date with all our news and events on Twitter, Facebook and our website.
Until next time,
Elaine Nevin,
National Director ECO-UNESCO