---
---
Opportunities
There are currently no opportunities with ECO-UNESCO
ECO-UNESCO Clubs
Want to set up an environmental club? Contact us to find out how you can start an ECO-UNESCO Club in your school, community or youth group. We'll help you out with resources and support to help make your club a success.
---
ECO-UNESCO,
the Greenhouse,
17 St Andrew St,
Dublin 2

t (01) 662 5491
f (01) 662 5493
e info@ecounesco.ie
ECO-UNESCO WELCOMES 2015!



Welcome to a New Year at ECO-UNESCO where we hope to challenge, educate and inspire Ireland's young people in the protection and conservation of our natural environment. In 2015, as well as building on the good work of 2014, we have many new and exciting projects and initiatives planned. Our Young Enviromentalist Awards, Y-PEPS programme, our employment programme Green Pathways ll, Learning2Change and a lot more!

Young Environmentalist Awards: Submission Deadline
















The Young Environmentalist Awards project submission deadline is approaching fast so there is still time to get involved!

We are delighted with the level of interest in the ECO-UNESCO Young Environmentalist Awards (YEA) 2015. Best of luck to all the young environmentalists across the country who are carrying out their environmental action projects!

The deadline for all YEA participants to submit their project is February 27th, and don't forget that the YEA team is at hand to offer you support along the way and answer any of your queries. We look forward to receiving your projects soon!

"ECO-UNESCO gives a great opportunity for young people to express their feelings about the environment and allows us to show our passion through the work we display at the Young Environmentalist Awards. It is a chance for us to act and hopefully make a difference." explains Rebecca, one of our young environmentalists from Banbridge High School.

ECO-UNESCO's Young Environmentalist Awards is an all-Ireland environmental awards programme that recognises and rewards young people who raise environmental awareness and improve the environment be it in their school, community or even further afield!

If you want more information please, check YEA section in our website:

ECO-UNESCO Young Environmentalist Awards :
Click here for YEA Manual & YEA Shortlisted Booklet
Project Submission Deadline:
27 February 2015
Advice and Support
+353 (0)1 662 5491 | yea@ecounesco.ie

---
Have Your Say!

Ireland is currently developing a new National Youth Strategy and as a young person linked to ECO-UNESCO we want your voice to be heard. The new Strategy is a very important document as it will identify what the priority areas of concern are for young people in Ireland and how the government will respond to them. As part of the development of this strategy young people are been invited to participate in an online survey, to share their opinions and views on what should be included in this strategy.

Whilst this survey has identified 14 areas for consideration and asks young people to prioritise them, the environment is not explicitly included on the list, however, there is an opportunity to highlight the environment as a key concern for young people in Ireland in the 'Other' box. The 'EU strategy for Youth, Investing and Empowering' as one of its core objectives already identifies the need to " mobilise youth in global policy-making at all levels (local, national and international) using existing youth networks and tools (e.g. structured dialogue) and address climate change and the UN Millennium Development Goals" (Commission of the European Communities 2009, p.11).

In ECO–UNESCO we believe in empowering young people to conserve our environment and in giving young people a voice. We would therefore urge you to take a few minutes to fill in this online survey. We would also urge you as a young person linked to ECO-UNESCO, on the priority list, where you see 'other' mentioned to please tick and indicate the environment as being a priority for you. By taking these steps you are ensuring that the natural environment is seen as a key priority for young people in Ireland.

We have included some more information on the background of the strategy and the consultation process below. The link to the survey is; http://www.surveygizmo.com/s3/1829693/New-National-Youth-Strategy-Have-Your-Say and again we would urge all of you to take a few minutes to complete this survey.
---
Learning2Change Our World, commencing second phase


Learning2Change commencing second phase!

Before the festive break we finished the regional training which took us to the four corners of the country. During the training there were different topics covered such as climate change, human rights, women and development, gender issues and sustainable development. During the month of January the Learning2Change Our World Coordinator will be back on the road visiting the participating schools to support them in their actions project.

In January we are visiting St. Michael's Community College, Newpark Comprehensive School, Millstreet Community School and St. Louis High School.

You can get more information about the Learning 2 Change Our World Programme by visiting the website http://www.ecounesco.ie/programmes/learning2change


Learning2Change Our World is a ECO-UNESCO programme tha takes a whole school approach with both teachers and young people receiving training. The training provides up to date knowledge in issues regarding sustainability and development on a local and global level.

If you have any questions about this programme please contact the Learning2Change Our world coordinator on learning2change@ecounesco.ie.
---
Green Pathways II - Environmental Studies and Skills
We are back from our Christmas break and we are looking forward to commence our new Ecology in the Environment FETAC Level 6 module during the month of January.
The participants are gaining new skills and recently completed the Sustainable Development FETAC level 5 module where they conducted environmental audits, gained knowledge in permaculture and education for sustainable development along with gaining other valuable skills that will allow them to be at the forefront of one of tomorrow's leading sectors.

ECO-UNESCO is delighted to announce that a second and third Green Pathway Environmental Studies and Skills Momentum programme will begin on 9th of February and on the 30th of March 2015.
Job-seekers interested in either developing a career in sustainable development/the environment upskilling as a gardener, horticulturist, ecologist or environmental consultant, people are bound to find this programme a huge advantage in progressing onto paid employment.


The aim of this free programme is to progress participants who have been unemployed for more than one year, onto paid employment. This course is open to all ages but is specifically focused on the under 25's. All participants will receive professional environmental training, motivational training and a valuable work placement to help them get their 'foot in the door' to companies and organisations they may not otherwise have access to.

Green Pathways II, is your path to employment through professional environmental and motivational training, a valuable work placement experience and on the job supports.
Green Pathways is a 27 week, full-time programme with FETAC accredited training; a hands on work placement providing a 'foot in the door' to potential employers; an applied learning project; 1-to-1 mentoring; ongoing and post-delivery supports including jobs clubs.

To sign up please, contact the Green Pathways ll Project Officer, Niamh Hand, on greenpathways@ecounesco.ie or call 01 662 5491.
---
Youth for Sustainable Development latest news
37 Y-PEPS receive their Certificates of participation!

On the 17th of December, 37 young people from the Youth for Sustainable Development, Global youth leaders for Change Peer Education programme (Y-PEPS) received their certificates for completing phase one of the peer education programme. This consisted of 12 weeks of workshops and activities which covered various Environmental and Sustainable Development themes raging from climate change, global justice, gender equity, environmental conservation, communication to much more. They are now embarking on the second phase of the programme where they are taking this knowledge and skills and undertaking local to global action projects raising awareness in their communities about sustainability issues. These will be entered into this year's ECO–UNESCO Young Environmentalist Awards programme. The second phase of the programme started Wednesday, 7th of January.

Please check out our short video reviewing all of our activities in the YSD programme.

Upcoming training Opportunities for Youth Leaders – Youth Work and Sustainability Training

Do you want to enhance your work with young people and try to get them involved in Environmental and Global Justice Issues? Then this training is for you! In this one day training you will learn about Education for Sustainable Development (ESD) methodologies along with practical activities you can integrate into your youth work.
When: Sat 28th February 2014
Where: 'The Greenhouse'
Who: Any person, educators, youth/ community leaders or those working with young people wishing to learn more about ESD.
If you are interested and wish to learn more please check out our website at http://www.ecounesco.ie/eco-uneseco-education-training/eco-uneseco-training-courses or call the office on 01- 6625491
To sign up please, contact our Youth for Sustainable Development programme coordinator Feidhlim Ó Seasnáin on ysd@ecounesco.ie
YSD goes Regional

ECO-UNESCO is delighted to receive funding and support from both Concern Worldwide and Trócaire which will enable our successful Youth for Sustainable Development; Global Youth Leaders for Change Programme to expand to two new regional locations within the next few months. We will be delivering two pilot projects;one in the North-East and the other one in the West.
ECO-UNESCO's Youth for Sustainable Development Programme; Global Youth Leaders for Change promotes Education for Sustainable Development (ESD) and Development Education (DE) in the non-formal education sector, involving a variety of initiatives to engage and support young people, youth leaders, educators and youth workers interested in sustainability issues.
---
Youth /Community Groups working for a Sustainable Future.
This year sees Scouting Ireland going for their Gold Award in ECO-UNESCO's ECO-Sustainability Awards programme. The ECO-Sustainability Award is about developing and promoting the skills, attitudes and behaviour that both adults and young people need to create more sustainable organisations. Sustainability is not just about 'being Green' it is also about social equity, inclusion and justice – in all dimensions of our lives. This year sees a variety of groups becoming involved from youth organisations like the Scouts and Clara Youth reach to community development organisations like LYCDS and Rehab. If you are interested in celebrating and rewarding the work that your youth and community organisation is undertaking in beginning to lead the way towards a more socially and environmentally future for all then check out our website at http://www.ecounesco.ie/eco-sustainability-award or contact Feidhlim on 01- 6625491.
---
ECO Environmental Youth Programme
The ECO Environmental Youth Programme is starting 2015 with the delivery of three programmes – the continuation of North West Healthy Living, Fashion Focussed Workshop and the all new Media and Sustainability workshop.
North West Healthy Living

North West Healthy Living is an ongoing programme specific to the counties of Northern Ireland. This whole day interactive learning workshop is designed for primary school groups and covers a range of exciting topics such as gardens, wildlife, staying active and eating well. It finishes with a group fantasy garden design project that allows participants to bring together all they learned in the day before letting their imaginations take over!
Fashion Focus
The Fashion Focussed 2.5hr workshop suits secondary school groups and takes an interactive yet serious look at the Fashion industry – where do our clothes come from and how are they actually produced – and what happens to them after we are finished with them? The workshop finishes with an upcycling project – making hand warmers! For more information/booking contact youth@ecounesco.ie
Media & Sustainability Workshop
Is this world famous photograph of a Great white shark following a kayak real or fake? Find out in our new Media & Sustainability workshop!

The all new 2015 Media & Sustainability workshop is a second 2.5hr interactive learning workshop, covering the wide and grey topic of the world's media and its influence. The workshop considers Sustainable Development issues and looks at eye-opening examples of how the media influences us on a daily basis. This workshop finishes with participants developing their own media strategy to promote sustainability and an environmental issue. This would suit youth groups and secondary schools, and is available for booking in 2015.
To book an ECO-UNESCO Workshop please, contact our Environmental Youth Officer Jenna Cains on youth@ecounesco.ie
To read more...
---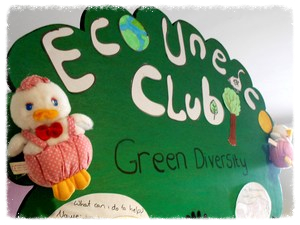 ECO-UNESCO Clubs
Do you want to set up your own environmental club and become part of our ECO-UNESCO Clubs programme. If you want to start a club in your school, youth group or local community, then get in touch with us and we'll help provide you with the support and resources you need to make your club a success.

Just contact clubs@ecounesco.ie or phone us on 01 662 5491 to find out more.
---
ECO-UNESCO Training Courses
Want us to deliver as outreach to your organisation? Just contact us on 01 662 5491 to arrange!
ECO-UNESCO's Short Courses


Click each course title for more information
Are you a job-seeker?
Funding options are available - contact us for details. (Unemployed people registered with FÁS may be eligible for a Technical Employment Support Grant for this course)
---
Dear friends of ECO-UNESCO,

Welcome to a New Year at ECO-UNESCO; I hope you are looking forward to the next few months as much as we are here in ECO-UNESCO.
We have a lot to look forward to in 2015 as we continue to educate, engage and inspire young people to get involved in environmental protection and conservation through our numerous events, activities and youth programmes.
This month sees the launch of our new 2015 Prospectus detailing all our youth programmes, training courses, events and opportunities for the coming year. To get your copy please log onto www.ecounesco.ie. We also have limited hard copies at ECO-UNESCO's headquarters in the Greenhouse.

The Young Environmentalist Awards 2015 is proving to be as popular as ever with thousands of young people already registered. You can find out about our all-island environmental awards programme at www.ecounesco.ie. Young Environmentalist Awards projects are now in full swing; project report submission deadline is the 28th of February so there is still plenty of time to take part and make a difference.
If you have an environmental issue in your local area that you want to tackle then why not participate in our Young Environmentalist Awards programme and carry out a local environmental project. I am really looking forward to hearing about all the eco-actions that young people around the country have been engaged in when we receive the projects next month.

The United Nations Climate Change Conference, COP21 is taking place in Paris at the end of the year. Climate Change is one of the key environmental issues facing the world. From IPCC reports we know that humans are producing more carbon dioxide than ever. This is impacting our climate, causing global warming and is evident in many parts of the world where glaciers are retreating and global ice melting. It is important that we all do our bit. This includes taking action locally through environmental action projects which help raise awareness, it involves influencing our policy makers and our government representatives. Each of us has a part to play.

If you are unemployed for over a year and want to become part of Ireland's Green Economy, then ECO-UNESCO's Green Pathways II is for you. The 6 month programme, funded under Solas and Momentum is commencing again in February and March this year and offers specialist skills which have the potential to open exciting new opportunities. The course provides knowledge and skills in sustainable development, ecology and the environmental and provides on the job work placements as well as CV support and 1-2-1 mentoring. For more information please contact Niamh at greenpathways@ecounesco.ie.

This year the Irish government are developing a new National Youth Strategy. Consultations are underway at the moment so it is important that all young people get an opportunity to feed into this. We are encouraging all young people to have their voices heard , to complete the questionnaire and to attend the consultation days at the end of January.

In 2015 we will be hosting an event for World Water Day on 22nd March. More details will be available on our website www.ecounesco.ie

As always we would like to encourage all of you to get involved in ECO-UNESCO by taking part in any of our programmes, becoming a member or volunteering. Until next month be sure to keep up to date with all our news and events on Twitter,Facebook and our website.


Until next time,

Elaine Nevin,
National Director
ECO-UNESCO