---
Upcoming Events
Young Environmentalist Awards National Showcase and Final
ECO-Teen Camp
ECO-Explorers Summer Camp
Training Courses
---
ECO-UNESCO Clubs
Want to set up an environmental club? Contact us to find out how you can start an ECO-UNESCO Club in your school, community or youth group. We'll help you out with resources and support to help make your club a success.
---
ECO-UNESCO,
the Greenhouse,
17 St Andrew St,
Dublin 2

t (01) 662 5491
f (01) 662 5493
e info@ecounesco.ie
2014 Young Environmentalist Awards National Showcase and Awards Ceremony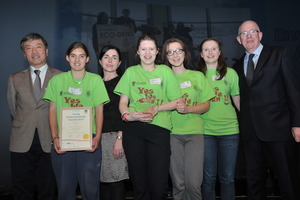 On May 20th over 600 young people, teachers and leaders from all over the island of Ireland descended on the Mansion House for Ireland's largest youth eco action event. With 75 projects on display it was the biggest showcase to date and the excitement, dedication and hard work of all the finalists was visible to everybody present, not least to our special guests, Mr.Han Qunli Director of the Division of Ecological and Earth Sciences, and Secretary of the Man and Biosphere at UNESCO; Mr. Charlie Flanagan TD Minister for Children and Youth Affairs and Lord Mayor of Dublin Mr. Oisín Quinn.

The standard of projects this year was fantastic and judges had a really tough job picking the awardees. The award for Overall Senior Winner went to young people from St. Louis Community School Kiltimagh, Co. Mayo for their project 'Yes We Can' which also scooped the Senior Waste Award and the ECO-Alu Award. The Overall Junior Winner went to young people from St. Colm's High School Co Derry for their biodiversity project entitled 'Susan's Trail' while there were joint winners of the Super Junior Category with young people from St Ibar's National School, Co. Wexford and Scoil na nÓg, Glanmire, Co. Cork sharing the title between them.

A big thanks to all of our supporters, sponsors, prize funders, judges and to all of the young people, teachers, leaders and parents for their support of the programme!

For a full list of winners click here or to see our photos from the event, click here.
Come and see the 2014 YEA projects at the Greenhouse!
ECO-UNESCO's Young Environmentalist Awards Exhibition 2014 is now open to the public and can be visited from Monday-Friday, 9am-5pm. Be sure to pop in over the summer to see some very inspiring eco action projects!
---
UNESCO Represented at the Young Environmentalist Awards 2014

ECO-UNESCO was delighted to welcome Mr. Han Qunli, Director of the Division of Ecological and Earth Sciences and the Secretary of the Man and the Biosphere Programme UNESCO, to Dublin, for ECO-UNESCO's 2014 Young Environmentalist Awards. Mr. Han provided the keynote address at the Young Environmentalist Awards. In his address to over 650 young people, the expert judging panel and invited guests, Mr. Han highlighted the beauty of Ireland's environment, and Ireland's innovative thinking in being the first country in the world to introduce a levy on plastic bags. He also congratulated all of the young people on their eco-action projects and acknowledged the huge impact these young peoples' efforts had on protecting and conserving Ireland's environment. Mr. Han met with many of the finalists during his visit and also presented a number of awards including the Biodiversity Category, the Overall Junior, Overall Senior and Super Junior Awards.Following his attendance at the Young Environmentalist Awards, Mr. Han, accompanied by the board of ECO-UNESCO, was received by the Lord Mayor of Dublin, Mr. Oisín Quinn for a courtesy visit of the Mansion House.
---
ECO-Teen Summer Camp June 23-27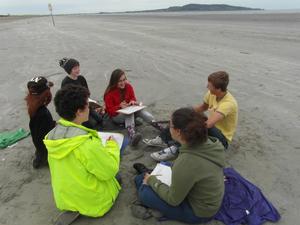 Our ECO Teen Summer Camp for 13-16 year olds will take place from 23-27 June.This action packed week for green teens has activities focused on learning about the natural heritage of various habitats close to Dublin's city centre. Day-trips to the Grand Canal, the River Liffey and Urban Parklands will be included in the camp, along with classroom workshops and creative activities on biodiversity. Book online today to secure your place!
---
ECO-UNESCO Awarded North West Funding Bid
ECO-UNESCO was successful in its North West Healthy Living, Community Gardens and Allotments Programme tender with its proposal to run a number of both accredited and non accredited programmes focused on gardening and health living. The workshops will be delivered to over 2000 people throughout the north west of Ireland over the next number of months with courses are aimed at both young people and adults. Strabane District Council is the lead council implementing the cross border programme and the tranining provided by ECO-UNESCO includes: Health Gardening Training for Trainers; Healthy Gardening and Green Exercise Accredited Programme; Healthy Gardening Schools Education Programme.
---
Kids' ECO-Explorers Summer Camp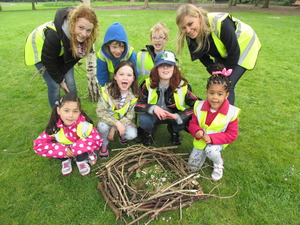 Our places for our Kids' Summer Camp are filling up very quickly! The camps will run throughout July and August and this year kids' will explore, interact and learn about Dublin's nature through outdoor adventures, interactive games, hands-on activities and much more such as bug safaris, building hedgehog houses and getting great ideas to take home with them in our creative arts and crafts recycling workshop. Early drop off and late collection is available free of charge (9am-5pm). Just click here to book your child's place today!
---
World Environment Day Celebrations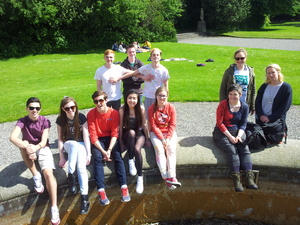 Young people from around Dublin celebrated World Environment Day on June 5th by participating in a free Green Trail run by ECO-UNESCO around Dublin city. The trail highlighted the various nature and biodiversity within the city, with a special focus on its city parks and the natural heritage present within them.
---
ECO-UNESCO at Bloom in the Phoenix Park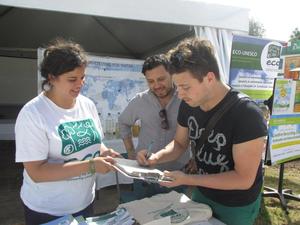 ECO-UNESCO was delighted to attend Bloom in the Phoenix Park over the bank holiday weekend. Our creative upcycling station was a hit with young and old alike while our Young Citizens for Water exhibit and youth films funded under the Leargas Youth In Action programme went a long way towards highlighting water issues both gobally and locally. It was great to meet with so many of you at the event and we look forward to your greater involvement with ECO-UNESCO into the future!
---
Want us to deliver as outreach to your organisation? Just contact us on 01 662 5491 to arrange!
ECO-UNESCO's Short Courses


Click each course title for more information
Date: 1-5 July

Time: 10.00-16.00

ECO-Watchers training for teachers and leaders provide participants with the skills and expertise to encourage critical thinking in young people as they investigate practical solutions to environmental challenges.

Date: 22 August

Time: 10.00-16.00

This short course introduces the concept of environmental education, what it is and how you can incorporate it into your work using activities developed by ECO-UNESCO

Date: 23 August

Time: 10.00-16.00

This short course explores ways to plan, develop and integrate environmental education methodologies within different curriculum frameworks and/or in alignment with specific learning outcomes

Date: 20 September

Time: 10.00-16.00

This short course provides a practical approach on how organisations can become more sustainable and introduces groups to the ECO-Sustainability Award Programme.

Short Training Course Fees

€70: ECO-UNESCO members, students, unwaged, young people under 25

€80: Voluntary and community sector

€90: Statutory

Special Offer: Book Environmental Education Course 1+2 and get a 10% discount
Are you a job-seeker?
Funding options are available - contact us for details. (Unemployed people registered with FÁS may be eligible for a Technical Employment Support Grant for this course)
---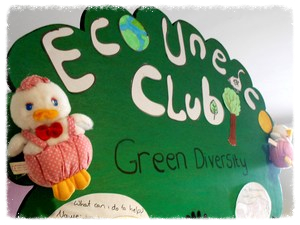 ECO-UNESCO Clubs
Do you want to set up your own environmental club and become part of our ECO-UNESCO Clubs programme. If you want to start a Club in your school, youth group or local community, then get in touch with us and we'll help provide you with the support and resources you need to make your Club a success. Just contact clubs@ecounesco.ie or phone us on 01 662 5491 to find out more.
Dear friends of ECO-UNESCO,

We've had an excellent start to the summer so far. Our Young Environmentalist Awards held in the Mansion House on May 20th was a fantastic event and it was great to be able to recognise and reward all of the young people involved in eco-action projects around the island of Ireland.

Congratulations to all of the awardees and indeed to everybody involved with this year's programme. The hard work and dedication of so many young people was truly inspiring and we are already looking forward to YEA 2015! You can see a sample of some of this year's finalists' project here in the Greenhouse at our Young Environmentalist Awards 2014 Exhibition which will run throughout June and July before moving to the European Union House in Dublin 2 for part of August and September.

I was delighted to welcome Mr. Han Qunli Director of the Division of Ecological and Earth Sciences and the Secretary of the Man and the Biosphere Programme UNESCO to Dublin for this year's event. Mr. Han provided the keynote address on the day and also met with many of the young people involved and viewed their projects. Minister for Children and Youth Affairs Charlie Flanagan TD also lent his support to this year's YEA and launched the film premiere of the Young Citizens for Water project during the awards ceremony. It was marvellous to have both Mr. Han and Minster Flanagan at the event, along with other invited guests such as theLord Mayor of Dublin Oisín Quinn. We were also delighted to welcome back Aidan Power as Master of Ceremonies.

Looking ahead to the rest of the summer, we have plenty of events and activities coming up. Our ECO-Teen Camp for young people aged 13-16 takes place from June 23-27 and we still have some availability on this camp but places are filling up fast and people are advised to book now. Our ECO-Explorer camps for children aged 5-12 will get underway next month and run into August and is a fun filled week for any eco-explorers!

We are also busy delivering gardening and green exercise programmes across the north west having won the bid to provide training in the North West Healthy Living, Community Gardens and Allotments programme. Strabane District Council is the lead implementing council in the programme. Accredited and non accredited programmes for young people and adults will be delivered over the next few months.

As you can see, we have a jam packed summer ahead. We hope you can support us and get involved where possible.

Until next month, be sure to keep up to date with all our news and events on Twitter, Facebook and our website.
Elaine Nevin,
National Director ECO-UNESCO