---
Upcoming Events
Training Courses
National Youth ECO-Forum 2013
---
ECO-UNESCO Clubs
Want to set up an environmental club? Contact us to find out how you can start an ECO-UNESCO Club in your school or youth group. We'll help you out with resources and support to help make your club a success.
---
ECO-UNESCO,
the Greenhouse,
17 St Andrew St,
Dublin 2

t (01) 662 5491
f (01) 662 5493
e info@ecounesco.ie

ECO-Explorers Kids Hallowe'en Camp
Back for its third year, this Hallowe'en Camp is the perfect way for any child to spend their mid-term break!
Get some fresh air and discover something new on a mini beast safari and play fun and interactive nature games in Dublin's city parks

Explore trees, insects and animals and discover the importance of biodiversity to a healthy and functioning planet

Create broomsticks and spooky stick skeletons in our creative arts and crafts recycling workshops!
When? 29th Oct – 1st Nov (Tue – Fri | 10.00am – 3.00pm) Early drop off and late collection available at no extra cost

Where: the Greenhouse, 17 St. Andrew Street, Dublin 2
Who? Children aged 5 - 12 years
How Much? Early Bird: €70| Full price: €80 | Family discounts available
---
National Youth ECO-Fourm 2013: Young Citizens for Water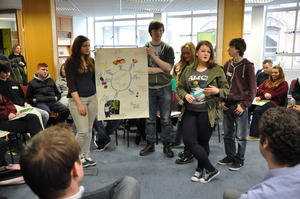 Learn, debate, discuss and film-it will be all be happening at our annual Youth ECO-Forum on 28-29 November. This year's theme is water and we are inviting young people (aged 15-18) to come to the Greenhouse, participate in the forum; learn from our expert guest speakers, interact and challenge the policy makers and get involved with our youth film making workshop. Free accommodation and subsistence will be provided to all participants. Spaces are limited and interested parties should contact youth@ecounesco.ie or 01 6625491 for more information and bookings.
---
Young Environmentalist Awards Roadshow
Our YEA Roadshow is now well and truly underway! So far we've visited a number of schools and youth groups in Dublin, Longford and Westmeath and we'll be travelling to even more towns and villages in Leinster, Munster, Ulster and Connaught over the next few weeks. The Roadshow provides free training to young people, equipping them with the skills, knowledge and know how to start and complete their very own action project and enter it into the Young Environmentalist Awards programe. To register for the 2014 YEA click here, and to check our training dates, click here.
For more information call 01 662 5491 or email yea@ecounesco.ie.
---
ECO-UNESCO Training Courses
Want us to deliver as outreach to your organisation? Just contact us on 01 662 5491 to arrange!
ECO-UNESCO's Short Courses

Click each course title for more information

€70:

ECO-UNESCO Members, students, unwaged, young people under 25




€80:

Voluntary and Community Sector




€90:

Statutory




*Special Offer:

2 people from the same organisation pay only €100


** Free

: To those who register as an ECO-UNESCO Club

Are you a job-seeker?
Funding options are available - contact us for details. (Unemployed people registered with FÁS may be eligible for a Technical Employment Support Grant for this course)
---
Youth for Sustainable Development
(Y-PEP)Programme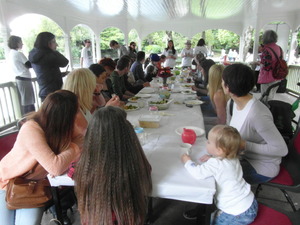 Our new group of Y-PEPs began their YSD programme just last week and we were delighted to welcome young people from all over Dublin to the programme. We are sure that if they are anything like our previous PEPs, they will learn a lot and give a lot throughout their time with us here each Wednesday evening. Some members of our older groups;#LFN and Tenacious Trees, organised their very own Mad Hatter Street Feast on September 21st in St. Stephen's Green. The day was a huge success with members of the public turning out to share their food, sample some home grown produce and learn about food miles and food security. We are looking forward to many similar events in the future and seeing what fun and educational ideas our new recruits have for reaching out to the general public on important environmental issues.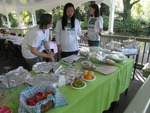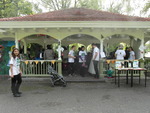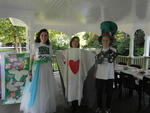 September was a busy month for us with the launch of the 2014 Young Environmentalist Awards, youth workshops around Dublin, Culture Night, the Ploughing Championships and welcoming new students to our third Green Pathways programme. October looks to be just as busy and I am delighted that our ever popular kids Hallowe'en camp will run once again during the mid-term break. With plenty of exciting outdoor and spookily fun activities, it's bound to keep younger children busy and content during their days off!
We also have plenty going on for the older age group. Our new Y-PEP Youth for Sustainable Development Programme began just last week and it was great to welcome so many new young people from all over Dublin to the Greenhouse. This programme plays an important role in inspiring, motivating and challenging young people to take action in favour of sustainable development, helping them to develop an awareness of global issues, linking their own lives to young people in the developing world. I hope that these young people enjoy their time with us and I look forward to seeing their action projects at work in the not too distant future.
Staying with programmes for young people, our YEA Roadshow will continue to travel around the country for the rest of the month delivering free YEA training to registered schools and youth groups around Ireland. The training provides all the inspiration, info and know-how to groups on starting and completing their own eco-action projects and I encourage anybody who registers for the YEA to avail of it.

Elaine Nevin,
National Director ECO-UNESCO