---
Upcoming Events
Green Pathways
ECO-Explorers Summer Camp
Teen Summer Camp
ISD FETAC L5 Course
Environmental Education Course
ECO-UNESCO Open Evening
---
---
Opportunities
Click here to view our most recent job and internship opportunities
ECO-UNESCO Clubs
Want to set up an environmental club? Contact us to find out how you can start an ECO-UNESCO Club in your school or youth group. We'll help you out with resources and support to help make your club a success.
---
ECO-UNESCO,
the Greenhouse,
17 St Andrew St,
Dublin 2

t (01) 662 5491
f (01) 662 5493
e info@ecounesco.ie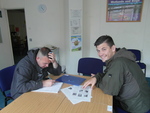 Following on from the success of our previous Green Pathways youth employment training programmes, we are delighted to announce that we are now enrolling for our third Green Pathways initiative.

Funded under the Momentum initiative, Green Pathways aims to progress young people, aged 25 and under, onto paid employment in the green economy or on to further and higher education. To date many of our students have increased their confidence and communication skills through their FETAC training delivered at the Greenhouse and are also developing their professional capacity through a valuable work placement. Some of our students have now progressed onto full time employment as a result of their Green Pathways training while others are now looking into further and higher education.

Our next Green Pathways programme begins on 9th September and will involve 12 weeks of intensive training followed by work placement running until February 14th. Interested candidates must apply through their local social welfare office.

For more information click here or email: greenpathways@ecounesco.ie.
Enrol today!Green Pathways: 9 September 2103-14 February 2014
---
Kids Summer Camps: Last few places remaining!

Our ECO-Explorers Kids' Summer Camps have once again proved to be a huge hit for 5-12 year olds. This summer we were really lucky with the weather most days and had our ECO-Explorers out in the fresh air and sunshine on bug safaris, nature trails and even had them building hedgehog houses! We will be running the camps for two more weeks from 12-16 and 19-23 August and have some limited availability for each, so book now to secure your child's place on this seriously fun and engaging camp!
Time? 10.00-14.30
How much? €100

Family rates apply
Early drop off and late collection available at no extra cost!
---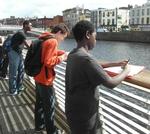 During Heritage Week 2013 we are once more running our very popular ECO-Teen Summer Camp for 13-16 year olds from 19-23 August.

This action packed week for green teens has activities focused on learning about the natural heritage of various habitats close to Dublin's city centre. Day-trips to the Grand Canal, the River Liffey and Urban Parklands will be included in the camp, along with classroom workshops and creative activities on biodiversity.

To celebrate we're giving away a free place for one lucky teen! All you have to do is like and share our status on Facebook by August 14th.
Date? 19-23 August
Time? 10.00-3.00
How much? €100

Family rates apply
Early drop off and late collection available at no extra cost!
Book online today or phone 01 6625491 or email: youth@ecounesco.ie.
---
ECO-UNESCO's Training and Education Courses
Book online today for our autumn term
or join us later this month for our Open Evening and find out about all our courses

Want us to deliver as outreach to your organisation? Just contact us 01 662 5491 to arrange!

€200:

ECO-UNESCO Members, students, unwaged, young people under 25




€220:

Voluntary and Community Sector




€240:

Statutory

€70:

ECO-UNESCO Members, students, unwaged, young people under 25




€80:

Voluntary and Community Sector




€90:

Statutory




*Special Offer:

2 people from the same organisation pay only €100




*Special Offer:

Book Environmental Education Course 1+2 and pay only €120


** Free

: To those who register as an ECO-UNESCO Club

€45:

ECO-UNESCO Members, students, unwaged, young people under 25




€50:

Voluntary and Community Sector (Fee subsidised by Irish Aid)




€80:

Statutory

Are you a job-seeker?
Funding options are available - contact us for details. (Unemployed people registered with FÁS may be eligible for a Technical Employment Support Grant for this course)
---
Rio+20 Transnational Seminar: Return trips to UNESCO youth clubs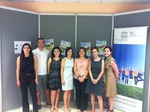 Following on from our Rio+20 Transnational Youth Meeting last November, the young people from the UNESCO Clubs involved returned to their home countries to carry out an environmental action project to engage their local policy makers. August marks the first of our return trips to these European UNESCO Clubs.

National Director Elaine Nevin has already visited the Malta UNESCO Youth Association to view progress on their project in the De la Salle College. This Maltese group are introducing smart, clean and economically efficient equipment to raise the awareness amongst their peers about how small actions can make a huge impact on the environment. Over the next few weeks Elaine will visit Latvia, France and Italy to view progress on the eco-projects there.

You can learn about each Clubs' project at our Rio+20 Exhibition currently running at the Greenhouse.
---
Our Green Teen Youth Club and Y-PEP Programme begins once more in September so now is your chance to sign up, make new friends, learn more about the environment and have fun!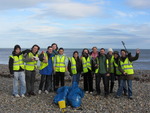 The Y-PEP programme: An evening youth programme involving 12 weeks of creative workshops exploring the links between local and global issues. Run in the Greenhouse this is a great opportunity to meet other young people; gain new skills; explore the links between local and global issues and build confidence through peer education facilitation training and an environmental/community action project.
Green Teen Youth Club: This club also meets on a weekday evening and offers young people the chance to discover more about the environment and issues affecting the planet. Young people will also have the opportunity to take hands-action in the conservation of the Irish environment with fun, outdoor excursions.
Dear friends of ECO-UNESCO,
Autumn came around very quickly this year and with it some exciting news for us here in ECO-UNESCO. Our Green Pathways programme which has been running successfully since March is now enrolling for its third course. Funded under the Momentum initiative, this youth employment programme seeks not only to up-skill under 25s for jobs in the youth, community or green sector, it also provides them with the confidence, assertiveness and communication skills necessary to progress and achieve in their lives. I am greatly looking forward to meeting with our new students on September 9
and should you know anybody who may be interested in enrolling to the course, I encourage you to pass on the details of this programme to them.
With just a couple of weeks left before everybody heads back to school we still have some activities and training for young people and educators to avail of. On August 22 and 23 we will be running our Environmental Education Course looking at trends and developments, curriculum links and programme development. It's bound to be of huge interest not only to educators but also to youth workers and anybody interested in learning more about the environment and I am sure that those of you participating will hugely enjoy it.

With September just around the corner, we are now enrolling for our other FETAC accredited and short courses. There is plenty to choose from and whether you are looking to up-skill, enhance your CV or simply learn more about the environment, you'll find a great range of courses to suit your needs and interests with ECO-UNESCO.
To see out the rest of the summer holidays we have our ECO-Explorers' Nature Summer Camp for children aged 5-12 running for the next two weeks. We are also running our Teen Summer Camp from August 19-23 and with day trips, interactive workshops on biodiversity and a whole lot of fun, it will be a great way to finish up the holidays!

Looking ahead to our upcoming youth programmes, our Y-PEP (Youth for Peer Education Programme) and Green Teen Youth Club begins once more in September. To date these programmes have been hugely successful, not only in educating young people in a range of environmental issues but also in providing young people with a safe and inviting place to make new friends, grow their self confidence and learn new skills. Young people interested in joining us can sign up now for these programmes.
I hope to see you soon at 'the Greenhouse' and in the meantime be sure to keep up to date with all our news and events on Twitter, Facebook and our website.

Elaine Nevin,
National Director ECO-UNESCO