---
Upcoming Events
Culture Night
Training Courses
ECO-Explorers Hallowe'en Camp
Car Free Day
---
---
Opportunities
Click here to view our most recent job and internship opportunities
ECO-UNESCO Clubs
Want to set up an environmental club? Contact us to find out how you can start an ECO-UNESCO Club in your school or youth group. We'll help you out with resources and support to help make your club a success.
---
ECO-UNESCO,
the Greenhouse,
17 St Andrew St,
Dublin 2

t (01) 662 5491
f (01) 662 5493
e info@ecounesco.ie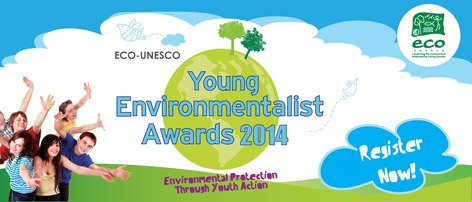 YEA 2014-Register Now!
As Ireland's biggest celebration of youth eco-action once more opens for registrations, young people in schools, youth and community groups island-wide are now being encouraged to get their hands green and reap the rewards for their environmental efforts.
Now in its fifteenth year, the Young Environmentalist Awards (YEA) is an initiative open to young people aged 10-18 years from across the 32 counties of Ireland. This year, the YEA Road Show will hit towns and villages across Ireland, inspiring and encouraging young people to start their very own eco-action projects. Free training and information sessions will be provided to all registered groups from September to October. The training will provide young people, their teachers and leaders with the skills, knowledge and know how to grow their ideas into a real life action project that will help improve their local school, community or wider world. Click here for more info on the 2014 YEA, and here to register your group.
---
ECO-UNESCO's Training and Education Courses
Green Pathways:
We still have some places available on our Green Pathways youth employment training course. For full details on and how to apply,
click here.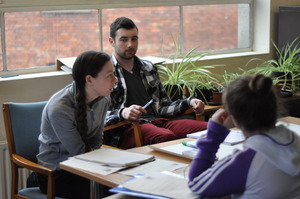 Book online today for our autumn term

Want us to deliver as outreach to your organisation? Just contact us 01 662 5491 to arrange!
€200:

ECO-UNESCO Members, students, unwaged, young people under 25




€220:

Voluntary and Community Sector




€240:

Statutory

ECO-UNESCO's Short Courses

Click each course title for more information

€70:

ECO-UNESCO Members, students, unwaged, young people under 25




€80:

Voluntary and Community Sector




€90:

Statutory




*Special Offer:

2 people from the same organisation pay only €100


** Free

: To those who register as an ECO-UNESCO Club

€45:

ECO-UNESCO Members, students, unwaged, young people under 25




€50:

Voluntary and Community Sector (Fee subsidised by Irish Aid)




€80:

Statutory

Are you a job-seeker?
Funding options are available - contact us for details. (Unemployed people registered with FÁS may be eligible for a Technical Employment Support Grant for this course)
---
Join us at Flavours of Fingal, Culture Night and the National Ploughing Championships!
We're taking part in a lot of festivals and events over the next few weeks. On the 14th and 15th of September we'll be at the Flavours of Fingal festival so be sure to pop by to the Learning Zone and say hello to us! On Friday 20th the doors of the Greenhouse will stay open until 11pm as part of Culture Night. With a lot of activities such as storytelling, face-painting and creative recycling it's bound to be a really fun night for children and adults alike! You'll also catch us at the National Ploughing Championships on the 24th. We will be located in the IEN marquee so be sure to call in, pick up our latest newsletter and find out about our work.
---

ECO-Explorers Hallowe'en Camp for 5-12 year olds
When? 29th Oct – 1st Nov
(Tue – Fri | 10.00am – 2.30pm)
Who? Children aged 5 - 12 years
What? Explore, interact and learn about Dublin's nature through outdoor adventures, interactive games, hands-on activities and much more!
Build broomsticks, make stick skeletons and go on a mini-beast safari!

Creative arts and crafts using recycled materials

Explore trees, insects & animals & discover the importance of biodiversity to a healthy & functioning planet.
How Much? Early Bird: €70| Full price: €80 | Family discounts available
Click here for more information and bookings.
---
Calling all young people! Join us for some green fun!
Our Green Teen Youth Club and Y-PEP Programme begins once more in September so now is your chance to sign up, make new friends, learn more about the environment and have fun!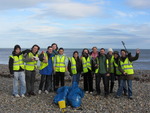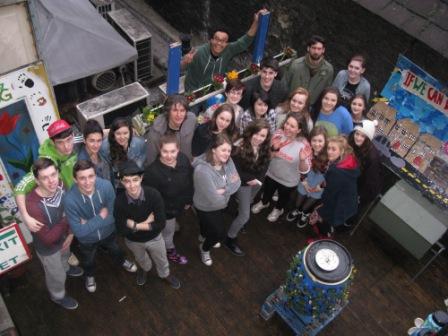 The Y-PEP programme: An evening youth programme involving 12 weeks of creative workshops exploring the links between local and global issues. Run in the Greenhouse this is a great opportunity to meet other young people; gain new skills; explore the links between local and global issues and build confidence through peer education facilitation training and an environmental/community action project. Contact:ysd@ecounesco.ie
Green Teen Youth Club: This club also meet on a weekday evening and offers young people the chance to discover more about the environment and issues affecting the planet. Young people will also have the opportunity to take hands-action in the conservation of the Irish environment with fun, outdoor excursions.
Contact:youth@ecounesco.ie
National Youth ECO Forum 2013:Young Citizens for Water: Join us on 28-29 November for our national youth seminar. This year we look at the theme of water, host discussion with experts and provide film making workshops to all particiants. For more information and bookings contact:youth@ecounesco.ie
Dear friends of ECO-UNESCO,
September always brings with it a fresh start and we have plenty of exciting programmes for you to get involved with this month. Our flagship programme, the Young Environmentalist Awards, is now open for registration. 2013/2014 marks the fifteenth year of the YEA and in that time has involved more than 30,000 young people. This youth eco-action programme goes from strength to strength each year and I look forward to schools, youth and community groups once more registering their interest and availing of our free training when the YEA road show visits Ireland's towns and villages this September and October.
Staying with programmes for young people, we are now enrolling 14-18 year olds to our teen programmes beginning next month. These free, after school initiatives take place in the Greenhouse and include the Green Teen Youth Club and the Youth for Sustainable Development (Y-PEP) Programme. The programmes provide a great opportunity for young people to meet in a fun and safe environment, get them involved in environmental action projects and help develop their confidence and assertiveness along with communication and team work skills.

For younger children we are once more running our Hallowe'en camps and you can book today to avail of our early bird offer.
Autumn is the perfect time to start something new and we have a number of interesting and informative courses beginning this month. Our third Green Pathways youth employment training programme began earlier this week and I am looking forward to ECO-UNESCO playing a vital role in providing these young jobseekers with the necessary professional and personal skills to kick-start their career. We still have some places available on the course and are accepting applicants for the next few days.
Our next Introduction to Sustainable Development course begins on September 19th and runs for 10 weeks until November. With the FETAC requirements changing next year, this is one of the last opportunities to study the course in its current form before it becomes a longer training programme in 2014. For those who cannot make the 10 week course, we also have an intensive course delivered over two weekends in October and November. Our ECO-Sustainability Award training also takes place this month on September 27th and groups who wish to make their business or organisation more sustainable and environmentally friendly are advised to sign up to the programme.
I hope to see you soon at 'the Greenhouse' or at the other events we are participating in such as the Flavours of Fingal, Culture Night and the National Ploughing Championships.

Elaine Nevin,
National Director ECO-UNESCO