---
---
Opportunities
There are currently no opportunities with ECO-UNESCO
ECO-UNESCO Clubs
Want to set up an environmental club? Contact us to find out how you can start an ECO-UNESCO Club in your school, community or youth group. We'll help you out with resources and support to help make your club a success.
---
ECO-UNESCO,
the Greenhouse,
17 St Andrew St,
Dublin 2

t (01) 662 5491
f (01) 662 5493
e info@ecounesco.ie
ECO-Explorers Easter Camp-Book Now for our Early Bird Rate!



Our ever popular ECO-Explorers Easter Camp for 5-12 year olds is back from the 7-10 April. There's plenty to do with Easter eco-egg hunts, bug safaris, creative arts and crafts, green trails and a whole lot more besides! Places are now very limited so you are advised to book a place today and avail of our early bird offer for only €90. Family discounts apply and early drop off and late collection available free of charge!

Click here to secure your child's place today!


Young Environmentalist Awards ECO-DENS















Our regional ECO-DENS got off to a fantastic start in Ulster on March 11th where participants enjoyed a full day of workshops, exhibited their projects and of course, met the all-important judging panel. This ECO-Den was followed by Munster on the 19th where again, the level of enthusiasm, hard work and dedication of young people to the environment was really visible through their fantastic eco-action projects. The last ECO-Dens took place in Connaught and Leinster, at The Greenhouse with hundreds of young environmentalists pitching their projects to a panel of judges, including ECO-UNESCO's National Director Elaine Nevin.

Once the judging process is complete, finalists will be informed and our People's Choice Award poll will open, where you will be able to choose your favourite Young Environmentalist Awards project!


For further information please, call 01 662 5491 or email yea@ecounesco.ie.
---
Learning2Change our world, action in April!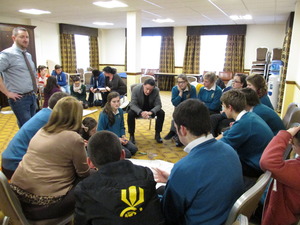 March Madness!
ECO-UNESCO's Learning2Change programme has had a busy month in March delivering trainings! We delivered two days of workshops for the development education network for schools in Carlow; two workshops for the green school committees of St Louis community School, Kiltimagh, Co Mayo; and enjoyed a full day with 70 TY students in Coláiste Bríde, Enniscorthy, Co. Wexford! Meanwhile we have been on the road linking in with teachers from across the country. As part of the regional ECO-DENS we have been showcasing our Learning2Change Our World Programme, fostering networks and undertaking focus groups. Having had a highly successful month we are geared up and excited for April where we will be celebrating Earth Day for a full week!

Action in April!
This 'Week of Action', which will take place between 20-24th April is a week of celebration where participating schools will be organising a collaborative week of action between students, teachers and staff. Showcasing the actions they have taken as part of the Learning2Change programme, groups will be running awareness raising activities in their schools and using social media to get their message out!

What is the L2C Our World programme?

Learning2Change Our World is a ECO-UNESCO project supported by Irish Aid's WorldWise Global Schools programme and is aimed at both young people and teachers in post primary schools.

The programme takes a whole school approach with both teachers and young people receiving training. The training provides up to date knowledge in issues regarding sustainability and development on a local and global level. This training culminates in the participating school working together and taking a week of action and awareness regarding a local/global issue regarding sustainability.

If you want to join this exciting week please get in touch at learning2change@ecounesco.ie
---
Green Pathways II - Environmental Studies and Skills
With our second Green Pathways II Momentum course now in full swing; we are delighted to announce that a third Green Pathway programme will begin the 27th of April 2015!
The participants are gaining new skills and are currently taking the Ecology in the Environment FETAC level 6 module where they will gain skills in environmental studies, ecology, conservation biology and they will gain knowledge in current environmental, ecological, conservation and policy issues along with gaining other valuable skills that will allow them to be at the forefront of one of tomorrow's leading sectors.

The aim of this free programme is to progress participants who have been unemployed for more than one year, onto paid employment. This course is open to all ages but is specifically focused on the under 25's. All participants will receive professional environmental training, motivational training and a valuable work placement to help them get their 'foot in the door' to companies and organisations they may not otherwise have access to.
With the green economy earmarked as an area for huge growth, the programme focuses on up-skilling people today, allowing them to be at the forefront of one of tomorrow's leading sectors. Job-seekers interested in either developing a career in sustainable development/the environment upskilling as a gardener, horticulturist, ecologist or environmental consultant, people are bound to find this programme a huge advantage in progressing onto paid employment!


To sign up please, contact the Green Pathways ll Project Officer, Niamh Hand, on greenpathways@ecounesco.ie or call 01 662 5491.
---
Youth for Sustainable Development latest news
Youth for Sustainable Development

It has been a busy month for the youth for sustainable development crew. The weeks and months have been flying in!

The young people have managed to complete five varying projects for the Young Environmentalist Award. They have cycled to Howth to raise awareness about the issue of accessing Dublin bikes for young people, they made a film and set up a Facebook group to raise awareness of the impact of deforestation not just for human beings but for the planet!
This month also included World Water Day. The group organised and facilitated a full day workshop focusing on the UN theme of world water day which was water and sustainable development. It was a success and has spurred the group onto wanting to do more workshops.
There are 27 young people who are taking part in a FETAC accredited course on Peer Education. The course is near completion and participants will be awarded their FETAC soon!
To sign up please, contact our Youth for Sustainable Development programme coordinator Feidhlim Ó Seasnáin on ysd@ecounesco.ie or call 01 662 5491.
---
ECO-UNESCO North West Healthy Living Programme and Media & Sustainability Workshops
North West Healthy Living
Spring has sprung at last – and ECO-UNESCO's Environmental Youth Officer Jenna, has been at the forefront of the weather changes while delivering North West Healthy Living!

In March, the Youth Officer battled through the snow to visit Edward's Primary School in Castlederg, but unfortunately St Cairell's PS, also in Castlederg, wasn't so lucky when their school was closed after snow fell all day and night! There was just a sprinkling of snow when the Environmental Youth Officer visited Killen Primary School and it was all gone by the time she ventured over to Maghera – taking in both Culnady and Maghera Primary Schools. Now Spring is in bloom, and the next schools to host the North West Healthy Living workshop will be St Egney's National School, Scoil naomh Iosaf and Buncrana national School, all in Buncrana, Co Donegal.
Media & Sustainability Workshop
The all new ECO-UNESCO's Fashion Focused workshop launched last month in Dominican College in Blackrock, St Joseph's Secondary School in Rochfortbridge and Patrician Secondary School in Newbridge. This 2.5hr workshop incorporates discussion and activities based on the environmental impacts of the Fashion industry, a look at Fast Fashion and the Cotton Industry, the Lifecycle of Clothes and where our clothes come from. The workshop ends with an Upcycling project, turning socks into decorated hand warmers!
To book an ECO-UNESCO Workshop please, contact our Environmental Youth Officer Jenna Cains on youth@ecounesco.ie
To read more...
---
ECO-Choices programme
It is starting to get warmer and the days are a lot longer. Would you like to go on an adventure and learn more about the natural world? If you are a youth service please contact us and we can make this happen for you and your youth service!

Young people from Stoney Batter youth service has begun the 12 week ECO-Choices programme, which aims to focus on the empowerment of young people by developing life skills in addition to providing accurate information about drugs. This is done by providing a variety of interactive approaches including outdoor learning activities.

Drimnagh Castle secondary school is finishing up their peer education FETAC course and is going to be providing introductory workshops to their first years in the coming weeks.



ECO-UNESCO's ECO-Choices Programme is an alternative Drug Prevention programme, building the capacity of young people to make positive life choices. It aims to channel the energy of young people into positive action; empowering them to improve and protect themselves, others and their environment.



For further information please, contact our ECO-Choices programme coordinator at ecochoices@ecounesco.ie
---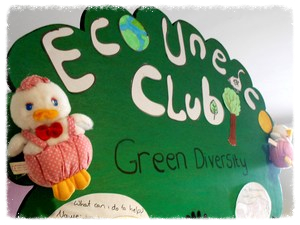 ECO-UNESCO Clubs
Do you want to set up your own environmental club and become part of our ECO-UNESCO Clubs programme. If you want to start a club in your school, youth group or local community, then get in touch with us and we'll help provide you with the support and resources you need to make your club a success.

Just contact clubs@ecounesco.ie or phone us on 01 662 5491 to find out more.
---
ECO-UNESCO Training Courses
Want us to deliver as outreach to your organisation? Just contact us on 01 662 5491 to arrange!
ECO-UNESCO's Short Courses


Click each course title for more information
Short Training Course Fees

€70: ECO-UNESCO members, students, unwaged, young people under 25

€80: Voluntary and community sector

€90: Statutory

Special Offer: Book Environmental Education Course 1+2 and get a 10% discount
Are you a job-seeker?
Funding options are available - contact us for details. (Unemployed people registered with FÁS may be eligible for a Technical Employment Support Grant for this course)
---
Dear friends of ECO-UNESCO,

We have a lot to look forward to this month here in ECO-UNESCO! We've had a great March attending our five Young Environmentalist Awards ECO-Dens which took place throughout the country last month. Judging at each of the ECO-Dens was a fantastic experience. I met so many inspiring and determined young environmentalists who have made fantastic contributions to the local environment. I look forward to meeting many more of you again at our Showcase and Awards Ceremony next month. My thanks to all of our expert judging panel who gave their time and experience to the ECO-Dens, and also to all of the Councils and Borough Councils who supported the events around the island of Ireland.

ECO-UNESCO is continuing to run our very successful childrens camp series called Eco-Explorer's kids camps – these take place during the Easter break Tue 7th to Friday 10th April. This is a great opportunity for children to explore nature in the heart of Dublin City through outdoor adventures, interactive games, hands-on activities and much more besides; we'll be doing an Easter Egg Treasure Hunt. The Easter camps are booking up fast, but you can book your child's place for the popular summer camps now to avoid disappointment.

During April, ECO-UNESCO will be celebrating the Learning2Change 'Week of Action', which will take place between 20-24th April. It is a week where participating schools will be organising a collaborative week of action between students, teachers and staff. Showcasing the actions they have taken as part of the Learning2Change programme, groups will be running awareness raising activities in their schools and using social media to get their message out!


So a lot of activity going on at the Greenhouse over the next few weeks and we hope you can support us and get involved where possible.

As always we would like to encourage all of you to get involved in ECO-UNESCO by taking part in any of our programmes, becoming a member or volunteering. Until next month be sure to keep up to date with all our news and events on Twitter,Facebook and our website.

Elaine Nevin,
National Director ECO-UNESCO