---
---
Opportunities
There are currently no opportunities with ECO-UNESCO
ECO-UNESCO Clubs
Want to set up an environmental club? Contact us to find out how you can start an ECO-UNESCO Club in your school, community or youth group. We'll help you out with resources and support to help make your club a success.
---
ECO-UNESCO,
the Greenhouse,
17 St Andrew St,
Dublin 2

t (01) 662 5491
f (01) 662 5493
e info@ecounesco.ie
UNESCO World Conference on ESD Japan 2014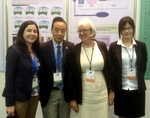 Between the 9th and 12th November 2014, ECO-UNESCO's National Director Elaine Nevin attended the UNESCO World Conference on Education for Sustainable Development "Learning Today for a Sustainable Future" in Nagoya, Japan as the Irish delegate. Over one thousand people representing countries all over the world met for the the 4 day event which was attended by key UN representatives including Irina Bokova, the Secretary General of UNESCO, the current Secretary-General of the United Nations as well as Japanese government, the Japanese crown Kōtaishi Naruhito Shinnō and an address by Ban Ki Moon. A key note address was given by Princess Lalla Salma of Morocco. The Conference attracted delegates from Libya, Kenya, Sudan, Canada, China, Germany, Sweden, Palestine and Finland, amongst others; with 75 Ministers and a high level roundtable co-chaired by Irina Bokova, Director-General of UNESCO, and Hakubun Shimomura, Minister of Education, Culture, Sports, Science and Technology of Japan.

The UNESCO World Conference marked the end of the UN Decade of Education for Sustainable Development (2005-2015). The Conference celebrated the successes of the DESD (Decade Education for Sustainable Development), looked at lessons learned and at how we can re-orientate Education to build a better future for all.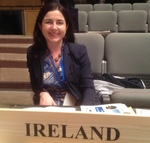 'ECO-UNESCO, as Ireland's environmental education and youth organization affiliated to the World Federation of UNESCO Clubs, Centres and Associations is one of the leaders of ESD in Ireland and was delighted to attend this important conference. In particular as Ireland has published its National Strategy on ESD, this was a great opportunity to learn from and share with countries around the world. ECO-UNESCO's many programmes including Youth for Sustainable Development; Global Youth Leaders for Change, the Young Environmentalist Awards and Learning2Change Our World promote ESD in Ireland' commented Elaine Nevin. 'Education is one of the key ways we can address global environmental challenges, such as Climate Change and food security. ECO-UNESCO in Ireland is looking forward to proactively promoting the Global Action Programme in Ireland," she added.

To read more...

To find out more about the the conference log onto http://www.unesco.org/new/en/unesco-world-conference-on-esd-2014/
​ECO-Friendly Christmas Cards Now on Sale!



We're getting into the festive spirit here at the Greenhouse and we have now our very own Christmas Cards for sale! Made from 100% recycled paper these cards are bound to be a hit with everybody this Christmas. Not only are they eco-friendly, they also contain information on a variety of different animals and-once the festive season is over, the cards can even be cut into a bookmark simply by using our template! All proceeds from card sales go towards supporting our environmental youth programmes. To order your cards online today, click here!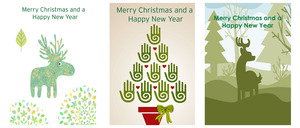 ---
Young Environmentalist Awards Registration Deadline Extended until December 19th!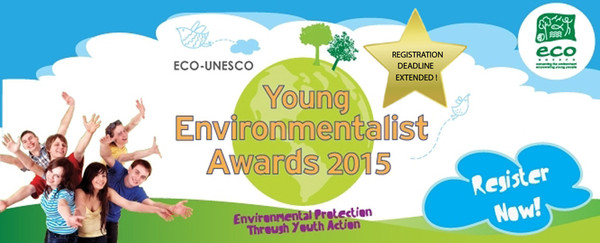 Due to popular demand, we have now extended the Young Environmentalist Awards registration for a few more weeks. Youth, school and community groups now have until the 19th of December to register and take part in Ireland's biggest celebration of eco-action! To register for the 2015 YEA click here. ECO-UNESCO's Young Environmentalist Awards is an all-Ireland environmental awards programme that recognises and rewards young people who raise environmental awareness and improve the environment be it in their school, community or even further afield!

The project submission deadline is the 27th February 2015, Regional ECO-Dens will take place during March 2015 and the Showcase Ceremony will take place the 13th of May in the Mansion House.


To Register please, call 01 662 5491 or email yea@ecounesco.ie.
---
Launch of RCE-Dublin


ECO-UNESCO is delighted to be a founding member of the Regional Centre of Education for Sustainable Dublin (RCE-Dublin) which was launched in the Helix on the 27th November 2014. The RCE Dublin is part of a global network of United Nations University acknowledged centres and is being coordinated by DCU.
RCE Dublin has six projects that will be implemented in the greater Dublin area from 2014-2018:
Project 1 is 'Green Teen Transitions', which aims to enable youth transitions towards further education and/ or employment, through the use of a blended online model of learning and an internship programme. ECO-UNESCO is leading on this project which complements our work in youth employment through our Green Pathways employment programme.
Other projects include:
Project 2 centres on a schools' competition within the theme of 'What-if: Disaster Mitigation', making use of social media in a problem-based learning context.

Project 3 creatively examines urban sustainability through the lens of Irish literature, and uses 'World Café' style forums to 'crowd-source' solutions to sustainability issues.

Project 4 uses innovative means, such as foraging competitions, to help map indigenous horticultural practices that support bio-diversity, sustainable consumption and eco-management within the built environment.

Project 5 and Project 6 involve the design, delivery and evaluation of two blended online course within the themes of Ethical Sustainability and the Earth Charter for students within primary, post-primary and higher education.



Read more...
---
ECO-UNESCO attends UE4SD meeting in Prague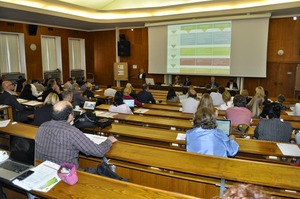 The first meeting of all partners of UE4SD (University Educators for Sustainable Development) was held in Prague in October 2014. The project funded by the European Commission and led by the University of Gloucestershire commenced in October 2013 and involves 55 partners in 33 countries over a three year period. ECO-UNESCO is the Irish partner in this project which is seeking to provide support to and build competencies in third level educators to incorporate knowledge and skills associated with sustainable development into third level institutions and into their disciplines.
A Mapping of professional development opportunities in ESD competencies of third level educators in institutions in each country was carried out in early 2014 by project partners and a state of the art report on ESD of University Educators has been compiled which highlighted the current work underway. Work is now underway on the development of a Toolkit and the establishment of an Academy in year 3 of the project.

The project focuses on support for third level educators, to enable them to prepare students, regardless of their courses or specialisation, to understand and apply their professional and global responsibilities in sustainability. The project includes plans for university staff to develop professional competences and the academic leadership capabilities linked to Education for Sustainable Development. For more information please contact elaine.nevin@ecounesco.ie or visit http://www.ue4sd.eu.
---
Learning2Change our world, sign up now!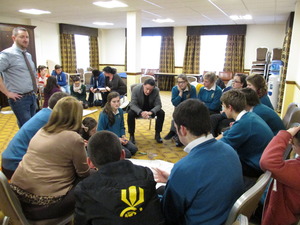 What is the L2C Our World programme?

Learning2Change Our World is a ECO-UNESCO project supported by Irish Aid's WorldWise Global Schools programme and is aimed at both young people and teachers in post primary schools.

The programme takes a whole school approach with both teachers and young people receiving training. The training provides up to date knowledge in issues regarding sustainability and development on a local and global level.

This training culminates in the participating school working together and taking a week of action and awareness regarding a local/global issue regarding sustainability.

Sign up now!

There is still some time left to sign up for the Learning 2 Change Our World programme. Many of our regional training days have taken place. The Northern training is taking place in Monaghan on the 12th December and the East of Ireland training is taking place on the 11th of December in Galway. There is still time to sign up for the school training that will take place in January and February.

To sign up please contact the Learning 2 Change Our world coordinator, Anthony Burrowes, on learning2change@ecounesco.ie.
---
Green Pathways II - Environmental Studies and Skills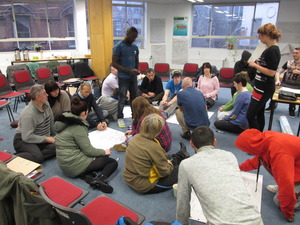 With our Green Pathways II Momentum course now in full swing; we are delighted to announce that a second Green Pathway programme will begin on 9th of February 2015.
The aim of this free programme is to progress participants who have been unemployed for more than one year, onto paid employment. This course is open to all ages but is specifically focused on the under 25's. All participants will receive professional environmental training, motivational training and a valuable work placement to help them get their 'foot in the door' to companies and organisations they may not otherwise have access to.
With the green economy earmarked as an area for huge growth, the programme focuses on up-skilling people today, allowing them to be at the forefront of one of tomorrow's leading sectors. Job-seekers interested in either developing a career in sustainable development/the environment upskilling as a gardener, horticulturist, ecologist or environmental consultant, people are bound to find this programme a huge advantage in progressing onto paid employment.
Green Pathways II – Environmental Studies and Skills will run again in February and March 2015

To sign up please, contact the Green Pathways ll Project Officer, Niamh Hand, on greenpathways@ecounesco.ie or call 01 662 5491.
---
Youth for Sustainable Development latest news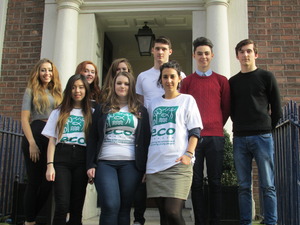 YSD celebrate One World Week!
20 young people from the Young people from the Youth for Sustainable Development, Global youth leaders for Change Peer Education programme (Y-PEPS) joined in the annual One World Week Central event with the NYCI in the Abbey Theatre. During the day they heard about various Development Education projects around Ireland along with participating in workshops which explored the type of world we wish to create for the future. They shared their experience with their peers that evening in 'the Greenhouse' at the regular Wednesday evening meeting.
Young People share the podium with Jeremy Irons!
Young people from the Youth for Sustainable Development, Global youth leaders for Change Peer Education programme (Y-PEPS) presented at the Skellig Foundation public forum round table discussions on sustainability and climate change at the Royal Irish Academy on the 20th Nov. The young people presented two talks, one entitled 'A young Environmentalist perspective' and the second 'Climate Change: Our Uncertain Future'. Jeremy Irons, actor and environmental activist, chaired part of the day and along with others praised the young people for their enthusiasm in environmental awareness and conservation. Jeremy is now following ECO-UNESCO and our young people on twitter. If you are interested in what we do and would like to follow us check us out on Twitter @ecounesco or on Facebook @ecounescoireland.
To sign up please, contact our Youth for Sustainable Development programme coordinator Feidhlim Ó Seasnáin on ysd@ecounesco.ie or call 01 662 5491.
---
ECO-UNESCO Science week & Fashion Focus workshops
Science week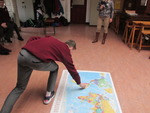 Science Week 2014 is over now, with ECO-UNESCO delivering nine workshops entitled Global Responsibilities: Climate Change to 207 young people over the course of the week in different Dublin City libraries. Science Week is a great opportunity to engage young people in the world of science as there are many events laid on across Dublin City to mark it. Keep an eye out next year for Science Week 2015!
Fashion Focus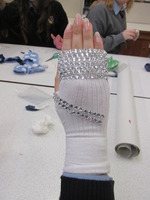 The all new ECO Fashion Focused workshop launched this week in Collinstown Community College and St Marks's College, Tallaght. This 2.5hr workshop incorporates discussion and activities based on the Environmental impacts of the Fashion industry, a look at Fast Fashion and the Cotton Industry, the Lifecycle of Clothes and where our clothes come from. The workshop ends with an Upcycling project, turning socks into decorated hand warmers!

To book an ECO-UNESCO Workshop please, contact our Environmental Youth Officer Jenna Cains on youth@ecounesco.ie
To read more...
---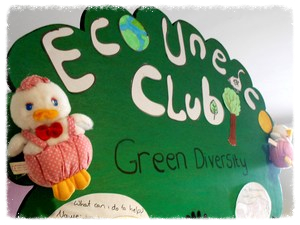 ECO-UNESCO Clubs
Do you want to set up your own environmental club and become part of our ECO-UNESCO Clubs programme. If you want to start a club in your school, youth group or local community, then get in touch with us and we'll help provide you with the support and resources you need to make your club a success.

Just contact clubs@ecounesco.ie or phone us on 01 662 5491 to find out more.
---
ECO-UNESCO Training Courses
Want us to deliver as outreach to your organisation? Just contact us on 01 662 5491 to arrange!
ECO-UNESCO's Short Courses


Click each course title for more information
Short Training Course Fees

€70: ECO-UNESCO members, students, unwaged, young people under 25

€80: Voluntary and community sector

€90: Statutory

Special Offer: Book Environmental Education Course 1+2 and get a 10% discount
Are you a job-seeker?
Funding options are available - contact us for details. (Unemployed people registered with FÁS may be eligible for a Technical Employment Support Grant for this course)
---
Dear friends of ECO-UNESCO,

December has come around very quickly this year and we're now putting the finishing touches on our training, events and activities for 2015. Before that of course we have Christmas to look forward to and this year we are making the festive period a little bit greener for everybody by making Christmas cards produced from recycled paper available for purchase. Simply buy online or pop into the Greenhouse to get your hands on our eco-friendly cards.

Last month I had the pleasure of attending the UNESCO World Conference on ESD in Nagoya, Japan. This was a fantastic celebration of the achievements of the UN Decade of ESD (2005-2014) and reiterated the important role education plays in achieving sustainability. The Conference adopted the Aichi-Nagoya declaration seeking to scale up the work in ESD around the world; UNESCO is taking a lead role in promoting ESD through its Global Action Programme, in particular, through its networks including its UNESCO Clubs and associations.

Registrations have been flooding in for our Young Environmentalist Awards 2015. And, due to popular demand we have extended the registration deadline to Friday December 19th so I would encourage all youth, community and school groups to use this extension to register their interest in the programme and get involved with the YEA 2015.

I hope you get involved in the wide array of activities, events and education programmes we have on offer. You can also become a member or volunteer and help us in our work.
We will be announcing our 2015 Schedule of Events, Trainings and Activities in the next few weeks and I hope that you will once more be able to get involved with some of these programmes.

I'd like to take this opportunity to wish you a very happy and peaceful Christmas and to thank you for your support throughout the year.
As always we would like to encourage all of you to get involved in ECO-UNESCO by taking part in any of our programmes, becoming a member or volunteering. Until next month be sure to keep up to date with all our news and events on Twitter,Facebook and our website.

Elaine Nevin,
National Director ECO-UNESCO