---
---
ECO-UNESCO Clubs
Want to set up an environmental club? Contact us to find out how you can start an ECO-UNESCO Club in your school or youth group. We'll help you out with resources and support to help make your club a success.
---
ECO-UNESCO,
the Greenhouse,
17 St Andrew St,
Dublin 2

t (01) 662 5491
f (01) 662 5493
e info@ecounesco.ie
ECO-UNESCO's National Director, Elaine Nevin, was presented with the Energy Globe Award by Dr. Thomas Nader, the Austrian Embassador to Ireland at the SEAI Energy Show in the RDS earlier this month. ECO-UNESCO was awarded the National Energy Globe award for Ireland, beating off stiff competition from other Irish entries with the Young Environmentalist Award programme.
The Energy Globe Award is presented worldwide to successful sustainable projects that encompass a broad audience and conserves and protect the world's natural resources. Founded in 1999 by Austrian energy pioneer Wolfgang Neumann, it is one of today's most prestigious environmental wards.

Since its inception, ECO-UNESCO's Young Environmentalist Awards has encouraged thousands of young people to engage in local environmental action projects and make a valuable environmental contribution to schools and communities nationwide.
---
Green Pathways: Now Enrolling for May 2013 Programme!
With our first Green Pathways course now in full swing; we are delighted to announce that a second Green Pathway programme will begin on May 23rd. This FETAC accredited programme is open to jobseekers aged 25 and under. All participants will receive excellent training and a valuable work palcement experience to help them get their 'foot in the door' to companies and organisations they may not otherwise have access to. With the green economy earmarked as an area for huge growth, Green Pathways focuses on up-skilling young people today, allowing them to be at the forefront of one of tomorrow's leading sectors. For more information click here.
---
Young People and Europe' National Seminar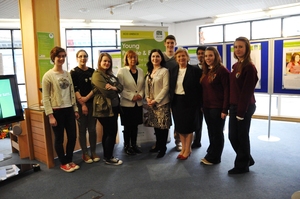 Over 60 young people from youth organisations and secondary schools around Ireland descended on 'the Greenhouse' on April 11th for a national youth seminar; 'Young People & Europe: Exploring the EU, Green Employment & Ireland's EU Presidency'.

The seminar provided young people with the opportunity to discuss, engage and learn more about Ireland's EU Presidency and EU policy on youth, citizenship and green employment. Opened by Cllr. Mary O'Shea of Dublin City Council on behalf of the Lord Mayor, the keynote address was delivered by Minster for Children and Youth Affairs, Francis Fitzgerald TD.

Seminar participants also met with an expert panel which included Emer Costello MEP, and challenged, questioned and ultimately voiced their ideas and opinions to the experts on the themes of the seminar.

Click here to see our photos from the event!
---
ECO-UNESCO's Young Environmentalist Awards-People's Choice
Our Young Environemtalist Awards finalists have been announced! With over 200 projects and 4,000 young people competing for a place in this years shortlist, it was no easy task compiling the finalists.

70 projects have now been selected to attend the Showcase and Awards Ceremony in the Mansion House on May 22nd. On this date, over 600 young people from all over the island of Ireland will displayed their fantastic projects and many will recieve awards across a host of various categories.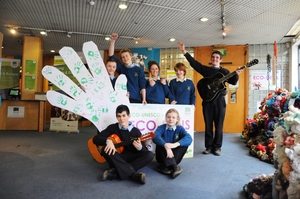 The People's Choice Online Poll Award is now up and running. This exciting online poll offers members of the public the chance to choose which group of young people win "The People's Choice Award" at the ECO-UNESCO Young Environmentalist Awards 2013.
The award will be presented by one of ECO-UNESCO's special guests at the Awards ceremony.
The online poll closes on May 10th so groups should get all the help they can from family, friends, the internet or any means they can think of to give them the best chance of winning this award.
---
€200:

ECO-UNESCO Members, students, unwaged, young people under 25




€220:

Voluntary and Community Sector




€240:

Statutory

Are you a job-seeker?
Funding options are available - contact us for details. (Unemployed people registered with FÁS may be eligible for a Technical Employment Support Grant for this course)
---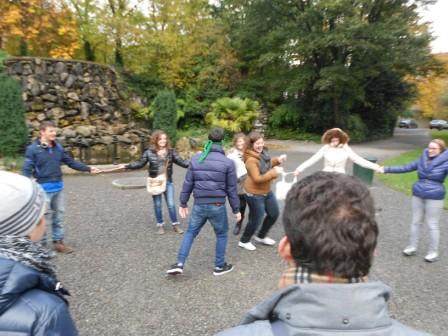 Departing every Wednesday at 12.30pm from 'the Greenhouse', this 2 hour guided walking tour of Dublin city centre's biodiveristy and wildlife hotspots takes in St. Stephen's Green, Merrion Square and the Iveagh Gardens. The trail is suitable for all ages, with great family and group rates on offer. No booking required, just show up at our reception at 12.20pm any Wednesday and be sure to dress for the weather!

Click here for more information on Green Trails
---
DPSM Spring Workshop Promotion Continues

With five fun filled curriculum linked programmes to choose from, ease of access to our city centre location by public transport or the option for an outreach workshop delivered to schools, our DPSM programmes are a must for any class this spring!
As part of our current promotion we're offering each teacher who books an ECO-UNESCO DPSM workshop in March and April, a free '4Seasons' resource pack. This resource is a brilliant collection of classroom and outdoor activities aimed at encouraging young people to get involved with nature and help them understand the cycle of the four seasons.
We're also offering a 10% discount to schools who book more than one workshop with us from now until the end of the school year.
---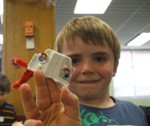 'the Greenhouse' is the ideal place for any eco-enthuaisist to celebrate a birthday or any other special event. We o

ffer creative party packages with an environmental twist ready for all occasions.

We'll provide the fun, entertainment and treats for children of any age and make it a day to remember!
Click here for further information and bookings.
---
ECO-UNESCO's Peer Educators' Roof Top Garden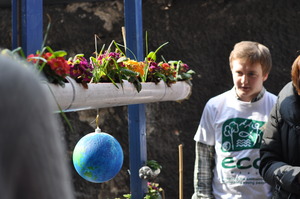 A rooftop garden, made completely from recycled materials and developed by the 'Youth Top Gardeners', a group of peer educators participating in ECO-UNESCO's Youth for Sustainable Development Programme, was recently launched by the Deputy Lord Mayor of Dublin, Clare Byrne.

The motto of the group is 'If we can do it you can do it!". Their garden not only aims to encourage other individuals and organisations to start their own rooftop garden, but by doing so, the Youth Top Gardeners also hope to promote food security, waste reduction and help to combat climate change. The garden is located at 'the Greenhouse' and members of the public are encouraged to visit and see it.
---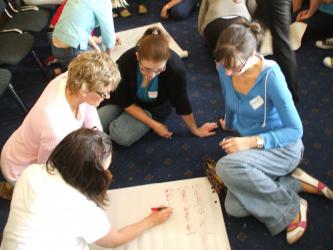 Each year we work with thousands of young people of all backgrounds from all over Ireland, through drugs programmes, youth programmes, and environmental progammes, empowering them to protect and conserve the environment while providing opportunities for them to build their self-esteem and become active citizens.

Check out our website to see how you can help us in the important work we do!
Dear friends of ECO-UNESCO,
We've had many highlights this month from winning awards to hosting national seminars to everything in between!! It's definitely been a busy, but very enjoyable few weeks.
Earlier this month it was a wonderful honour to receive the National Energy Globe Award fwhich was presented by Dr. Thomas Nader, the Austrian Embassador to Ireland. This is a hugely prestigious award and I am delighted that ECO-UNESCO's Young Environmentalist Awards programme was chosen as the overall Irish winner. This is a fantastic endorsement for this youth environmental action programme and with just a little over a month to go before the YEA Annual Awards and Showcase, it will make the 2013 ceremony even more special.
Speaking of the YEA, my congratulations to each of the 70 finalists who will showcase their projects at the Annual Awards ceremony on May 22nd in the Mansion House. The projects submitted and presented at the ECO-DENS last month were all of an impeccable standard and it was a tough task picking just 70! Be sure to check out all the finalists' projects here and vote for your favourite before May 10th! I also hope that you can join us on May 22nd so be sure to put it in your diary!
The Greenhouse has as usual, been a hub of activity and on April 11th we hosted ECO-UNESCO's Young People and Europe Seminar. It was tremendous to have some many inspirational young people attend, to hear their viewpoints and have some lively debate on Ireland's EU Presidency, young people and Europe and green employment. My thanks to everybody who participated; the students, teachers, leaders, the expert panel and our keynote speaker; Minister Frances Fitzgerald. Following on from young people's input on the day, a resource explaining the EU and Ireland's EU Presidency is now being complied and will be launched later next month and distributed to schools nationwide in September.
Green Pathways, our free FETAC training course which began last month is now well underway. Due to demand we are now adding a second course date which will commence on May 23rd and will run until November. This is a fantastic opportunity for job seekers aged 25 and under to up-skill for jobs in the green economy or to work with young people in the community. If you know anybody who may be interested in this opportunity, they should contact Niamh, our Green Pathways Project Support Officer at greenpathways@ecounesco.ie.
Of course there are plenty of other trainings also taking place here at the Greenhouse. We have some upcoming training courses such as our Introduction to Sustainable Development and ECO-Community Development, both of which are FETAC accredited. Places are limited on both so be sure to register your interest today.
Finally, don't forger our Green Trails nature tour of Dublin city is now running each Wednesday and we hope that you can join us on one shortly!

Elaine Nevin,
National Director ECO-UNESCO