---
---
Opportunities
There are currently no opportunities with ECO-UNESCO
ECO-UNESCO Clubs
Want to set up an environmental club? Contact us to find out how you can start an ECO-UNESCO Club in your school, community or youth group. We'll help you out with resources and support to help make your club a success.
---
ECO-UNESCO,
the Greenhouse,
17 St Andrew St,
Dublin 2

t (01) 662 5491
f (01) 662 5493
e info@ecounesco.ie
Young Environmentalist Awards: Project Submission Deadline- February 27th



















Some early birds have already started to submit their YEA projects and we're now really looking forward to receiving all of your entries over the next two weeks!
Don't forget that D-Day for submission is February 27th! For all the information on completing your submission, please click here.
Projects can be submitted by post before the deadline on Friday 27th of February, 2015.
There will be no extension on this deadline due to the short lead in time to the ECO-Dens .

Following receipt of your projects we will begin to shortlist entries for the Regional ECO-Dens which will take place in March.
For essential dates relating to the ECO DENs for your diary; please click here!

Best of luck with your submission, we can't wait to read all about your great eco-endeavours!

The YEA team is at hand to offer you support along the way and answer any of your queries. If you want more information please, check the YEA section in our website

ECO-UNESCO's Young Environmentalist Awards is an all-Ireland environmental awards programme that recognises and rewards young people who raise environmental awareness and improve the environment be it in their school, community or even further afield!

"These awards definitely make people realise the effect we are having on the environment and hopefully makes them be more aware of this" explains Genevieve, one of our Young Environmentalists from Laurel Hill Secondary School.

ECO-UNESCO Young Environmentalist Awards :
Click here for YEA Manual & YEA Shortlisted Booklet
Project Submission Deadline:
27 February 2015
Advice and Support
+353 (0)1 662 5491 | yea@ecounesco.ie
---
Learning2Change Our World


Learning2Change Our World news

It has been a busy month for the Learning2Change Our World Programme. The coordinator and his team have been around Ireland visiting a number of the schools that have participated in the programme. They have provided individual training sessions for each school, depending on what action they are planning to do for Earth Day on the 22nd of April. Some of the themes and topics the schools are taking action on are transport, consumerism, the effects of methane in agriculture, climate change awareness and recycling. All of these topics have both local and global effects to them and throughout the training the students and teachers talk about the idea of sustainable development.

You can get more information about the Learning2Change Our World Programme by visiting our website http://www.ecounesco.ie/programmes/learning2change


Learning2Change Our World is a ECO-UNESCO programme tha takes a whole school approach with both teachers and young people receiving training. The training provides up to date knowledge in issues regarding sustainability and development on a local and global level.

If you think you or your school would be interested in this project have a look at our website or email Laura, our Learning2Change Our World coordinator at learning2change@ecounesco.ie
---
Green Pathways II - Environmental Studies and Skills
We would like to welcome our new Green Pathways participants who commenced the Green Pathways programme on the 9th of February. We wish them every success on the course and we look forward to working with them over the coming months.
The aim of this free programme is to progress participants who have been unemployed for more than one year, onto paid employment. This course is open to all ages but is specifically focused on the under 25's. All participants will receive professional environmental training, motivational training and a valuable work placement to help them get their 'foot in the door' to companies and organisations they may not otherwise have access to.
With the green economy earmarked as an area for huge growth, the programme focuses on up-skilling people today, allowing them to be at the forefront of one of tomorrow's leading sectors. Job-seekers interested in either developing a career in sustainable development/the environment upskilling as a gardener, horticulturist, ecologist or environmental consultant, people are bound to find this programme a huge advantage in progressing onto paid employment.

Other news on green pathways: We would like to wish our students who are commencing their work placement phase over the coming week a huge congratulations for completing the training element of the course and we are looking forward to working with you into the next stage of the programme.

ECO-UNESCO is delighted to announce that a third Green Pathway Environmental Studies and Skills Momentum programme will begin on the 30th of March 2015.

Green Pathways II, is your path to employment through professional environmental and motivational training, a valuable work placement experience and on the job supports.
Green Pathways is a 27 week, full-time programme with FETAC accredited training; a hands on work placement providing a 'foot in the door' to potential employers; an applied learning project; 1-to-1 mentoring; ongoing and post-delivery supports including jobs clubs.

To get more informationa about ECO-UNESCO's Green Pathways Programme, contact our Green Pathways ll Project Officer, Niamh Hand, on greenpathways@ecounesco.ie or call 01 662 5491.
---
Youth for Sustainable Development latest news
Welcome to our new Y-PEPS!
27 young people from all across Dublin joined Our Youth for Sustainable Development; Global Youth Leaders programme (Y-PEPS) They are entering the first phase of the programme where they are undertaking a twelve week course on Sustainable Development and environmental issues, which will then be followed by them undertaking a local action project of their choice. Hopefully, they will then go on to become peer educators with ECO-UNESCO. We are really excited about working with this great bunch of young people. To find out more about our Y-PEPS and what they are up to click on http://www.ecounesco.ie/programmes/youth-for-sustainable-development
Young People attend roundtable in Dublin Castle
ECO-UNESCO's young people from Youth for Sustainable Development; Global Youth Leaders programme (Y-PEPS) participated in NYCI's roundtable event on the 10th February in Dublin Castle entitled 'Youth and Beyond 2015.' Giving young people and others in the youth sector the opportunity to input on the New Sustainable Development Goals which will replace the Millennium Development Goals when they finish in 2015. One of our Y-PEPS Amy Colgan, presented on the work we do here in ECO-UNESCO in relation to our YSD and Young Environmentalist Awards programmes. The young people involved fed back on which goal was most important to them, what actions they would like to take and what supports they would need. If you would like to follow our young people and their actions throughout 2015 follow us on http://www.ecounesco.ie/programmes/youth-for-sustainable-development
Taking Action on Climate Change
Some Y-PEPS engaged with politicians in Buswell's Hotel, on the eve of the Climate Change Bill being discussed in the Dáil. This event was organised by Stop Climate Chaos coalition of which ECO-UNESCO is a member. The young people discussed the bill with the politicians stressing how important it was for politicians to take the issue of Climate Change seriously and ensure appropriate legislation is brought forward.
Upcoming training Opportunities for Youth Leaders – Youth Work and Sustainability Training

Do you want to enhance your work with young people and try to get them involved in Environmental and Global Justice Issues? Then this training is for you! In this one day training you will learn about Education for Sustainable Development (ESD) methodologies along with practical activities you can integrate into your youth work.
When: Sat 7th March 2015
Where: 'The Greenhouse'
Who: Any person, educators, youth/ community leaders or those working with young people wishing to learn more about ESD.
If you are interested and wish to learn more please check out our website at http://www.ecounesco.ie/eco-uneseco-education-training/eco-uneseco-training-courses or call the office on 01- 6625491
To sign up please, contact our Youth for Sustainable Development programme coordinator Feidhlim Ó Seasnáin on ysd@ecounesco.ie
ECO-UNESCO's Youth for Sustainable Development Programme; Global Youth Leaders for Change promotes Education for Sustainable Development (ESD) and Development Education (DE) in the non-formal education sector, involving a variety of initiatives to engage and support young people, youth leaders, educators and youth workers interested in sustainability issues.
---
ECO Environmental Youth Programme
North West Healthy Living
Castledawson, Maghera, Castlederg, Strabane, Limavady…! The North West Healthy Living programme continues its roll-out across the northern counties, taking in Knockavoe Pirmary, Roe Valley Integrated and Castledawson primary to name a few. Dates are still available so if you are a primary school in the north west region and are interested in hosting this interactive full-day workshop please contact youth@ecounesco.ie

The North West Healthy Living workshop for primary schools covers a range of curriculum linked topics including Gardening, The food pyramid, exercise and healthy living, the natural environment and animals, seed planting, planning a school garden and much more!
Fashion Focus
The 2.5hr interactive Fashion Focussed workshop is currently continuing in the Fingal area, with Balbriggan Library hosting two sessions in February. This workshop is available to book (youth@ecounesco.ie), and includes the environmental impacts of the clothing industry, fast fashion, the lifecycle of clothes and making hand warmers – just what we need in these freezing February temperatures!
Media & Sustainability Workshop
This all new workshop is the next in ECO's Global Responsibilities series. It looks at the relationship between the media and the environment and incorporates interactive activities throughout. Book yours at youth@ecounesco.ie!




Our Environmental Youth Officer was also lucky enough to be present for Clonkeen College's Green School's committee's AGM… this democratic process was interesting to behold, what a great group of young people hoping to make a difference! The school will be aiming to achieve their first green flag this year – good luck guys!!
To book an ECO-UNESCO Workshop please, contact our Environmental Youth Officer Jenna Cains on youth@ecounesco.ie
To read more...
---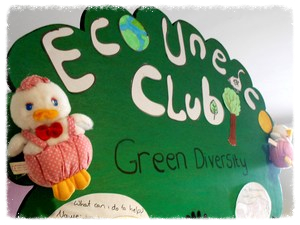 ECO-UNESCO Clubs
Do you want to set up your own environmental club and become part of our ECO-UNESCO Clubs programme. If you want to start a club in your school, youth group or local community, then get in touch with us and we'll help provide you with the support and resources you need to make your club a success.

Just contact clubs@ecounesco.ie or phone us on 01 662 5491 to find out more.
---
ECO-UNESCO Training Courses
Want us to deliver as outreach to your organisation? Just contact us on 01 662 5491 to arrange!
ECO-UNESCO's Short Courses


Click each course title for more information
Are you a job-seeker?
Funding options are available - contact us for details. (Unemployed people registered with FÁS may be eligible for a Technical Employment Support Grant for this course)
---
Dear friends of ECO-UNESCO,

Spring is most definitely in the air and it's great to see a bit of a longer stretch in the evenings!

At ECO-UNESCO we believe that education and empowerment are key to achieving a more sustainable world. Through our youth and training programmes we provide people with the opportunity to learn and to develop a range of transferrable skills and to feel empowered to take action. We are constantly innovating in the development of our programmes to ensure they are engaging, enjoyable and empowering.

One of our well established programmes, the Young Environmentalist Awards programme encourages local environmental action by young people. For all of you who are participating in the programme please remember that the project submission deadline for the 2015 ECO-UNESCO Young Environmentalist Awards is the 27th of February. Groups can submit their projects by post. All the information you need is on our website. Make sure you get your project in on time so you can get ready for our regional ECO-DENS. The ECO-DENS will run during March and will give the Young Environmentalists a chance to pitch their projects to the judges.

For our younger eco-enthusiasts we have our ECO-Explorers Easter Camp running from 22-25 April. There will be plenty of fun and fresh air on the camp and again, we encourage anybody with interested kids age 5-12 to book their place today as this is always a popular way for children to spend their break.

As always the Greenhouse is open Monday-Friday so feel free to pop in at any time for information on our training courses or to browse some books in our library. And if you have a environmental enthusiast in your life, let them celebrate their birthday, or any other occasion, in style with us here at the Greenhouse where they can have their very own ECO-Kids Party!


As always we would like to encourage all of you to get involved in ECO-UNESCO by taking part in any of our programmes, becoming a member or volunteering. Until next month be sure to keep up to date with all our news and events on Twitter,Facebook and our website.


Until next time,

Elaine Nevin,
National Director
ECO-UNESCO