---
Upcoming Events
Training Courses
ECO-Youth Outing
National Ploughing Championships 2014
---
---
Opportunities
There are currently no opportunities with ECO-UNESCO
ECO-UNESCO Clubs
Want to set up an environmental club? Contact us to find out how you can start an ECO-UNESCO Club in your school, community or youth group. We'll help you out with resources and support to help make your club a success.
---
ECO-UNESCO,
the Greenhouse,
17 St Andrew St,
Dublin 2

t (01) 662 5491
f (01) 662 5493
e info@ecounesco.ie
Young Environmentalist Awards Registration Deadline November 28th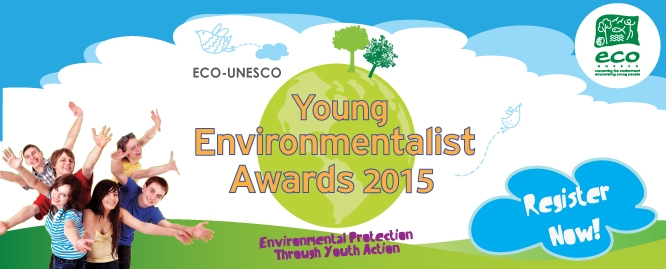 The registrations have been flying in since September for the 2015 YEA with schools, youth and community groups from around the country registering their eco-action projects. The deadline for registrations is November 28th, so anybody who has not registered their group should do so now.

The YEA roadshow is underway, and ECO-UNESCO is offering free information sessions to teachers, leaders and young people. These information sessions will tell you all you need to know about the ECO-UNESCO Young Environmentalist Awards programme and are especially worthwhile for new comers. They help turn young peoples' interest in the environment into action, giving them lots of ideas on what they can do. They offer great advice in developing project ideas, exploring the steps of project management and helping to understand the various phases of the programme in a fun and interactive environment, so if you are a registered group and would like some more information, contact us at yea@ecounesco.ie

ECO-UNESCO's Young Environmentalist Awards is an all-Ireland environmental awards programme that recognises and rewards young people who raise environmental awareness and improve the environment be it in their school, community or even further afield! To Register for FREE please click here
---
There's still time to take part in ECO-UNESCO's Learning2Change programme!

About
Learning2Change Our World is an exciting new ECO-UNESCO project supported by Irish Aid's WorldWise Global Schools programme and is aimed at both young people and teachers in post primary schools.

The programme takes a whole school approach with both teachers and young people receiving training. The training provides up to date knowledge in issues regarding sustainability and development on a local and global level.

This training culminates in the participating school working together and taking a week of action and awareness regarding a local/global issue regarding sustainability.

Why should you get involved?

Teachers
Learning2Change Our World offers free training, support and advice to guide teachers in incorporating sustainable development into the classroom. ECO-UNESCO advocate a whole school, cross curricular approach to looking at these issues as it encourages students of all subjects to critically look at difficult problems through different perspectives.

Young People
Learning2Change Our World provides young people the opportunity to explore of sustainability and issues affecting the world through training and fun workshops.
Through participating in ECO-UNESCO Clubs and working on the Learning2Change action week, students will develop key skills in event management, project planning and campaigning, all while having a great time!

Training Camp information
Learning2Change programme has already started, but you can still take part in it. Please call us at 01 662 5491 or e-mail us at learning2change@ecounesco.ie for more information about it.
---
Green Pathways II - Environmental Studies and Skills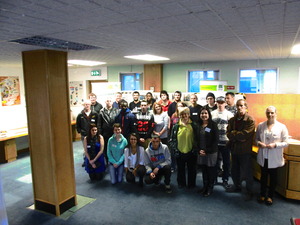 With our Green Pathways II Momentum course now in full swing; we are delighted to announce that a second Green Pathway programme will begin on 9th of February 2015.
The aim of this free programme is to progress participants who have been unemployed for more than one year, onto paid employment. This course is open to all ages but is specifically focused on the under 25's. All participants will receive professional environmental training, motivational training and a valuable work placement to help them get their 'foot in the door' to companies and organisations they may not otherwise have access to.
With the green economy earmarked as an area for huge growth, the programme focuses on up-skilling people today, allowing them to be at the forefront of one of tomorrow's leading sectors. Job-seekers interested in either developing a career in sustainable development/the environment upskilling as a gardener, horticulturist, ecologist or environmental consultant, people are bound to find this programme a huge advantage in progressing onto paid employment.
Green Pathways II – Environmental Studies and Skills will run again in February and March 2015
---
ECO-Explorers Hallowe'en Camp for 5-12 year olds

The ECO-Explorers Halloween Camp was a resounding hit with all the children who took part. Broom making from natural materials, face painting, visit to the Natural History Museum, tree identification explore, scavenger hunt in Merrion Square and a Halloween fashion event were all part of a scary fun-filled four days, as children rediscovered traditional Halloween games with an ECO-Twist – all the while learning about their environment and the creatures they share it with!

Our next ECO-Explorers camp will take place during the mid-term break in February 2015. Check our web site for more information about our camps and programmes.

---
Youth for Sustainable Development latest news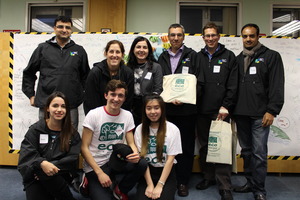 IBM Smarter Cities visits the Greenhouse!

Executives from IBM who were visiting Dublin and working with Dublin Corporation as part of the Smarter Cities programme, looking at how cities can become more energy efficient through solar energy, spent an evening with the young people from the Youth For Sustainable Development; Global Youth leaders for Change programme (y-PEPS). Following brief introductions to ECO-UNESCO, the programme, the executives were invited to participate in the evening's workshop and activities. The group worked on designing sustainable cities for the future. The visitors were very impressed with the engagement of the young people in the topic and really enjoyed their evening. A film crew came back the following week to film the young people in action which will be included as part of an overall film of the Smarter Cities visit to Dublin.

YSD young go wild!!
Young people from the Youth for Sustainable Development, Global youth leaders for Change Peer Education programme (Y-PEPS) visited the Animal Magic show in Carton house. The theme of the event was Birds of Prey and was sponsored by An Taisce. The young people got the opportunity to come up close to birds of prey that one normally only finds in the wild. They met Flacons, Peregrine Falcons, Kites, A Golden Eagle, barn Owls, long eared owls and kestrels along with flying and handling some of the birds.

Showcasing the YSD Programme!!
Feidhlim, our Youth for Sustainable Development Coordinator was invited to the Screenager's strategy Launch in Dundalk to show case some of the video and film work which the young people from the YSD programme have created as part of their action projects to raise environmental awareness. The launch was to highlight the role of ICT in youth work and was an All Ireland event with representatives from various youth services and organisations from both sides of the border attending. May people were impressed with the work of the young people and how they have adapted ICT to help promote ECO-UNESCO's work and Message.
---
ECO-UNESCO delivering programmes in the North West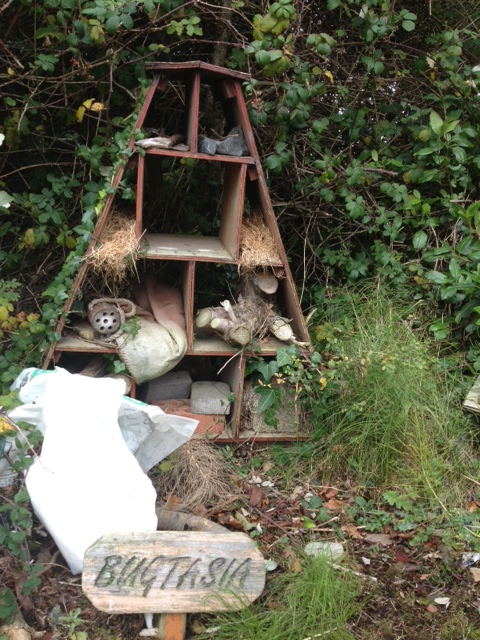 North West Healthy Living
Accredited and non-accredited trainings are delivered to adults under North West Healthy Living programme. These range from a two day Train the Trainer programme enabling gardeners to teach others how to begin their own garden, to a FETAC Level 3 and 4 course on Healthy Gardening and Green Exercise. The programme also includes a schools programme where young people in primary schools, secondary schools and youth groups are getting involved with one day workshops under the initiative.

The Northwest Healthy Living Programme in schools took place in Co. Derry in October with delivery in primary schools in Limavady, Ballykelly and Bellerina. The Giant's Causeway is famous for its hexagonal stone columns, which number more than 40,000! The columns are made of basalt rock which originated as Volcanic lava. The area is a home to many special flora and fauna species, including several sea birds such as petrels and cormorants. The Giant's Causeway is a rare example of the Earth's Geological history and of the special geological processes and phenomenons that shaped the Earth we live on today.

Healthy Gardening

Some schools taking part in the North West Healthy Living Programme are really showing the Environmental Youth Officer what they are made of – check out this Greenhouse made of recycled plastic bottles from Limavady Central primary School, and Bugtasia bug hotel, made by the pupils of St Anthony's Primary school, Bellerina!

Next stop for the North West Healthy Living in schools programme is…Maghera!
---
ECO-Choices programme update
October and November has seen ECO-UNESCO and the ECO-Choices programme continue their work with the North West Inner City Network (NWICN ), Stoneybatter Youth services, Pavee Point and Driminagh Castle secondary school.

As part of this ECO- UNESCO and Stoneybatter Youth service are planning a community litter pick up on the 15th of November. The aim of ECO-Choices is to channel the energy of young people into positive action; empowering them to improve and protect themselves, others and their environment.

Pavee Point and Driminagh Castle transition year's students are currently completing their Community Participation FETAC level 3 accredited course. This programme in Community Participation FETAC Level 3, explores community development principles including empowerment, participation & sustainability.
---
ECO-UNESCO Training Courses
Want us to deliver as outreach to your organisation? Just contact us on 01 662 5491 to arrange!
ECO-UNESCO's Short Courses


Click each course title for more information
Date: 15 November

Time: 10.00-16.00

L

eadership and Strategic Suistainable Developement

This training course focuses on how to take leadership in planning for Sustainable Development. The programme is of particular relevance to those wishing to build and take strategic actions on a personal, organisational, business and/or community level toward Sustainable Development.

Short Training Course Fees

€70: ECO-UNESCO members, students, unwaged, young people under 25

€80: Voluntary and community sector

€90: Statutory

Special Offer: Book Environmental Education Course 1+2 and get a 10% discount
Are you a job-seeker?
Funding options are available - contact us for details. (Unemployed people registered with FÁS may be eligible for a Technical Employment Support Grant for this course)
---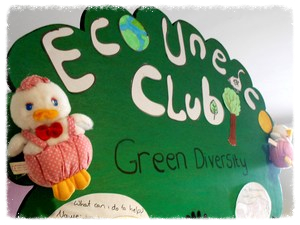 ECO-UNESCO Clubs
Do you want to set up your own environmental club and become part of our ECO-UNESCO Clubs programme. If you want to start a club in your school, youth group or local community, then get in touch with us and we'll help provide you with the support and resources you need to make your club a success. Just contact clubs@ecounesco.ie or phone us on 01 662 5491 to find out more.
Dear friends of ECO-UNESCO,

Welcome to our November e-bulletin! With Halloween just gone, the clocks turned back and November upon us, it's time to get involved in the exciting activities that ECO-UNESCO has planned over the next month.

We're just catching our breath after a very exciting ECO-UNESCO ECO-Explorers Halloween camp which was a resounding success. For those that missed the camp, we have uploaded some photos and an explanation of some of the activities we did during the camp to our webpage.

Don't forget that registration is open for the ECO-UNESCO Young Environmentalist Awards 2015 but will be closing on the 28th of November, so make sure you get in on time. Any group of young people interested in taking action for the environment should register to take part in Ireland's most exciting environmental awards programme.

Green Pathways II began on November 3rd and will play a vital role in up-skilling jobseekers for jobs in the green economy with professional environmental and motivational training, a valuable work placement experience and on the job supports.

Our environmental youth programmes are also underway with the Green Teen Club, and Youth for Sustainable Development-Global Youth Leaders for Change after schools programmes taking place on a weekly basis. Both programmes are a fantastic opportunity for young people to learn more about the environment get involved with eco-action projects and to have fun, meet like-minded peers and make new friends.

As always we would like to encourage all of you to get involved in ECO-UNESCO by taking part in any of our programmes, becoming a member or volunteering. Until next month be sure to keep up to date with all our news and events on Twitter,Facebook and our website.

Elaine Nevin,
National Director ECO-UNESCO