---
ECO-UNESCO Clubs
Want to set up an environmental club? Contact us to find out how you can start an ECO-UNESCO Club in your school, community or youth group. We'll help you out with resources and support to help make your club a success.
---
ECO-UNESCO,
the Greenhouse,
17 St Andrew St,
Dublin 2

t (01) 662 5491
f (01) 662 5493
e info@ecounesco.ie
Young Environmentalist Awards-2014 ECO-Dens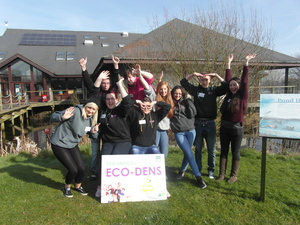 Our regional ECO-Dens got off to a fantastic start in Ulster on March 12th where participants enjoyed a full day of workshops, exhibited their projects and of course, met the all important judging panel. This ECO-Den was followed by Munster on the 13th where again, the level of enthusiasm, hard work and dedication of young people to the environment was really visible through their fantastic eco-action projects. With such a brilliant start, we are now greatly looking forward to meeting the young people in Connaught and Leinster and to hearing all about their efforts to help protect the environment. Once the judging process is complete, finalists will be informed and our People's Choice poll will once again open for you to choose and reward your favourite project!
---
WFUCA 2014 International Conference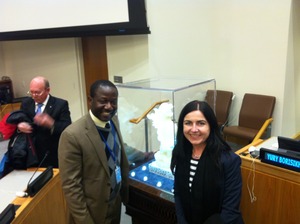 Our Executive Director Elaine Nevin represented Ireland at the World Federation of UNESCO Clubs, Centres and Associations 2014 International Conference and 34th Executive Board Meeting earlier this month. The event, hosted by the US Federation, was held in the United Nations Building in New York and was attended by delegates from around the world. The event focussed on the issues of global ethics, sustainable development and social media and included a number of executive meetings and workshops. A panel discussion was held during the conference which examined 'The Future We Want' and Elaine joined to panel to discuss ethics as a new foundation for sustainable development.
---
New: Green Connections ECO-Therapy Programe
Our new Green Connections programme was recently awarded funding by NYCI under the Connected Communities fund which is a new mental health and well being initiative aimed at building resilent youth communities. Our Green Connections programme will use eco-therapy, ie the natural environment to help enhance the resources people draw on to increase their confidence, self-esteem,resilence, their sense of connectedness and belonging, and their ability to bring about change in their lives and communities. For further information on the Green Connections programme please contact info@ecounesco.ie.
---
ECO-Explorers Easter Camp-Book Now for our Early Bird Rate!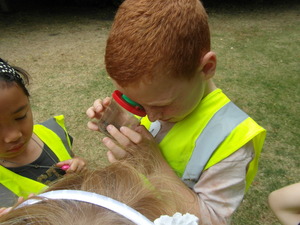 Our ever popular Easter Camp for 5-12 year olds is back from the 22-25 April. There's plenty to do with Easter eco-egg hunts, bug safaris, creative arts and crafts, green trails and a whole lot more besides! Places are now very limited so you are advised to book a place today and avail of our early bird offer for only €80. Family discounts apply and early drop off and late collection available free of charge.Click here to secure your child's place today!
---
Want us to deliver as outreach to your organisation? Just contact us on 01 662 5491 to arrange!
2014 Prospectus:

Click here to view our 2014 Training Prospectus! To order a hardcopy, please email communications@ecounesco.ie.
ECO-UNESCO's Short Courses


Click each course title for more information
Date: 22 March

Time: 10.00-16.00

This short course provides a practical and interactive introduction to ECO-Community Gardens.

Date: 5 April

Time: 10.00-16.00



This training course focuses on how to take leadership in planning for Sustainable Development. The programme is of particular relevance to those wishing to build and take strategic actions on a personal, organisational, business and/or community level toward sustainable development.

Date: 10 April

Time: 10.00-16.00

This short course explores an alternative approach to drug misuse prevention using environmental education as a resource for positive personal development of young people.

Date: 14 April

Time: 10.00-16.00

This short course introduces the concept of environmental education, what it is and how you can incorporate it into your work using activities developed by ECO-UNESCO.

Date: 15 April

Time: 10.00-16.00

This short course explores ways to plan, develop and integrate environmental education methodologies within different curriculum frameworks and/or in alignment with specific learning outcomes.

Date: 18 April

Time: 10.00-16.00

In this short course participants learn about Education for Sustainable Development (ESD) methods along with practical activities to integrate ESD into youth work.

Date: 1-5 July

Time: 10.00-16.00

ECO-Watchers training for teachers and leaders provide participants with the skills and expertise to encourage critical thinking in young people as they investigate practical solutions to environmental challenges.

Short Training Course Fees

€70: ECO-UNESCO members, students, unwaged, young people under 25

€80: Voluntary and community sector

€90: Statutory

Special Offer: Book Environmental Education Course 1+2 and get a 10% discount
Are you a job-seeker?
Funding options are available - contact us for details. (Unemployed people registered with FÁS may be eligible for a Technical Employment Support Grant for this course)
---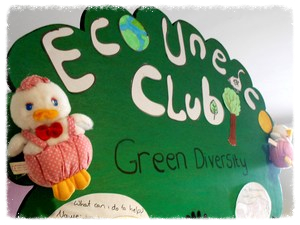 ECO-UNESCO Clubs
Do you want to set up your own environmental club and become part of our ECO-UNESCO Clubs programme. If you want to start a Club in your school, youth group or local community, then get in touch with us and we'll help provide you with the support and resources you need to make your Club a success. Just contact clubs@ecounesco.ie or phone us on 01 662 5491 to find out more.
---
Upcoming ECO-Youth Events
Aged between 14-18? Don't forget to come along to one of our ECO-Youth Outings! ECO-UNESCO is organising an outdoor trip one Saturday each month for young people aged 14-18 who want to explore and enjoy our natural environment. Led by ECO-UNESCO, activities throughout the year include forest walks and hikes around Howth Head, Bray Head and Greystones along with practical conservation work along Ireland's coasts. The outing is free (note travel fare is not covered) and young people are advised to dress appropriately and bring any necessary refreshments with them.The outings are a great way for young people to meet with like minded peers, have some fun, take in the fresh air and get involved in environmental conservation work. The outing is open to ECO-UNESCO groups and members, while other young people can get involved by signing up as a new member (annual membership for under 18s only €10). New members must register with ECO-UNESCO at least one week in advance of the trip as parental/guardian consent is required for these outings. For more information please contact Feidhlim on ysd@ecounesco.ie or phone 01 662 5491. For upcoming dates, please click here.
Dear friends of ECO-UNESCO,
March has been a busy month so far and we're still only half-way through!

At the beginning of the month I had the great pleasure of attending the World Federation of UNESCO Clubs, Centres and Associations 2014 International Conference and Executive Board Meeting at the United Nations Head Quarters in New York between the 7th and 12th March. It was a fantastic 5 days where I had the opportunity to meet and discuss a range of initiatives with other UNESCO Clubs and Centres worldwide. The conference entitled 'Global Ethics, Sustainable Development and Social Media' had a range of esteemed guests and presenters from all over the world. I had the opportunity to present on our work in ECO-UNESCO Clubs Ireland and sat on a panel with the theme 'The Future We Want' which was a very informative and engaging session. We are now looking forward to building even stronger relations with the World Federation of UNESCO Clubs, Centres and Associations (WFUCA); the European and North American Federation of UNESCO Clubs Centres and Associations (EMFUCA) and other UNESCO Clubs, Centres and Associations worldwide.

March also marks the month of our Young Environmentalist Awards ECO-DENS with the first two of our Dens already complete, Ulster and Munster. ECO-DENS are an opportunity for young people to pitch their projects to a panel of experts. The projects presented by the young people so far, have been of an extremely high standard and I've greatly enjoyed hearing all about the amazing work young people are undertaking to help protect and conserve their local environment. Connaught and Leinster Dens take place on March 25, 27 and 28 with finalists will be announced at the end of the month so best of luck to everybody involved.

We've had great support from Local Authorities all across Ireland and are delighted to welcome a wide range of local and regional guests onto our judging panels.

We will also begin our Green Connections programme later this month and are really excited about beginning this programme with our young people. This programme was awarded funded by the NYCI's National Youth Health Programme and uses eco-therapy as a means to improve well-being of young people and build their capacity to effectively deal with health issues.

Of course we also have a number of trainings coming up and I hope to see many of you taking part and ups killing with us in a variety of areas over the next while.

For our younger eco-enthusiasts we have our ECO Explorers Easter camp taking place from 22-25 April but places are nearly full so you are advised to book today to avoid disappointment.

Until next month, be sure to keep up to date with all our news and events on Twitter, Facebook and our website.
Until next time,
Elaine Nevin,
National Director ECO-UNESCO