---
---
We are seeking applicants for the following roles on an ongoing basis:

INTERNSHIPS
YOUTH WORK
EDUCATION & TRAINING
PUBLISHING ASSISTANT

VOLUNTEERING
PHOTOGRAPHY
VIDEOGRAPHY
YOUTH EVENT ASSISTANT


Find out more about opportunities or contact admin@ecounesco.ie

We also have a number of volunteering opportunities:
>>> Find out more about volunteering

---
---
ECO-UNESCO Clubs
Want to set up an environmental club? Contact us to find out how you can start an ECO-UNESCO Club in your school or youth group. We'll help you out with resources and support to help make your club a success.
---
---
CONTACT US
ECO-UNESCO,
the Greenhouse,
17 St Andrew St,
Dublin 2

t (01) 662 5491
f (01) 662 5493
e info@ecounesco.ie
When? 2-5 April
Where? 'the Greenhouse', Dublin 2
Time? 10am - 3pm
Ages? 5-12 years

A great way to spend the Easter holidays and take in some fun and fresh air! Using 'the Greenhouse' as a base for a lot of adventure, young people aged 5-12 years will explore nature in the heart of the city, discover the world around them through outdoor excursions, interactive games and hands-on activities. City centre safaris and treasure trails, building a bug hotel, starting a sunfower race and even launching an ECO-Rocket are just some of the activities children will enjoy while learning about their environment, nature and having a lot of fun. What's more, they'll get plenty of ideas to bring home with them!




How Much? *€70 Early Bird Offer!/€80 full price
*Book before March 20th to avail of our special early bird offer
(family discounts are available on request)
Book Now!

Contact ECO-UNESCO:
t: (01) 662 5491 / e: youth@ecounesco.ie

Click here for more information
---
Green Pathways: Places still available!
There are still some places available on our free environmental training course, Green Pathways. This FETAC accredited programme is open to job-seekers aged 25 and under. All participants will receive excellent training and a valuable work palcement experience to help them get their 'foot in the door' to companies and organisations they may not otherwise have access to. With the green economy earmarked as an area for huge growth, Green Pathways focuses on up-skilling young people today, allowing them to be at the forefront of one of tomorrow's leading sectors. For more information click here.
---
ECO-UNESCO's Young Environmentalist Awards ECO-Dens
Throughout March, hundreds of young people from both the Republic and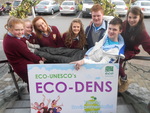 Northern Ireland have been participating in the Young Environmentalist Awards ECO-Dens. These "Dragons' Den" style regional heats gave YEA participants the opportunity to present their environmental action project to raise awareness and make a positive contribution to their local community. Young people pitched their project to a panel of expert judges in a bid to secure a spot at the ECO-UNESCO Young Environmentalist Awards 2013 Gala Showcase and Awards Ceremony in Dublin's Mansion House on Wednesday 22nd May where President Higgins will deliver the keynote speech.
---

With five fun filled curriculum linked programmes to choose from, ease of access to our city centre location by public transport or the option for an outreach workshop delivered to schools, our DPSM programmes are a must for any class this spring!
As part of our current promotion we're offering each teacher who books an ECO-UNESCO DPSM workshop in March and April, a free '4Seasons' resource pack. This resource is a brilliant collection of classroom and outdoor activities aimed at encouraging young people to get involved with nature and help them understand the cycle of the four seasons.
We're also offering a 10% discount to schools who book more than one workshop with us from now until the end of the school year.
And, as we all like free stuff, we're even giving away a free DPSM workshop to one lucky school next month. So if you're a teacher be sure to take part in our competition by clicking here.
March is an exciting month for us here at the Greenhouse as we commence our very first Green Pathways FETAC accredited programme. This free environmental training course for jobseekers is still open for enrolment. For more information click here.
ECO-UNESCO's Accredited Training

Click each course title for more information

Dates: 26-27 April (Weekend 1)
24-25 May (Weekend 2)

Time: Friday 14.00-19.30
Saturday 10.00-19.00

Introduction to Sustainable Development (FETAC L5)


Intensive course held over two weekends

€200:

ECO-UNESCO Members, students, unwaged, young people under 25




€220:

Voluntary and Community Sector




€240:

Statutory

Are you a job-seeker?
Funding options are available - contact us for details. (Unemployed people registered with FÁS may be eligible for a Technical Employment Support Grant for this course)

€70: ECO-UNESCO Members, students, unwaged, young people under 25
€80: Voluntary and Community Sector
€90: Statutory

Special Offer: 2 people from the same organisation pay €100!

ENROL TODAY!
T: (01) 662 5491
E: training@ecounesco.ie
---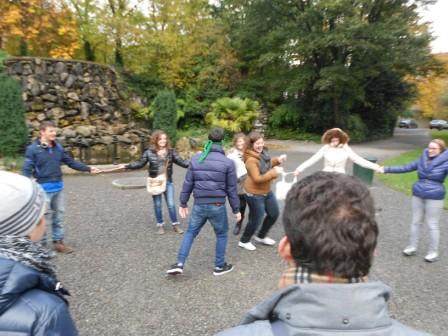 Departing every Wednesday at 12.30pm from 'the Greenhouse', this 2 hour guided walking tour of Dublin city centre's biodiveristy and wildlife hotspots takes in St. Stephen's Green, Merrion Square and the Iveagh Gardens. The trail is suitable for all ages, with great family and group rates on offer. No booking required, just show up at our reception at 12.20pm any Wednesday and be sure to dress for the weather!

Click here for more information on Green Trails
---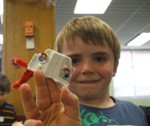 'the Greenhouse' is the ideal place for any eco-enthuaisist to celebrate a birthday or any other special event. We o

ffer creative party packages with an environmental twist ready for all occasions.

We'll provide the fun, entertainment and treats for children of any age and make it a day to remember!
Click here for further information and bookings.
---
TY Work Experience at 'the Greenhouse'

Liza Pasynkova, St. Joseph's Secondary School, Lucan, Co. Dublin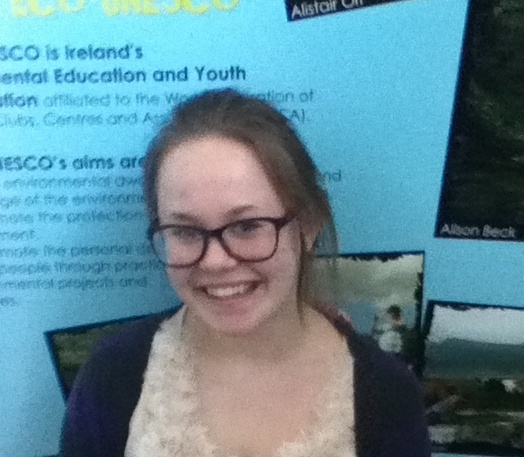 My favourite part of having my work experience at ECO-UNESCO was firstly getting a chance to work in an office. This experience I found very hands-on and really got a feel of what working in an office is like. But most importantly, I loved the variety of people I got to meet. A great amount of interns from different countries such us Venezuela, Spain, France, Italy, Russia and Germany were present and during lunchtime I would have great discussions with them and find out so much about their culture and countries, and of course find out that we have a lot in common despite being from different places, which I thought was very inspiring and fascinating.
---
Suppot ECO-UNESCO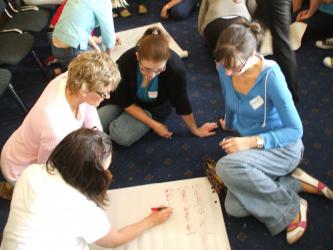 Each year we work with thousands of young people of all backgrounds from all over Ireland, through drugs programmes, youth programmes, and environmental progammes, empowering them to protect and conserve the environment while providing opportunities for them to build their self-esteem and become active citizens.

Check out our website to see how you can help us in the important work we do!
Dear friends of ECO-UNESCO,
March has been a very busy and exciting time so far for us here at 'the Greenhouse'. Earlier this month we were on the road in Cork, Armagh and Galway hosting our ECO-UNESCO Young Environmentalist Awards ECO-Dens. The Dens culminated with the Leinster ECO-Den last week. The standard of projects that have been presented at each of these Dens has been fantastic and it is wonderful to see such inspiring environmental action projects taking place in communities throughout the island of Ireland.
The announcement of our finalists for the YEA Annual Awards and Showcase at the Mansion House on May 22nd will be made following the Easter break and I wish all our participants the very best of luck!
March also marks the beginning of our first Green Pathways environmental education and training programme. We are still enrolling candidates to the course so if you are interested, or have a friend or relative who would like to avail of this free green training, be sure to contact us. We're hugely looking forward to up-skilling our Green Pathways participants for jobs in the green economy and to providing them with the skills and confidence to gain employment or pursue further education.
More information can be found here.
We also celebrated National Tree Week earlier this month by running a free Green Trail for young primary school children. The two hour guided interactive walking tour of the biodiversity hotspots in the heart of the city was a great hit with young people on the trail. On March 22nd we celebrated another environmental event, International Water Day. I
n association with Progressio Ireland and Engineers Without Borders
we
ran a series of fun and interesting workshops for TY students. The day celebrated the value of water for human life and its fundamental role in peace and sustainable development. Read all about our programme of activities
here
.
Of course it's never too late to learn something new and there are a number of upcoming training and short courses to avail of at our training centre at 'the Greenhouse'. We are now enrolling for a whole host of courses in areas such as sustainable development (FETAC accredited), peer education, environmental education, drug prevention training, leadership, youthwork and sustainability training. For more details on any of these, please visit our website here.
We also have a lot on offer for children (age 12 and under) this spring with our ECO-Explorer Kids Easter Camp (2nd-5th April) which offers a range of fun activities to keep young people occupied over the Easter break. Not to forget of course our ECO-Kids Parties, which are an ideal alternative to celebrate any special occasion and give it an exciting environmental twist!
I hope to see you soon at 'the Greenhouse' and in the meantime be sure to keep up to date with all our news and events on Twitter, Facebook and our website.

Elaine Nevin,
National Director ECO-UNESCO