Hi Friend
Flight of Their Lives.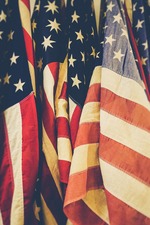 Several years ago, I was privileged to accompany 30-some veterans, including my 88-year-old father, on the Honor Flight to Washington, DC. These humble men who served in WWII wept at the applause of crew and passengers on the airplane.
They deplaned in Baltimore, to a round of cheers from all those waiting in the gate area. And heading into baggage claim, they beamed yet again as a military band greeted them. "Anchors Away" still moves me to tears.
Onlookers cheered, and shot video footage. And this daughter, whose ancestors fought in the American Revolution, wept.
Thanking a Veteran--or 55 million Veterans.
The Veterans all wore tee shirts, with the "Hoosier Honor Flight" logo on the front and a depiction of their Memorial. The back of the shirt read, "If you can read this, thank a teacher. If you can read it in English, thank a Veteran."
I am a writer. I am also a speaker, speaking in many of those countries where our soldiers fought, or fed, or clerked, or tugged boats. And I write and speak in English. So here, I want to say, Thank you.
Thank you for enlisting to fight a war, with no thought of your own personal outcome, and no foreknowledge of the victory you would help secure. Thank you for loving your families, your communities, your country, and your future generations enough to head off to unknown fields, unsailed seas, uncertain destinies. Thank you for defending us in the only war in the history of the world fought on six of our seven continents.
As guardians of these men who once guarded our very lives, we wore shirts with a quote from Will Rogers: "We can't all be heroes. Some of us get to stand on the curb and clap as they go by."
I hope the applause rings in their ears, in their hearts, in their dreams for the rest of their lives.
See LifeLaunchMe!
Honoring the Gift of Speech!
Over the years, it's been an enormous privilege to not only write and speak, but to help train others.
On November 18, we are hosting a Power Podium workshop. If you would like to hone your speaking skills, develop your presentations at work, build a platform of words, get over your fear of speaking...I'd love for you to come. These tools work. I've developed them into a full-time career over the past 20 years, and it is my privilege to share them with you.
If you are a veteran, or part of a military family,
contact me
for the chance to win a free scholarship to this life-changing day.
Dad, this one's for you.
---
I hope you'll come. I hope you'll raise your voice. Now, more than ever, we need good words to bring hope and help and healing into our troubled world. I'd love to help.
With gratitude for those who serve, for their families. And for all the freedoms we enjoy as a result.
Jane
PS Please call if I can help with your upcoming speaking needs or writing hopes. As a coach, I've helped hundreds of people move their writing and speaking forward.
847-363-6364.