Dear Friends,
You have been subscribed to receive periodic emails and other important updates from Monterey County Supervisor Jane Parker. If you like what you see, click here to forward this message to a friend. If you'd prefer not to receive future emails, you may unsubscribe using the link at the bottom.
---
Fracking in Monterey County
Over 200 letters have been received by the Monterey County Board of Supervisors urging the County to adopt a moratorium on hydraulic fracking, a controversial technique of extracting oil and gas from deep underground. The method poses risks to water supply and geologic stability. "I have signed onto a letter from California public officials to Governor Jerry Brown, urging the state to enact a moratorium until the state has thoroughly assessed the risks of this technology," Supervisor Parker said. "The County is considering its own actions to protect the Salinas Basin, but the matter has not yet been scheduled for a Board hearing." Stay tuned!
---
Fast Charger
The region's first "fast-charger" for electric cars has been installed at the Monterey campus of CHOMP (Community Hospital of the Monterey Peninsula). The fast-charger adds 60 miles to the Nissan Leaf battery in 20-30 minutes. This project was a collaboration of the office of Supervisor Parker, Nissan corporation, and dedicated CHOMP staff. Supervisor Parker provides staff support to the Monterey Bay Electric Vehicles Alliance, which brings government, labor and private business together to promote electric vehicles.
"In order to advance adoption of electric cars, we need more public charging locations," said Supervisor Parker. "Electric vehicles provide many benefits to our community, including health through cleaner air."
In addition to the fast-charging unit, CHOMP also received 4 Level II charging units, which charge at a slower rate of approximately 20 miles per hour. The fast charger, and two of the level II units, are open to public use.
---
How do you use your Voice?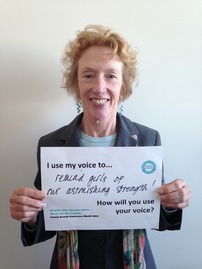 In honor of Sexual Assault Awareness Month and Child Abuse Prevention Month, Supervisor Parker participated in the Use Your Voice, Use Your Power campaign through the Monterey County Rape Crisis Center. Her image and message, "I use my voice to remind girls of our astonishing strength" was shared throughout the County. The Monterey County Rape Crisis Center is a nonprofit agency whose mission is to advocate for all victims and survivors of sexual assault and child sexual abuse, to prevent sexual violence in our community through education, and to provide ongoing support and healing to survivors of sexual assault. MCRCC operates a 24-hour crisis line that is free to the public 831-375-4375. Learn more about their services at www.mtryrapecrisis.org.
---
Looking for Lupine?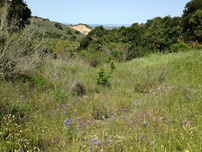 Springtime in Monterey County brings with it thousands of wildflowers, especially the bright purple lupine that seems to be exploding all over our public and private land this month. An avid hiker and nature enthusiast, Supervisor Parker would like to share her favorite trail for enjoying wildflowers this month. To access it, start at the Creekside Trailhead http://www.blm.gov/ca/st/en/fo/hollister/fort_ord/creekside.html)/ and proceed up the paved road about 50 yards until you reach an unpaved trail on your left. Take that trail to the left and explore as far as you are able. Be sure to bring water – it can be quite warm in the bright sun.
---
The Value of Our Oceans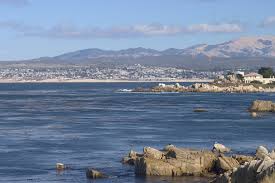 Did you know our ocean economy is almost two-and-a-half times larger than other natural resource industries like farming? Learn more by visiting the National Ocean Economics Program (http://www.oceaneconomics.org/) of the Monterey Institute of International studies and download their recently released report, State of the U.S. Ocean and Coastal Economies report. Local economist, Dr. Jason Scorse, leads the Center for the Blue Economy which houses the National Ocean Economics Program.
---
Household Hazardous Waste Collection Event
Clean out the garage, under the sink, and bring your unwanted or unused toxic household products to this collection event. Items accepted include: household cleaning products, paint, pesticides, fertilizers, auto products, batteries, lightbulbs, e-waste, and more.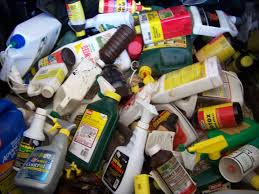 Saturday May 10
9 am - 2 pm
Monterey Peninsula College - Parking Lot A
980 Fremont St, Monterey
For more information, click here
---

Supervisor Jane Parker
Main Coastal Office
2616 1st Avenue
Marina CA 93933

Phone
(831) 883-7570
---
FACEBOOK
Join Jane on Facebook for up-to-the-minute updates about Jane's work on the Board of Supervisors, pictures of Jane in action, and invitations to Jane's events. You can find and add her as your friend by following the link below.

---
Supervisor Parker Seeks Appointees
Supervisor Parker is looking for interested persons to serve on the following commissions:
Commission on the Status of Women
If you are interested in a position on a commission, please send a letter of interest and resume to jane.parker@co.monterey.ca.us
---
---
The Mission of Monterey County is to excel at providing quality services for the benefit of all Monterey County residents while developing, maintaining, and enhancing the resources of the region.
Information about the County Strategic Plan Initiatives is posted online.
---
Hot Drinks and Hot Topics
Before most Board of Supervisors meetings, Jane hosts a public meeting to review the upcoming Board agenda and listen to the thoughts, ideas and priorities of residents. Meeting rotate between Seaside (2nd Monday), Marina (3rd Monday), and Salinas (4th Monday) from 5:30pm - 6:30pm.
Seaside: Me 'n Ed's Pizza, 800 Broadway
Marina:
Mountain Mike's Pizza, 266 Reservation Road
Salinas:
Portobello's,
1366 South Main St
Schedule for 2014
5:30pm - 6:30pm
May 12 - Seaside
May 19 - Marina
June 9 - Seaside
June 16 - Marina
June 23 - Salinas
July 21 - Marina
July 28 - Salinas
Aug 25 - Salinas
Sept 8 - Seaside
Sept 15 - Marina
Sept 22 - Salinas
Oct 13 - Seaside
Oct 20 - Marina
Oct 27 - Salinas
Nov 24 - Salinas
Dec 8 - Seaside
Dec 15 - Marina
---
Learn more about Health Care Reform and explore the health care marketplace at
Covered California http://www.coveredca.com