News! News! News!
The latest industry buzz and GRA scoop
Citysearch.com Lists Certified Green Restaurants®!

Launching April 22, Earth Day 2010, Citysearch.com, one of the world's most prominent websites, will show the GRA's Certification seal next to all Certified Green Restaurants® listed on the site. In addition, Citysearch will add a search function for Certified Green Restaurants® so their millions of users can easily find their local Green Restaurant® options.
From Big Apple, to Green Heart. New York's famous red heart will turn green in honor of Earth Day this year, and the site will showcase Certified Green Restaurants® throughout the Empire State.

In addition, the state has launched the "Greenest New Yorker" contest. Judges include Mario Batali, famed chef and owner of 6 Certified Green Restaurants® in NY. Winners receive a weekend getaway to a green New York destination of their choice.
Earth Day Challenge

Creating a buzz about Certified Green Restaurants®
Dine Green on Earth Day!

Here's how: simply find a Certified Green Restaurant® near you and enjoy a meal that is lighter on the planet.

Challenge: Post a status update or tweet about your green dining experience on Facebook and Twitter.

Post something like this: "I Dined Green at Pita Pit in Philly, a 2 Star Certified Green Restaurant®"
The power of social media is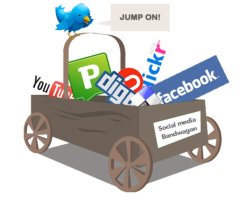 incomparable. Help the GRA create a huge Earth Day buzz throughout social media communities nationwide by buzzing about Certified Green Restaurants®!
Global Greening
Dine Green at Work
Green has gone corporate. Across the country, consumers can Dine Green even at work! The following companies boast Certified Green Restaurants® right in their offices: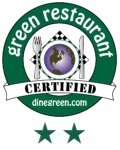 Microsoft – 33 cafes at the Redmond, WA, campus have the 2 Star Certified Green Restaurant® seal.


Qualcomm – 5 eateries at their Silicon Valley headquarters are Certified Green Restaurants®!

Morgan Stanley – The corporate café at their NYC office on Broadway recently became a 3 Star Certified Green Restaurant®.

AllianceBernstein – This global investment management firm now boasts the 3 Star Certified Green Restaurant® seal for their on-site café, On Twelve.

Do you Dine Green at work?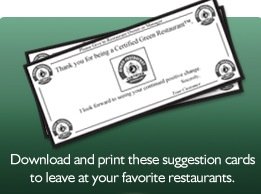 If your office or company has an on-site eatery, café, or cafeteria, encourage them to become a Certified Green Restaurant® by telling us about them, or by giving them a Green suggestion card.
Click here for more information about the GRA's Certification program.
Restaurant Spotlight
Not your average Certified Green Restaurant®?
There's no such thing as the "average" Certified Green Restaurant®! The GRA works with any kind of foodservice operation, from chains, to bakeries, to corporate cafes and school cafeterias. Here are a few examples of how various types of eateries can earn the Certified Green Restaurant® seal:

Cups – This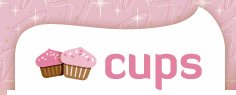 bakery and lounge in La Jolla, CA, specializes in delicious organic cupcakes made with local, sustainable ingredients. They also offer vegan and gluten free options daily! Cups is the first 3 Star Certified Green Restaurant® in San Diego, and the only bakery in CA to have earned the 3 Star seal, too!
Paleta – A home delivery service geared toward busy career people, families, athletes, customers with food allergies, and more. This L.A.-based company doesn't just create daily, homemade meals for celebrities (although they have quite a few celeb clients!). Their commercial kitchen recently earned the GRA's Certified Green Restaurant® distinction!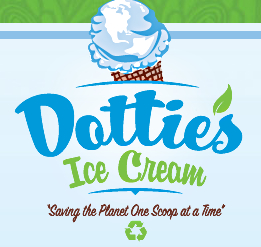 Dottie's Ice Cream – Their slogan "Saving the Planet, One Scoop at a Time" is fitting! This green ice cream joint earned the 3 Star Certified Green Restaurant® mark earlier this year, making them the first-ever ice cream parlor to earn the GRA's certification.

Muir Woods Trading Co. – Muir Woods Trading Co. is a retail and café outlet within CA's Golden Gate National Recreation Area. An authorized concessioner of the National Park Service, the café recently earned the 3 Star Certified Green Restaurant® seal! Now, hikers and visitors can Dine Green while they enjoy a day among the redwoods.
About the Green Restaurant Association
For the past 20 years, the Green Restaurant Association has been the industry leader in guiding restaurateurs, chefs, consumers, and executives, toward a more sustainable future. With Dinegreen News, our consumer newsletter, we look forward to providing you with the most current news, solutions, tips and the inside scoop on exciting new products and services.
Volunteers Needed!
Attention Chicago:
Want to join the GRA's Green Team at the upcoming National Restaurant show? Please email media@dinegreen.com if you're interested in being a part of the GRA's Green Team and helping us distribute information at the show.
Dates needed: May 22-25
Location: Chicago, IL
Take Green Action
Which restaurants do you want to see become Certified Green Restaurants®? Tell us and we'll tell them! Email outreach@dinegreen.com to cast your votes.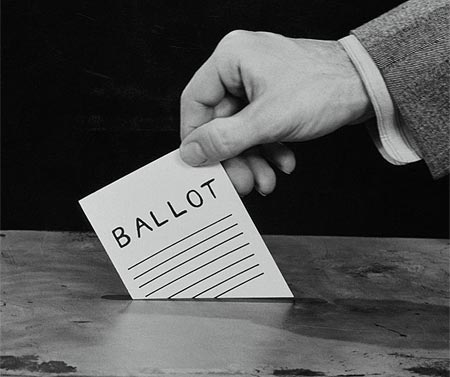 Website Listing Alert
NYC.com is now highlighting Certified Green Restaurants® in their new Dine Green section!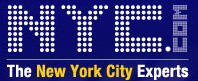 DineGreenNYC.com – New York has the most Certified Green Restaurants® than any other state in the U.S. The GRA has created DineGreenNYC.com so New Yorkers have yet another way to find the Greenest restaurants around!
Philly.com's new Green Restaurant® section links to the GRA's list of Certified Green Restaurants®.

In the News

Northeastern University leads the green movement in higher education...(more)
Kona Brewing Co. gets green recognition in Honolulu...(more)
Green Restaurant Association sets national precedent…(more)
Candle Café, Candle 79 and GustOrganics featured in Paper Magazine...(more)
Culinary Institute of America's St. Andrew's Café earns Certified Green Restaurant® status...(more)
New Green Restaurants®
The GRA is working with over 650 restaurants nationwide. Check out these newly-certified restaurants:
Comb Ridge Coffee Co., Bluff, UT
Candle 79, New York, NY
Muir Woods Trading Co., Mill Valley, CA
Cups, La Jolla, CA
Posana Café, Asheville, NC
Pita Pit, Indianapolis, IN
Pita Pit, Austin, TX
Fonte Coffee Roaster, Seattle, WA
Tarry Lodge, Port Chester, NY
Follow the GRA
For Restaurateurs

Interested in learning more about becoming a Certified Green Restaurant®?
Call 617-737-4422, or email outreach@dinegreen.com.
Want more restaurant-specific news, tips and tools from the GRA? Subscribe to Green Restaurant® News.