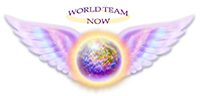 Our non-profit 501c3
is now officially:
World Team Now!
The Latest In Energy
Consider this Now: 20 billion dollars for renewable energy and 11 billion to modernize the US electrical grid -500 million in Green Jobs and more...
Solar
Wind
Geo-thermal
Tidal
PEV's
2009 Global Renewable Energy Events/Conferences
What is a Net Meter? How do I benefit & save on electricity?
What are the public policies & docs that affect our world how we use, and relate to energy?
Solar PV, Concentrated Thermal Solar Farms, Thin Film Cells, Nano Technology---how do I keep up with understanding what is possible with Solar Energy?
Is there really hope for our oceans to be a safe and reliable source of energy, and what is the latest in wave and www.tidaltoday.com?
Is it true that the new emerging government stimulus package supports many of the ideas World Team Now is focused on, how will that affect me?
What about energy efficiency, "Energy Star, LED Lights? What are some good products?
Our Focus: Energy & Resources

Look for information about World Team 's development

Green Building

NYSERDA's Program

Sponsors

Click here! Join Us! Play to transform our world!

Transformation- Just A Click!

Take Action, just by these simple actions you can effect a change,

Click and open our links

Visit our Website

Read the Press Releases

http://www.worldteamnow.org/press.html
http://www.worldteamnow.org/press/lakePlacid.html

Our Events

http://www.worldteamnow.org/events.html

Read World Team Now's Blog:

http://teamworld12.wordpress.com/

Read World Team's Blog: Notes From the Base Camp

http://1worldteam.wordpress.com

CALL-To-ACTION -

Be a part of it, share:

T.ime, E.nergy A.nd M.oney!

Donate what you can.

It takes a team! Thank you.

Please visit our website, every click helps us grow.

We want to hear from you, and know your interests. Please communicate with us so we may better serve you.

Please do submit comments, we do read them. We want to know what skills you may have, even if you cannot volunteer for one of our programs, there are many ways to be of help.

Know you are already an important part of our World Team, just by being you, thanks. It is time we all to explore ways we better live in balance with our world.

Click here to read World Team's Mission.

It is time for World Team Now.