We are gathering a team of people to support a few solar projects around Malibu. We have a few buildings and locations in mind that are prime for solar, in Malibu! Let us know if you are available to join us for the photo -op to get a few Malibu Solar projects going in the community, as "we occupy a local roof" for this global event.
Please leave comments on our Facebook page entry.
---
---
---
---

It's time for the 5th Annual Tidal Expo, join us in London:
5th Annual International Tidal Energy Summit & Awards
Co-located Wave Energy Workshop
21st - 23rd November, Victoria Park Plaza Hotel, London UK
The world's only event 100% dedicated to tidal device commercialization, project development, installation, operation and maintenance.
---
Our team is growing! Join us...

Join us
on
World Team Now's website
: here is where you can choose how you want to participate with World Team Now: volunteer, areas of interest, questions, or interact with us. This will keep you up to speed with WTN cares most about, until you can interact with us when World Team multi-media project comes out.
Click here to make a donation.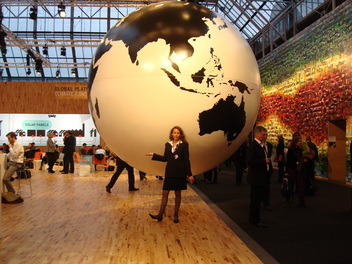 2011-12. It's an exciting time to be alive on planet earth, and World Team Now celebrates the possibilities for transformation that are taking root in the people around the world, as we join together and approach ways to change. From the Occupy Movement, to large scale Renewable Energy projects, to the reemergence of the electric vehicles, and to delaying the Keystone XL Pipeline--- the voice of the people is being heard and the way we "do life" and business as usual is being reconsidered.
As the Thanksgiving season approaches, we are ever so grateful for your support. We ask that you consider making a tax deductible year end donation to help us continue the work for our future as we demonstrate sustainable solutions through World Team Now. The planetary challenges ahead for humanity to live in balance with our resources requires team work--- all of us together, we can achieve more than on our own. To the synergy of team work--- please consider volunteering, and giving in the ways that are comfortable to you. No amount is too small, and all efforts are appreciated.
---

Join us and our partners from ACORE in Washington DC for
ACORE Phase II of Renewable Energy in America National Policy Forum
December 6-7, 2011
ACORE's annual Phase II Policy Forum has never been more important. With an industry whose growth and economic potential is being called into question, Phase II will be a critical meeting geared to formulate an over-arching strategy for the continued success and support of the industry. The forum will explore issues of national and energy security, economic development, capital raising, and jobs for the many under and unemployed Americans. The thought leaders from the global stage will join leaders from the national and state level to assess the status of renewable energy policy today, the range of policy options available, and help to advise on a best case policy framework for 2012 and beyond. Your attendance is critical to formulating a well-rounded energy policy for America's future.
---

Join us and our partners in
BUILDING RESILIENCE THROUGH INNOVATION IN GHANA
Anabig Ayaab is a 50 year old farmer from Tariganga, Garu-Tempane District, in the dry Savannah Zone of the Upper East Region of Ghana. Also a wife and mother of seven, Anabig has been struggling with how shifting weather patterns have been affecting her ability to feed her family and make a living.