Today: Earth Day 'til May Day, Mayday, on eBay!
Hope this finds you well. Wishing you and your family Happy Easter, Passover, and whatever you may celebrate this time of year, and even if you don't have a "holiday". We all can share Spring and Earth Day---a day that is for ALL regardless of country, culture or religion, like World Team Now- it is for our world to celebrate our earth.
The spotlight is on from today; Earth Day 'til May 1st 2009 for environmental non-profits, so please help us do the work for our home, earth. Please join us in this mutually beneficial opportunity
e-Bay's Giving Works!
World Team Now is part of eBay's "Giving Works". Here is a way to promote your product or service and give at the same time. eBay customers can bid on your selected item(s), and you decide how much of that item's final purchase price is set aside for World Team Now. Please join us by either posting an item for auction or purchasing an item or service. In anticipation of your participation, we say "thank you" for choosing our charity "World Team Now" -- it takes a team!
World Team- Building!
World Team Now engages teams to work on sustainability projects focused on "energy" beginning with two showcase projects from both coasts of the USA: –a landmark building in New York City designed to be energy-independent that can sell electricity back into the grid, and a solar rooftop installation at "The Sunset Restaurant" in Malibu, California. There are several more projects in the pipeline, and a developing World Team" television series to support publicity of our initiatives. Our Blog was chosen to be featured on Wordpress:

E-Day on e-Bay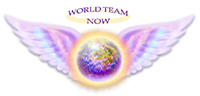 We thank you in advance for choosing to support World Team Now. Please click on the links below, this helps us:
Your action makes a difference, thank you!
For more information about the program click here
If you are a first-time eBay user, just register as a seller.