In This Issue
What's Happening at the Community Justice Center?
Community Justice Center Clients Show Optimism
Dependency Drug Court Spends Family Day at AT&T Park
Behavioral Health Court and the Supported Employment Program at Citywide
Drug Court Transitional Housing Program
By the Numbers, San Francisco Collaborative Courts Adult Programs

---
What's Happening at the Community Justice Center?

Support for the Community Justice Center is growing and what was once a topic of controversy is now seen as a model to be expanded throughout the City, San Francisco Chronicle writer C.W. Nevius reports in his July 29th column- read it here.

Since opening in March 2009, the Community Justice Center has heard the cases of 2,387 defendants and a total of 3,219 cases. On average the CJC hears 72 cases per day and this number continues to grow. The appearance rate holds strong at above 70 percent and the median time between Police citation and first Court appearance is five days.

The CJC works with individuals who are most in need of services and have a higher risk of re-offending in the Tenderloin, South of Market, Union Square and Civic Center neighborhoods.

The CJC is the only community court in California to hear serious case types, including nonviolent felonies and probation revocation cases. The team of legal, clinical and Court professionals work together to address the underlying problems that send defendants back into the justice system.

The CJC has an open-door policy and invites all community members to provide feedback through the existing advisory board and town hall meetings. Please check our web site or blog for upcoming meeting dates.
---
Community Justice Center Clients Show Optimism
In surveys completed at intake, clients expressed very positive feelings about the Community Justice Center:
87 percent felt that their case would be handled fairly at the CJC

93 percent felt that the CJC Judge and staff would treat them with respect
CJC clients face numerous challenges in terms of their financial situation, housing, substance abuse, and mental health, and yet 87 percent stated that they were hopeful about their future. The CJC will continue to build on this optimism to improve client outcomes, increase defendant accountability and enhance public safety throughout the community.
---
Dependency Drug Court Spends Family Day at AT&T Park

On May 27, despite a rainy morning, families participating in San Francisco's Dependency Drug Court (DDC) turned out for an afternoon game at AT&T Park to support the San Francisco Giants. "Rain or shine, I wouldn't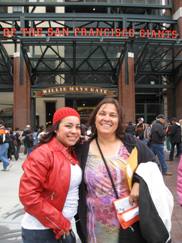 have missed it," said one DDC participant, who is currently working to reunify with her young daughter.

A collaborative court within the San Francisco Unified Family Court, DDC's City partners include the Human Services Agency, Department of Public Health, the City Attorney's Office, a panel of dependency attorneys, and the Homeless Prenatal Program. The goal of DDC is to promote stable, long-term family reunification by helping parents address their substance abuse issues, improve parenting skills, and access safe, affordable housing. Using a team approach, DDC supports parents to navigate their child's welfare requirements and to build a better future for themselves and their children.


The Giants' game was one of DDC's "Family Day" activities to provide recreation for families and build community among DDC participants. As the first pitch was thrown, the sun slowly began appearing from behind the thick clouds. The game ended in a 5-4 win for the Giants against the Washington Nationals. "We brought the sun with us – and good luck."

DDC Team Manager Michele Hill & Program Assistant

Marlene Mazariegos from the Homeless Prenatal Program
---
Behavioral Health Court and the Supported Employment Program at Citywide Case Management Forensics

The majority of people with psychiatric disability list paid employment as an important goal, yet less than 15 percent of them achieve competitive employment. People with psychiatric disabilities reentering the work force face many obstacles: severity of symptoms, extensive gaps in work history, stigma or the risk of losing entitlements. While obtaining employment is an immensely difficult task for those suffering from mental illness, studies have shown significant therapeutic benefits such as reduced hospital admissions as well as increases in self-esteem and self-efficacy.

The Supported Employment program at Citywide Case Management Forensics (a program of UCSF) helps clients get jobs with competitive wages in their profession of interest. By providing intensive services, support, and community stipends that are integrated with their treatment plan, Behavioral Health Court clients can find jobs they enjoy and retain them. Supported Employment is an evidence-based practice central to Citywide's vocational training program.

Case Study: Bob, a Behavioral Health Court client, worked in his family's Chinese restaurant before he experienced symptoms of schizophrenia. He had not worked for 10 years. His goal was to return to work as a prep cook. The Employment Specialist at Citywide established a relationship with a restaurant owner in the SOMA neighborhood and persuaded the owner to hire Bob, who was paid through Citywide's community stipends. The restaurant owner was impressed with Bob's skills, and learned about the tax credit programs available to his business. Bob was hired part-time at a competitive salary.
---
Drug Court Transitional Housing Program
In 2008, with the support of a Bureau of Justice Assistance (BJA) Drug Court Enhancement grant, San Francisco Collaborative Courts launched a reentry housing program for Drug Court clients at the Pontiac Hotel, a privately owned single resident occupancy hotel in San Francisco's SOMA neighborhood. This program targets homeless and marginally housed participants who are in need of a stable and safe place to live as they transition from jail to the community and engage in treatment.
In June 2010, SFCC completed a pilot study to evaluate the success of the program. The results are as follows:
Drug Court Transitional Housing Program residents stayed in Drug Court 72 days longer than the comparison group.
This represents a 48 percent increase in treatment days. Research has shown that higher retention rates predict lower rates of recidivism and post-treatment drug use.
Transitional housing increased the graduation rate by 60 percent, demonstrating that supportive housing plays a key role in participant outcomes.
The Pontiac Hotel located at 509 Minna Street

The San Francisco Collaborative Courts are working with local and national policymakers to demonstrate the importance of providing housing for people exiting incarceration. It is an essential program component for our clients and we will continue to seek opportunities for funding and new partnerships.
---
By the Numbers, San Francisco Collaborative Courts Adult Programs
Drug Court
In 2009, 434 defendants entered San Francisco Drug Court
128 clients graduated from Drug Court in 2009
By graduation, 100% of clients were living in stable housing and receiving legal sources of income
Behavioral Health Court
310 defendants were referred to BHC in 2009

67 defendants with serious mental illness entered BHC in 2009

35 clients graduated from BHC in 2009
Community Justice Center
Between March 2009 and May 2010, the CJC heard the cases of 2,387 defendants
During that time period, CJC defendants completed 1,618 hours of community service
Over 1,000 San Franciscans have accessed services at the CJC
Offender Treatment Program/ Prop 36
337 clients were referred to OTP/Prop 36 in 2009
124 clients graduated OTP/Prop 36 in 2009
Average length of participation in OTP/Prop 36 is 9 months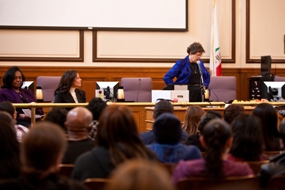 Drug Court Judge Nancy L. Davis offers congratulatory remarks at the quarterly graduation ceremony