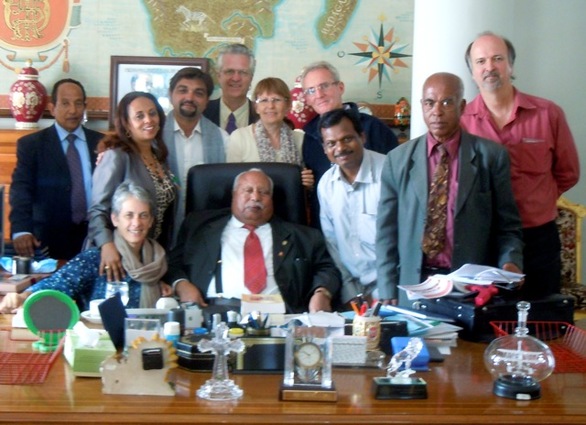 MEETING WITH PRESIDENT GIRMA OF ETHIOPIA
AVIUSA Board member Julian Lines (center) also serves as a member of Auroville's International Advisory Council and Executive Director of Auroville International joins with Tekeste (2nd from right) and group of Aurovilians visiting Addis Ababa
Auroville International in Africa
Tekeste's dream of over forty years was realized when Auroville International held its second meeting in Africa in Addis Ababa, Ethiopia. Since first visiting Auroville in 1969, Tekeste has dedicated himself to linking Auroville with Ethiopia. Through him, Haile Selassie became the first leader outside India to write a letter of support for Auroville.
The first AVI trip to Africa was to Cape Town in 2006.
A team from Auroville presented on a number of appropriate technologies at the Red Cross Training Center and the Building College including Joss' efforts in environmental education, Lourdes' work in activity based learning, Margarita's work with probiotics in water purification and malaria control, Cristo's collaboration with Satprem in mudbrick architecture, Carsten's work on solar applications in transportation and cooling and Marc's "coffee ideas" which are highly relevant in Ethiopia, the home of coffee. Deepti presented on Auroville's philosophy and Sri Aurobindo's concept of evolution.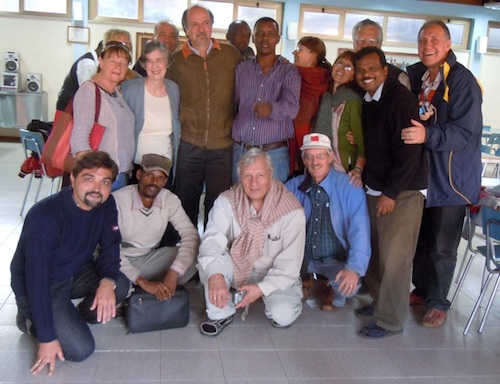 AVIUSA President, Bryan Walton (crouching lower right next to Christian Feuillette, AVI Canada) with representatives from France, Germany, Spain and the UK plus Aurovilians and Ethiopian friends. See the next Auroville Today for the full story.
2012 WALL CALENDAR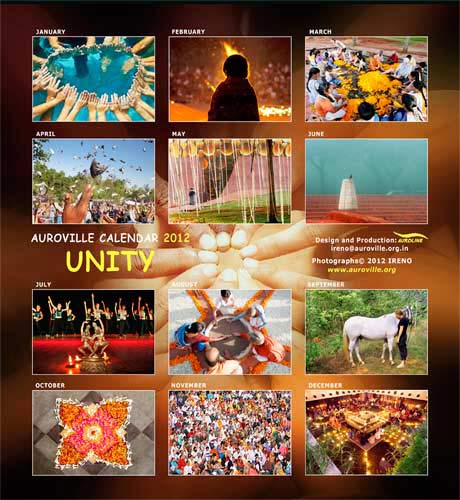 2012 has been associated with many different predictions, expectations and
hopes for our planet. The photographs depicting the theme of Unity, in this
Auroville Calendar 2012, were chosen to reflect the more positive aspirations
for the year to come. The calendar is printed using 4 colors on mat art paper and spiral bound.The calendar includes moon phases and spaces to write notes in each day. The calendar also includes a page with the text of Mother's Dream. All the photos have been taken by Ireno. You may send a check for $12 payable to AVIUSA or pay with a credit card via our website.
MATRIMANDIR DESK CALENDAR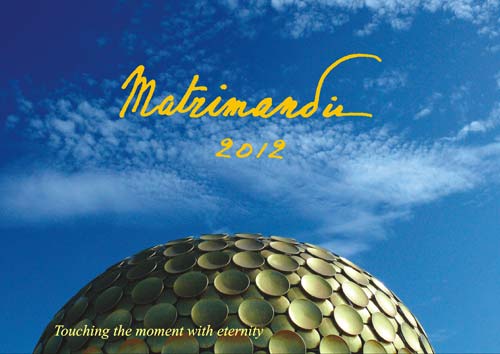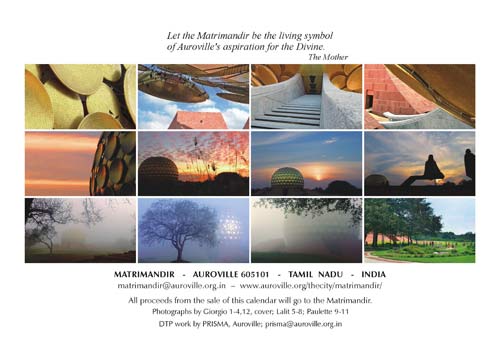 The Matrimandir Desk Calendar 2012
Touching the Moment with Eternity
On each page, the months and days are printed in 4 languages:
English, French, Sankskrit & Tamil. Darshan days and other
important days as well as moon days (full/new) are indicated.
A quote from Savitri is under each photo.
8.25 x 6.5 inches spiral bound. All proceeds from the sale of the calendar will go to the
Matrimandir Publication Fund. Photos by Giorgio, Lalit, and Paulette. $9 each with a check or credit card via the AVIUSA website. Please mention which calendar you want.
Payments for the calendars are not tax deductible.
Three-for-One Donation Opportunity
Working with the German Government,
VFAVR
has created a funding opportunity where your tax deductible donation to Village Action's microfinance efforts via AVIUSA will be triple matched. Please honor Bhavana's memory by making a donation:
For more information check out the details at:
Thanks for your timely support!
FREE GIFT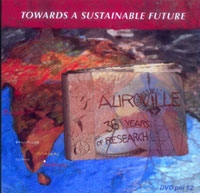 We would like everyone on our mailing list to have a copy of the DVD "Towards a Sustainable Future". Organized by chapters, this excellent film focuses on Auroville's environmental restoration work. Give a copy to your library or local environmental organization. Donations to cover postage are welcome but not required. NTSC. 52 minutes.
Make a monthly donation to our work with this link:
Visit AVIUSA on Facebook for the most recent news: