Why Heritage Breeds?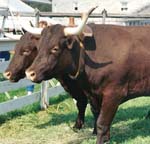 Why should the average consumer care about saving rare breeds? Here are a few talking points to help you share their importance with others. Heritage breeds:
Promote biodiversity: When buying rare breed products, you make a statement in favor of genetic diversity in agriculture. Each breed has unique genetics, offering variety and biodiversity to our food and biological systems.
Help ensure the future of agriculture: One in five breeds of farm animals is in danger of extinction. By choosing heritage breeds, you help create a market for these animals - helping to ensure they are saved from extinction and passed to the next generation.
Are tasty: These breeds are naturally flavorful, moist, and succulent. Industrial breeds are bred for maxiumum output, often overlooking characteristics like - taste!
Offer security for our food system: Our food system is founded on a very narrow genetic base. As new illnesses, diseases, or changes influence our food system, we need the variety and diversity found in heritage breeds in order to adapt.
Reflect our agricultural heritage: These breeds were raised by our forefathers. They embody histories, cultures, and traditions that tell of our past. Let's preserve these traditions for our future.

Provide Options: These different breeds fit different environmental and agricultural niches and that translates into options as agriculture changes, and choices for farmers who want to do things a little differently.
There are many reasons to preserve heritage breeds. Share your ideas or thoughts by emailing, editor@albc-usa.org.
Upcoming Events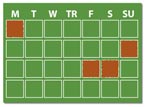 Sept 25 – 26 -The First Annual Mother Earth News Fair will be held at the Seven Springs Mountain Resort outside Pittsburgh, PA. An ALBC booth will be at the event and staff will be doing a variety of workshops on Heritage Chickens, Heritage Turkeys, rare breeds in general, and more. More info
Sept 25 – 26 - The Oregon Flock and Fiber Festival will be held at the Clackamas County Fairgrounds in Canby, OR. The festival includes workshops, demonstrations, livestock shows, seminars, and activities for kids. More info
Oct 3 – 5 - The Chefs Collaborative National Summit will be held in Boston, MA. This event brings together chefs and members of the food community to share expertise and ideas, while inspiring action towards a more sustainable food system! More info
Oct 9 - The Northeast Highland Cattle Association's Annual Fall Gathering and Show will at the Mallary Arena on the Big E Fairgrounds in West Springfield, MA.
More info

October 15 –17 - The Northeast Animal-Power Field Days will be held at the Tunbridge Fair Grounds in Tunbridge, VT. The theme of this year's event is "Connecting to the Broad Community of Interest in Draft-Animal Power." More info
October 22 – 24 - The American Red Poll Association Annual Membership Meeting and National Sale will be held in Little Rock, AR. More info
November 3 – 5 - The American Cream Draft Horse Association Annual Meeting will be held in conjunction with the 18th Annual Small Farm Trade Show in Columbia, MO. For more information, contact lively123@comcast.net.
Check the ALBC Event Calendar for more upcoming events.